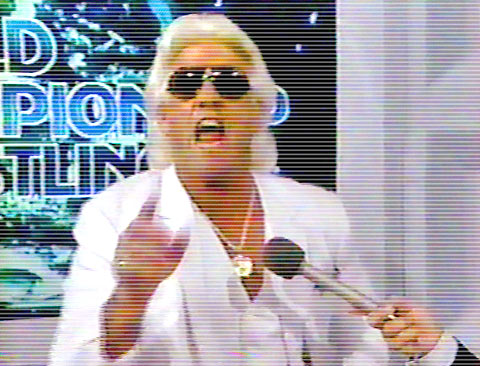 1980s TV Wrestling : Part One / Part Two / Part Three / Part Four / Part Five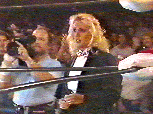 "THE GODS ARE JUST,
AND OF OUR PLEASANT
VICES MAKE INSTRUMENTS
TO PLAGUE US."
The Charlotte Coliseum was sold out and the audience was rocking the floorboards for the start of the World Championship match in 1986 between Dusty Rhodes and Ric Flair. Way down south in the land of vengeance, Nature Boy was on his home turf, but he would need every advantage against this bull of the woods (if you will).
Dusty was still highly irritated over the craven attacks inflicted upon himself and his beloved Baby Doll and couldn't wait to get his hands on Ric Flair again.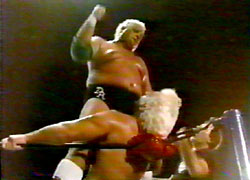 He entered the ring proudly that night in Carolina, with his loyal lady by his side, as she had been through dozens of matches. After all, behind every man . . . Flair was in peak form, but Dusty was a force of nature that night, the match was his to win from the beginning. Within moments of the bell, Flair was reeling, nearly passed out from the blows.
As Dusty went to make an easy pin (and pick up that championship belt he paid a hellish price for), unexpectedly - seemingly out of nowhere - Baby Doll sneaked along the side of the ring, grabbed Ric Flair's limp foot and placed it on the ropes.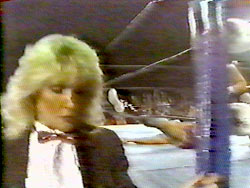 As the rules require, the ref stopped the pin count and Dusty recoiled in confusion. "What had just happened?," he seemed to say. He knew he had Flair pinned!
The audience couldn't believe their eyes as shock and anger pierced the arena. Momentary confusion gave Nature Boy the advantage he needed, knocking the injured legs out from under his opponent, causing Dusty to crumble to the mat.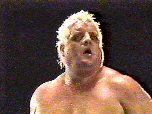 Even Ric Flair looked confused in the ring, he was obviously as surprised as anyone at what had happened. How could Baby Doll snatch sure victory from her own man's grasp?
With Dusty flailing on the canvas, Flair applied the dreaded Figure Four leg lock, necessity's sharp pinch! Dusty, his fragile leg causing him excruciating pain, was breaking away from Flair's hold when Baby Doll once again gave Flair the leverage he needed to move Dusty back into a position of pain.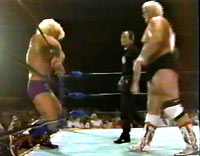 Once free, Dusty's fury became uncontrollable as he took out his aggressions on Flair, who couldn't take the savage beating and went down, cowering in a corner.
In the confusion, referee Tommy Young was violently bounced from the ring and knocked unconscious as Dusty roared into Flair with wild abandon.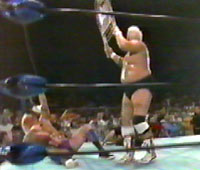 With the World Champion lying in certain defeat, Baby doll knew that there could be no turning back. The belle from Hell grabbed a metal folding chair, brought it into the ring and began swinging it wildly at Dusty.
The Charlotte harlot missed her target, but Dusty grabbed the chair and used it on Ric Flair - until Referee Young regained consciousness and called a halt to the fiasco.
Confusion reigned both in and out of the ring, but Ric Flair appeared on camera after the match bragging about his 'victory' - and his new love!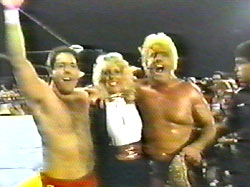 "Diamonds are forever - and so is Baby Doll," Flair boasted to announcer Bob Caudle afterward. "It's now the Four Horsemen and one mare!"
---


(by Steve Byrd)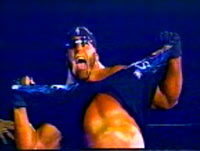 Before Ted Turner bought Jim Crockett's Charlotte company out in the late '80s and turned it into WCW, it was the dominant territorial promotion in the NWA. Crockett's syndicated program was called Worldwide Wrestling, which is now known as WCW Worldwide. Oh, the NWA is still around, and it still has territorial franchise promotions. Details and history are at www.nwa-wrestling.com

Baby Doll was played by a lady whose name, I believe, was Nickla Roberts. She was, in my opinion, a pioneer female manager. [I prefer not to use the term "valet"] I forgot who Baby Doll was managing, but I do remember another female named Precious [David Crockett called her "the bodacious Precious"] who was in the corner of Jim Garvin.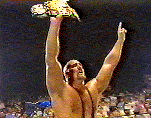 Two signature Crockett supercards, Great American Bash and Starrcade, have gone on to become staples in WCW's pay-per-view lineup. Interestingly, WWF [Northeast US, early 1960s], WCW [Carolinas & Atlanta area, late 1980s] and ECW [Philadelphia area, mid 1990s] all had their roots as regional territories in the NWA, but ended up choosing to strike out on their own.
World Championship Wrestling was a Saturday night offering on TBS even before Turner bought Jim Crockett Promotions and renamed it WCW. From 1977-85, it aired on TBS, packaged by Georgia Championship Wrestling and hosted by Gordon Solie, who also did a similar show in the Tampa Bay area and has been described as "Wrestling's most celebrated commentator."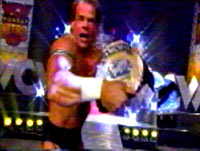 When GCW closed shop in '85, the WWF bought time on TBS for the WCW show, then pulled them off within weeks, when TBS talked Jim Crockett into packaging WCW.
Tony Schiavone and David Crockett were the original hosts, while Bob Caudle stayed with the syndicated Worldwide Wrestling.