Dear John;
I've just decided to go into business for myself, and publish my own comic books. (The first will be King of the World, of course) To raise money, I'm going to start my own fan club and charge $10 initiation fee. For this they'll get a sketch from me, 20% off on all books, 50% off on original art, and a newsletter, "The Woodwork Gazette". I think it's a good deal, and I hope I get 1000 members. Oh - and I guess I'll have to make up membership cards.
You're the second person I've told about this, so if you want to join your number will be 2.
I may have a letter column in the newsletter- if so, may I use excerpts from your letters? I'd like to print your comments on Ditko.
Yeah, send the books and I'll autograph them . . Write soon and let me know what you think of "The Friends of Wally Wood".
Can't wait to tell Heavy Metal to go to Hell.
Best,
Woody


Click here to continue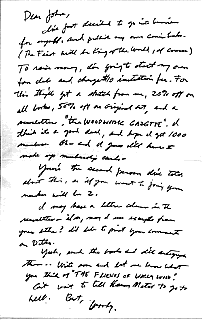 1970's TV shows on DVD
1960's TV Shows on DVD