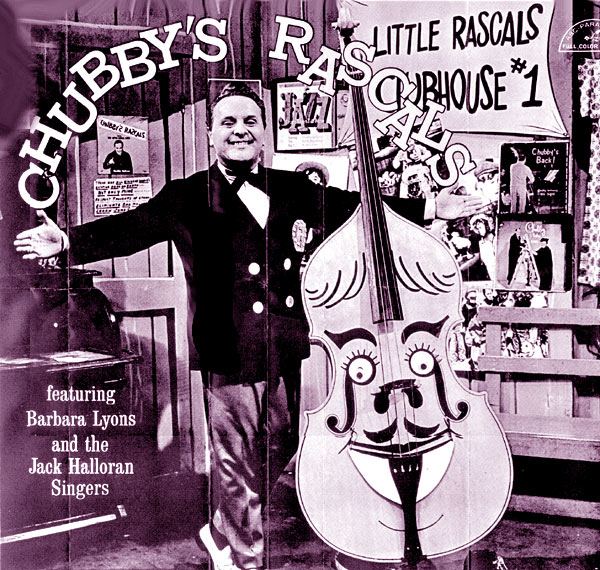 part of the New York City Kid Show Roundup
by Kevin S. Butler
Chubby Jackson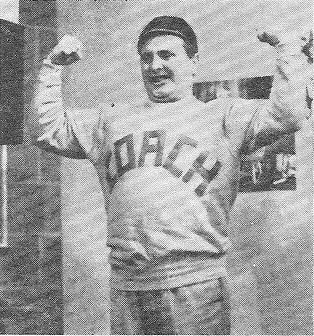 The WABC TV channel 7 New York City version of Chubby Jackson's "Little Rascals Show" debuted in 1959. On that kiddie series he added musical segments performed by a large jazz orchestra.
The inclusion of the jazz orchestra came about by accident. "There was a guy by the name of Frank Vanyone who was the contractor of the music department at WABC and at that time. There was an obvious decline in shows and work," Chubby recalled. "There were 55 musicians on staff or 65, I don't recall. It was one of those numbers that were there every week... and there were only about 18 or 20 that the musicians
were working on. The rest of the guys would come in on Wednesday, pick up their pay checks, and go home."
"So, I had had a couple of jazz musicians, Red Solomon and Al Galadore, to come on, just to show the young audience instruments and interview them about their music it worked out very nicely," Chubby said.
Mr. Vanyone was told about the two musicians appearing on Chubby's show. He decided that it would be a good idea to have the staff musicians became a regular part of the program. On a Friday morning, he asked Jackson, "How many musicians could you use on your show?"
Chubby Jackson jokingly said, "I'd like a big band, I've a library for 18 men." Frank Vanyone said, "OK. You got it!."
The following Monday morning the staff musicians all lined up outside of the studio to perform on Chubby's program. There was one problem. "I didn't bring any music with me," Chubby explained but he was able to deal with the situation. "We faked our way thru that morning. We played some blues and let some solos play. I introduced Don Lamond, Candy Lamond, Arnold Fishkin was the bass player, Rocky Collicehio. I forgot the tenor player's name but he was very cute, he had a nickname that the kids picked up."
Chubby continued, "I started to give (the band members) nicknames and the kids (watching at home) would pick up on the nicknames." Chubby and his orchestra presented their jazz music in a fun and informative manner similar to Leonard Bernstein minus the pretension.
Another popular section of the show was "The Little Rascals Follies," a talent showcase for young people.
As Chubby explains, "He (Roger Shope) would audition on a Thursday in the afternoon. Kids that would write in, call in that did anything. They sang, they danced. So, we started contacting dance studios and school all over the area. And we'd come up with a ventriloquist or, you name it, as a youngster. I'd show up that particular morning that they were to be there and at rehearsal. I'd go thru some banter with them."
"Of course, some of them, they were scared to death and I'd have to put my arm around them and sing it with them. We'd start to bring in orchestras from high schools and marching bands that didn't march in the studio but they would be playing while they were in their uniforms."
Chubby says, "And, little by little, the format became a variety show."
The series director, Roger Shope, explained in a February 20, 1989 interview that instead of pushing all of these cartoons all of the time, "There was all of this live talent would give kids in our community to display their talents on the air. So,we have broadcast an invitation to kids, who felt that they were talented, who were singers, dancers, actors, muscians to come in and audition and if they passed the audition, we'd give them a spot on the program." Shope said, "After our initial response, it grew and grew. So, one day a week, we'd audition kids and immediately schedule them for the following week's program."
Shope remembers a singing team of African American kids who appeared on the show, their father had a connection with The Apollo Theater in Harlem. The troop became a popular scat singing and dancing act. But Mr. Shope was unable to remember their names or what has become of this unique act.
Along with his band, the show's most popular character was "Casey" Jackson's talking bass fiddle puppet. Between musical numbers with the band, the talent contest and interviews with guests Chubby would engage in hilarious conversations with this mischievous musical instrument.
He created the puppet attachments for his bass fiddle with the technical crew at WABC TV. "We'd put a little cardboard mouth piece and tacked it onto the bass and underneath was an invisible cord that a stage hand would pull behind the camera." Chubby would also perform Casey's voice, "If I would say 'Hey Casey?' The stage hand would jerk the string and I'd say (as Casey) 'Hey Chubby what are you doing man?'
"It was one of those tough, little New York accents. I had him placed on a platform with three sneakers and I could leave him there. So, I didn't have to stand there next to him."
Using this unique form of puppetry, Chubby could perform with the band and Casey would comment with Jackson and the performers on the show and Chubby would also perform music with Casey.
The idea for the creation of Casey stemmed from Chubby's interpretation of the bass fiddle as a human with a personality. As Chubby explains, "Naturally, being a bass player, I always looked at a bass as a woman. One of those things, it looked like a woman and that was my little girl friend. But when I got this together, I figured that person had a puppet of this and this person had a puppet of that. How natural it would be for me to take a bass and have it (become) a puppet."
The show became a success with NYC's kids and Chubby recorded two kids LP's with the ABC/Paramount label, 'Chubby Jackson's Little Rascals' where he created the tunes for the disc with lyricist, Marvin David. And Jackson also narrated George Kleinsinger's and Paul Tripp's musical children's story, 'Tubby The Tuba.'
During the show's run, Chubby would do personal appearances at supermarkets in Chicago where he would sign autographs and give away picture cards.
On occasion, he would bring a movie projector and some of the Little Rascals films that the station execs at WBKB would loan to him to screen for his fans.
When he began doing his series in New York City, he would also bring Casey with him and together they would perform songs, music and comedy banter in the toy sections of department stores.
The series also featured performances by famous jazz entertainers. On one show, drummer and bandleader Gene Krupa gave Chubby's son Duffy a jazz drumming lesson.
The segment became a hit with the members of Chubby's troop with Duffy and with the young viewers but according to Chubby it was not appreciated by the station's programming director Al Hollander. "We had Gene Krupa come on and give my son Duffy a drum lesson on the show and that had a negative response because Roger wasn't there that morning."
Reportedly, the new director assigned to the program, Bill Beale, was not as creative or as friendly an individual as Shope was. He was not impressed by Mr. Krupa's drumming lesson with Chubby's son nor did he care for the musical segments and the comedy skits that Jackson performed with his band and with his puppet.
Beale complained about these segments to Mr. Hollander And the show's running time was cut from an hour to a half hour. Chubby soon tired of the problems created by his director and by station management. He left the "Little Rascals Show" following the Friday, July 14, 1961 telecast.
When an invitation from the station execs at WOR TV Ch.9 to emcee his own kids' TV show
came about, he accepted. Sadly, the experience was not a happy one.
Chubby was hired to replaced Al Hodge, the former host/performer of "The Space Explorer's Club" which was retitled "Space Station Nine."
The series was seen weekday evenings on Ch.9 beginning on Monday, January 1, 1962 where he was forced to wear an oversized space suit and do taped intros and outros for the reruns of "The Space Explorer's" TV cartoons. The show was a disaster and it went off the air following the Friday, January 26, 1962 broadcast.
He eventually went onto become the fourth and last mc of Ch.9's "Looney Tunes Show" which was seen weekday afternoons beginning on Monday, January 12, 1963. Unfortunately, this show was also a disappointment.
"I went to WOR TV, Joe Franklin (the popular nostalgic radio and TV talk show host) got (The job) for me. (The environment there), which was like a super-market. I liked the people that I worked with there at WOR TV (but) I never felt free. I never felt that there was anything I could do to create. I had ten seconds to get into a spot and (snaps his fingers) 'Here, watch this' into a commercial. I have five or six or seven openings and five or six, or seven closings and they (the staffers at Ch.9) use to put them on differently every day. I spent the entire summer at home. I never went into the studio. I didn't have to."
Chubby tried to add some creative ideas by having Casey and extra bass fiddle puppets appear with him on the show. He even revived his "Professor Chubbo" character who appeared on some of the programs. The series was eventually retitled "The Chubby Jackson Show."
Despite all of his efforts to add anything new and original, the creative interference continued until Chubby left the show following the Friday, June 14, 1963 broadcast. He left NYC kids' TV for other venues.
Chubby Jackson succumbed to cancer on October 1, 2003 but his contributions to jazz music and to Chicago and NYC children's television will never be forgotten.