TV Guide's He & She Page, with TV Listings, Photos, Videos, Exclusive News and More.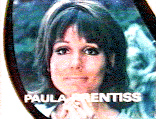 Here is the show's
most unusual
Theme Song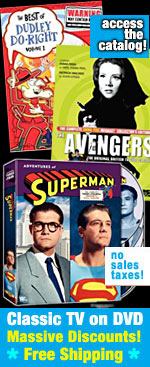 Access our
Classic TV
Catalog Now!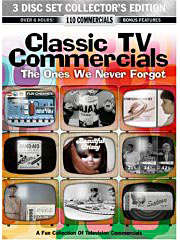 GREAT DEAL!
3 Disc Sets!
$9.99!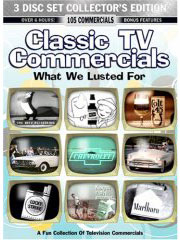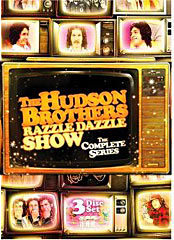 debuted on CBS Wednesday night, September 6, 1967 and ran only one season, but many people caught the show for the first time when it was re-run as a summer replacement series (June - September) in 1970.

I almost can't bear to use that old worn-out phrase 'one of the most unique shows on television' to describe He and She, but the phrase really does fit here. This was the sitcom that broke the mold, that re-introduced strong writing and eccentric but believable characters to the genre, paving the way for 'The Mary Tyler Moore Show' and 'The Bob Newhart Show' to come. Like most fore-runners, recognition and ratings were not assured.

In 1967, sitcoms like 'Bewitched', 'I Dream of Jeannie' and 'Batman' were the standard fare. In fact, 'He and She' was scheduled right after 'Lost in Space', 'The Beverly Hillbillies' and 'Green Acres' on Wednesday nights. Even though Wednesday was a big ratings night for CBS that year, the audience tuned out 'He and She'. Maybe Arnold the pig was the wrong lead-in for this reasonably sophisticated suburban comedy, but what do I know?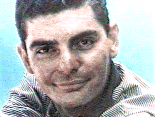 Richard Benjamin portrayed New Yorker Dick Hollister - cartoonist and creator of popular comic strip and TV character 'Jetman'. His real-life bride Paula Prentiss, with her lovely soft southern accent, played his wife Paula - a city traveler's aid worker. It was very unusual at this point in television history for a TV wife to be working, by making it seem like a normal part of life Paula Hollister broke the mold forever. She was intelligent, a little scatterbrained, but believably so. The fact that the couple were actually husband and wife also helped the believability, in fact Paula Prentiss' sister Ann was occasionally seen on the show in the role of Paula Hollister's sister.
The supporting cast includes Kenneth Mars as neighbor Harry, a fireman who uses a board to cross from the firehouse window into the Hollister's apartment window. The character is very much like the pilot/neighbor Howard Borden from 'The Bob Newhart Show', not surprising when you consider both shows shared some of the same writers. In fact, the character of Dick Hollister could be seen a more manic Bob Hartley, a reasonably sane man whose life has slipped slightly off-kilter because of the oddball people who surround him.
The show also featured Hamilton Camp as the apartment super, and Harold Gould (Rhoda's father) as Dick's boss at the comic strip syndicate. The most broadly drawn character in the series was Jack Cassidy as Oscar North, the actor who played "Jetman" on TV. This performance was clearly the character basis for Ted Knight's portrayal of "Ted Baxter" on 'The Mary Tyler Moore Show'.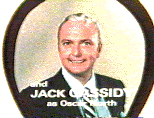 In real life, Jack Cassidy was a larger than life Broadway star, and he devoured the scenery masterfully in the role of the vainglorious television actor, a role some say was type casting of the most obvious sort. It always bugged me that they didn't just get Jack Cassidy for the "Ted Baxter" role instead of using Ted Knight to imitate him - turns out Cassidy was originally approached for the role and turned it down.
This turned out to be a bad career move. The actor watched his wife Shirley Jones and son David Cassidy become huge stars that same year with 'The Partridge Family', while he struggled to find any decent work in the Seventies. Jack Cassidy, known on both coasts as a consummate partier, died tragically in 1976 after a night of heavy drinking. A lit cigarette ignited the sofa he was passed out on.
Even though 'He and She' only lasted a single season, it spawned some of the great sitcoms of the next decade. If you get a chance to see this show, and you're a fan of the old MTM comedies, you may be surprised that this series was produced as early as 1967. Writers Chris Hayward and Allan Burns won an Emmy for Outstanding Writing Achievement in Comedy for an episode titled "The Coming-Out Party".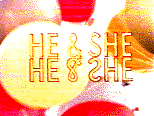 In a bizarre recent twist, Ann Prentiss (sister of star Paula) was convicted by a Santa Monica, CA court of battery, assaulting her 86 year old father, solicitation of murder, assault with a firearm, and making terrorists threats toward Richard Benjamin (specifically against the law) in June of 1997. Ouch!
Richard Benjamin, Paula Prentiss,
and Jack Cassidy in a sound clip
from He and She
Video Clip from the show.
TV on DVD
Holiday Specials on DVD
TV Commercials on DVD
TV Shows on BLU-RAY
Everything you're looking for is here: