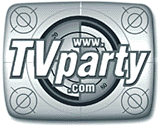 The Smothers Brothers had one of the best
variety shows of the Sixties -
and for a very brief time, the best
variety show of the Seventies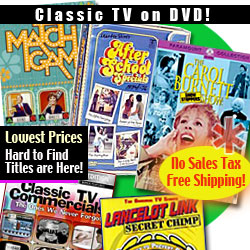 - Smothers Brothers Comedy Hour
- Smothers Brothers 1970's Show

- Smothers Brothers Show - 1980s & '90s
- CBS Censor notes for The Smothers Brothers Comedy Hour
---
---
Everything you're looking for is here: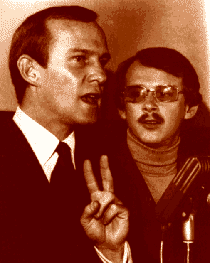 The Smothers Brothers in 1969.

"I didn't realize I was important until they made me shut up."
- Tommy Smothers
---
Rumor had it that in 1969, Richard Nixon pressured CBS to cancel 'The Smothers Brothers Comedy Hour', one of the network's top-rated and most profitable shows. It was said that the newly elected President didn't want a weekly comedy show ridiculing his administration (and its aggressive Vietnam war policy) the way the Smothers had done throughout the Johnson administration.
---
Richard Ranke adds:

Thank you for the information about the Smothers Brothers and their later variety shows. I saw them all. (Does anyone remember their 1970 summer show which included Sally Struthers and Spencer Quinn as regulars?)

Don Novello was someone I first saw on the Smothers Brothers 1975 show. Most people only know of him from Saturday Night Live (which should be dead) and do not realize that he was with the Smothers Brothers first - or that, in fact, Guido Sarducci was his character, developed long before S.N.L.
Isn't it a shame how Pat Paulsen died? I saw him twice on the stage in 1968. His songs (Gaslight, Last Leaf, Bre funk Smoge), his editorials (Auto Safety, Gun Laws, Doctors Fees, the Draft, Sex Education, Censorship), his songs with the Fathers (They Say We're Not Groovy, You Can't Put Us Down, Me an' Little Momma, Sun City) and the 1968, 1972, 1980, 1988 and 1992 Presidential campaigns are well-remembered by me.
How many people know that Pat Paulsen wrote the Smothers Brothers' song, "I Fell In A Vat of Chocolate," or that he was friends with Tom Smothers since the Purple Onion nightclub spots in '59?
The people I feel I know more of because of the Smothers Brothers also include - Mason Williams, Steve Martin, John Hartford, Jennifer Warren, Bob Einstein, Kenny Rogers and Jim Stafford.
- Richard Ranke
---
Here is an audio clip from Pat Paulsen's appearance on the afternoon variety show 'Dinah!' in 1974, hosted by Dinah Shore. On the couch with Dinah.

---
TV on DVD
Holiday Specials on DVD
TV Commercials on DVD
TV Shows on BLU-RAY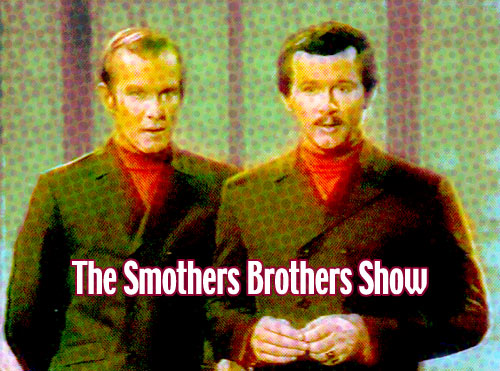 A long, strange television journey
by Billy Ingram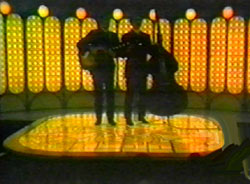 'The Smothers Brothers Comedy Hour' wasn't expected to be a hit when it debuted in February, 1967 - scheduled on CBS as a mid-season replacement variety hour against the unbeatable Bonanza on NBC. It was a last-ditch effort on the part of the network - they had run out of ideas.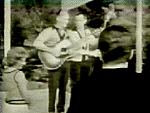 The Smothers were just the latest in a long line of well-known performers since 1961 that went up against 'Bonanza', all quickly going down in flames. Jack Benny, Judy Garland, Joey Bishop, Bob Cummings, Perry Mason and Garry Moore (who was unceremoniously dumped midseason to make way for the Smothers) all failed to make a dent in the horse opera's ratings.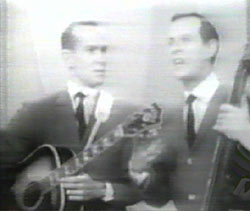 Unlike previous contenders, The Smothers Brothers didn't have strong TV series credibility. The duo started their career in bohemian clubs during the beat era, wandering into television through the back door with guest appearances on 'The Ed Sullivan Show', The Bing Crosby Show 'The New Steve Allen Show', The Andy Williams Show and folk music programs like Hootenanny.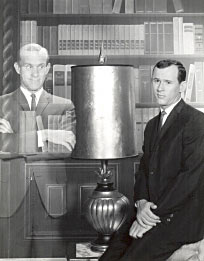 A short-lived CBS sitcom called The Smothers Brothers Show (where Tommy played an angel and Dick his playboy brother) hardly made a dent with audiences or critics in 1965. No matter, the brothers had several hit musical/comedy albums under their belt and their own popular catchphrase: "Mom always liked you best."
Why did CBS give the Smothers a variety show mere months after cancelling their sitcom? They figured a younger audience could counter 'Bonanza's older viewers and the Smothers Brothers had that youthful appeal (but conservative look) the network was looking for.
CBS packaged their irreverent style into the standard network variety format with all the trappings (rows of dancers, big name guests, Nelson Riddle as Musical Director) but failure seemed assured, at least that was the industry buzz. Tommy Smothers shrewdly negotiated a 26-week guarantee - if they were going to go down, he reasoned, they may as well get paid.

Liberace from The Smothers Brothers Comedy Hour.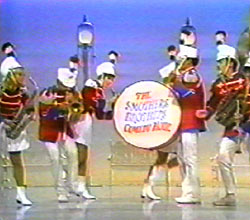 The gamble worked, the Smothers came in 16th overall for the 66-67 season.
When 'The Smothers Brothers Comedy Hour' returned for a second season, the show began to develop more of an edge, tackling comedy subjects other television shows never dared to - religion, recreational drugs, sex and political unrest.
-S Kosareff writes: "I attended a taping of the original SMOTHERS BROTHERS COMEDY HOUR when I was about 16 at Television City in Hollywood. As you may know the Smothers Brothers inherited Judy Garland's old stage (43) and the ramp the Smothers used that extended out over the audience was originally built for Judy since it was reminiscent of a theatrical stage, unlike most television stages which are audience level.
"Since Stage 43 was rather small, Nelson Riddle's orchestra was housed in an adjoining stage and the music was piped in to 43. The guests on this program were Noel Harrison and Jane Powell. I still have the 'Mom Always Liked you Best' button, one of many passed out to those people who stood in line to see the show."

A lot has been written about 'The Smothers Brothers Comedy Hour', and its unique place in TV history. Deft satire, brilliant stand-up humor, references to marijuana and the counter-culture, innovative video special effects, musical artists blacklisted from other shows - these were elements that made the series far different from anything else on TV in the Sixties.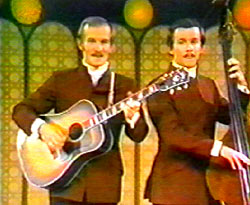 "We were the first show that said 'Hey, man, the war is bad' and criticized (President) Johnson from a public platform." Tommy Smothers related in 1975.
Because of the show's growing popularity, 'Bonanza' was no longer number one by 1968 - but still, CBS wasn't all that happy.


George Harrison from the opening of a 1968 Smothers Brothers Comedy Hour.
It wasn't long before Tommy Smothers discovered that he may have had artistic control contractually but the network had absolute control. Popular phrases, controversial songs and sometimes whole comedy segments were excised by the strict network censors. Sure, it was OK in 1967 to make fun of a President's golf game on TV - but not his war.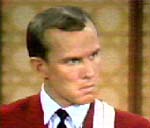 At the end of the third season, because of numerous censorship battles and a constant beating in the conservative press - and the fact that Tommy Smothers was turning in the shows too late to be edited before broadcast - CBS demanded that the Comedy Hour episodes be completed and reviewed by censors by Wednesday of each week.
The network claimed the last show of the season was turned in late, cried breach of contract and dropped the series. (It was later proved that the network DID have the tape in their possession after all.) The network ultimately refused to run the episode anyway because they said it "would be considered irreverent and offensive by a large segment of our audience."

Even after they had renewed the show for another season, CBS cancelled the Comedy Hour in 1969 - sending the Smothers Brothers and the network into court, and squelching Tommy Smothers' idea of filming season four from counter-culture ground zero - San Francisco.
"In our case, seventy-five percent of the twenty-six shows we've done this season were censored," Tom Smothers told Look magazine in June, 1969, "And we're mild. Now, if we're thrown off that easily, what will happen to someone who has something really important to say?" This may go down as one of the most important censorship battles ever fought (and lost) in the United States.
The Smothers offered the censored episode on a syndicated basis, hoping that stations would sign on for a new ninety-minute Smothers special with new material added. Instead, NBC aired a 60-minute special starring the Smothers brothers and Peter Fonda (Easy Rider) which led to another weekly variety series - on ABC.

PART II: THE ROCKY SEVENTIES
The Smothers break up, then land another series

Harry Nilsson and Tom Smothers from You Tube.
- Smothers Brothers Comedy Hour
Please consider a donation
so we can continue this work!

Amazon Prime - unlimited streaming
of your fave TV shows and movies!
Get your FREE 30 Day Trial!
PR4 & PR5 Pages for Advertising