24: Redemption
ALWAYS BET ON JACK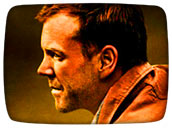 The writer's strike is still reverberating around Hollywood, resulting in a delay for the start of 24 Season 7. To keep us on the hook, FOX presents a two-hour 24 telefilm (taking place in real time, naturally) that finds Jack Bauer in South Africa fighting brutal tribal warlords while defending the lost children of the desert, hoping to save them from becoming soldier slaves.
24 is one of my favorite programs. True, it gets markedly weaker with each new season but the show started out of the gate so strong that I've still enjoyed all of the 'days' to some extent.
At first this film feels devoid of the familiar 24 trappings, there are no scenes at CTU, no Chloe meltdowns, no moles, none of Jack's loved ones are being kidnapped, nor is there the familiar "Boop Boop Blee Oop" of the CTU phones. Instead, Robert Carlyle (The World Is Not Enough) is on board as Jack partner, a noble UN aid worker and former friend of Jack's who's no stranger to firefights.
There's not a lot that happens outside of Africa at first; the slow-moving first half hour is mostly talk and anticipation as the new President Allison Taylor is seen taking office. Thankfully, Powers Boothe is back (again chewing the Oval Office scenery) as the snarling, Cheney-esque outgoing President, a reminder of the hidden intrigues and lethal deceptions that make 24 the rich tapestry it is. Boothe lends a creepy undercurrent and a rich foreboding that promises a rocky road for the new Commander in Chief.
In a secondary storyline, Jon Voight returns as an aggrieved Jonas Hodges; he has an interest in keeping the African unrest going for whatever nefarious purpose, leading to some new characters getting caught up in a conspiratorial web that threatens world stability.
When our cowboy in Africa reluctantly brings it on around the 45 minute mark, 24: Redemption begins firing on all cylinders. That's when Jack Bauer gets an opportunity to do the things he does best - getting the shit kicked out of him in the service of others, taking down the bad guys with as few bullets as possible, standing up to unrelenting torture, and snapping people's necks with his legs.
All of this fiery dramarama serves to place the chess pieces on the board for the game to come. Let's hope it's not another round of Chinese Checkers.
Until January 2009, the word on 24: Redemption is - Jack is back!
24: Redemption airs Sunday, November 23rd at 8:00pm ET/PT on FOX.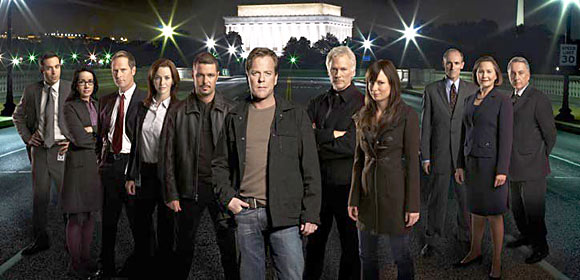 ---