THE GONG SHOW
REALITY BITES BACK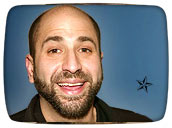 Two new shows debut on Comedy Central next week amid great hype (between the Enzyte commercials) - The Gong Show with Dave Attell and Reality Bites Back.
The Gong Show was one of my favorite shows of the 1970s, especially the first couple of years before it descended into total drunken chaos. I stated in a previous post that I'd definitely watch if original host Chuck Barris returned but Dave Attell makes a fine MC for this offbeat talent show.
The celebrity panel judging the first episode's parade of weirdos consists of Triumph the Insult Comic Dog, Steve Schirripa aka Big Pussy on The Sopranos, and Brian Posehn from The Sarah Silverman Show. The winner on each show gets a WWF style wrestling belt emblazoned with the Gong Show logo and the grand total of $600.
This is a pleasing update of the former daytime game show; for instance, the first episode begins with a drag queen singing about her lost pussy that I swear was performed on the original.
The show is sleazier than the 1970's version but what isn't these days? This new Gong Show is an entertaining diversion, more so that America's Got Talent and the ilk. If you enjoy watching slutty women, self immolation, and massively overweight guys this debut episode is for you.
Following The Gong Show comes Reality Bites Back, Comedy Central's first reality show competition series with laconic Michael Ian Black hosting.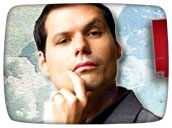 Black is that overly adorable, dark haired comic who really came into his own with VH1's I Love The 70s and its various spinoffs - but for some reason his last attempt at a TV series (Stella) was sadly lacking.
The concept: ten D-List comedians (so far down the D-List I only recognized one of them, Darnell Rollins) compete in humiliating contests based on previous reality show competitions. The last comic standing walks away with $50,000.
This series looks like a winner even if the host tries a little bit too hard on the first episode and my favorite contestant was voted off post-haste.
The show works wonderfully, the first completion (I won't give it away) is cringe worthy to the max. If recoiling from the TV in horror equals entertainment value then this is must see. Overall better than the low rent reality shows it spoofs (think Rock of Love and I Love New York) Reality Bites Back is highly amusing, mindless entertainment. That's all you can really expect from a television show, right?
Catch The Gong Show followed by Reality Bites Back beginning Thursday, July 17th at 10:00pm on Comedy Central.