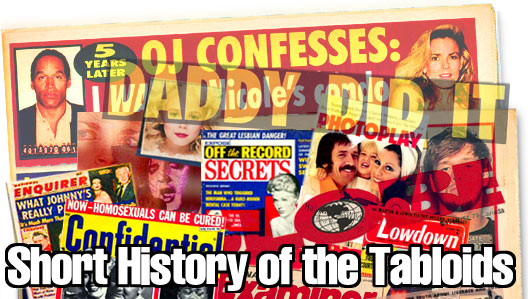 55+ Years of the National Enquirer
by
Billy Ingram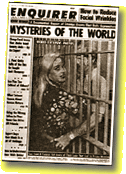 The checkout stand publication that reshaped society began in back 1952, when Italian publisher Generoso Pope, Jr. bought New York's National Enquirer racing tip sheet for $75,000.
Pope immediately changed the focus of the tabloid format paper from thoroughbreds to the bizarre and grisly. Blood and guts dominated the weekly with features like "I Cut Out Her Heart And Stomped On It!" and "I Ate My Baby!"
The Enquirer's circulation quickly rose to a million copies a week in the fifties thanks to their revolutionary distribution system that reached into neighborhood grocery stores all over America.
In the early days, Enquirer staffers were infamous for fabricating incredible stories to create sales enticing headlines, attracting customers that still held the naïve belief that 'they couldn't print it if it wasn't true'. (Some people are still duped in this way by TV shows masquerading as news like the Glenn Beck and Sean Hannity programs on Fox News.)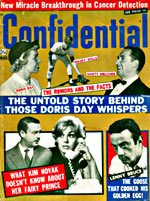 The National Enquirer was a newsprint version of popular scandal magazines like Confidential, which, in 1952, was beginning to feel the ill effects from celebrity lawsuits over unfounded stories they published about (for instance) actor Lee Marvin and heiress Doris Duke. After the Enquirer debuted, Confidential's circulation plummeted from 4 million to under 300,000 by the time it folded 1969.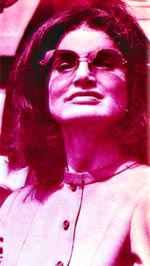 For celebrity news, the Enquirer was mostly running adoring tales about Elvis Presley, presenting ugly stories about the decline, decay and ultimate death of Judy Garland, Jackie Kennedy Onassis' romances and exposing details about the on-again / off-again marriage of Elizabeth Taylor & Richard Burton.
Reporters would pose as bellboys, cops, funeral workers or whatever the situation called for to get a scoop on these stars - and if they couldn't get a good story legitimately, they frequently just made them up.
In 1968, Pope overhauled the magazine to make the National Enquirer more appealing to mainstream Americans, downplaying the weird sex and gore - emphasizing instead upbeat stories, supernatural phenomenon, miracle diets and lots more celebrity gossip. Pope also relocated the magazine's editorial offices from New York City to Lantana, Florida (near Palm Beach). Circulation jumped to three million.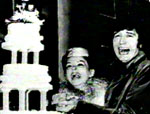 THE ART OF SELLING PAPERS...
For over a decade, the tabloids could always count on a good story about Judy Garland overdosing and getting her stomach pumped, getting married over and over, drunkenly trashing her fellow stars in public, passing out in her food and other unsavory activities.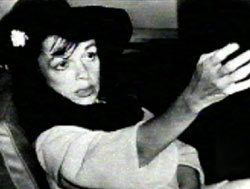 After an untold number of 'Judy Garland Near Death' headlines, the entertainer finally did die in 1969. The tabloids were able to milk the tragedy for yet another year by having Garland's ghost popping up virtually everywhere around the world (getting her stomach pumped and missing concert dates, I guess).
And the readers loved it. Trouble was, Judy headlines sold a lot of papers on a regular basis - now that she was gone, the weeklies found themselves with fewer and fewer living scandal-magnets to exploit.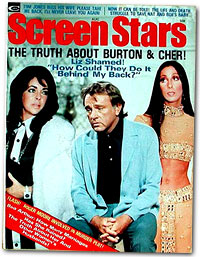 The Enquirer reader's favorite celebrity - Elvis Presley - was pretty much above any scandal, his fans wouldn't believe bad things written about him no matter how true they might be. There was also an unwritten rule not to "out" successful gay stars and, let's face it, there just weren't as many celebrities running amuck in the late-sixties. At least none that America's inquiring minds really cared about.
As the seventies unfolded, competition in the form of slick magazines like Screen Stars and Photoplay was hurting sales as the Enquirer struggled to find its identity in a more modern, media-savvy world.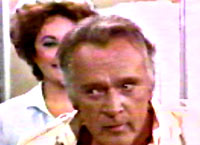 Interest in the Burton's marital merry-go-round began to fade with the Seventies, (this was a story that had been going on for over a decade, after all).
Credibility was becoming an issue for the tabloid industry as well - the public generally knew by then that the tabloids made up stories, or based articles on the flimsiest evidence to get a sensational headline. When customers bought up the papers, they'd find themselves tricked again by another phony headline; sales slumped as a result.
THE NEW ERA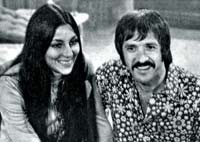 Then, out of nowhere, came Sonny and Cher.
With a highly-rated summer television show and top-forty hits that started to take off in 1972, the whole country fell in love with the musical couple. They were so popular that Cher had four careers going at once - star of a TV series, huge hit records as part of a duo, hit records as a solo act, and her own doll making a dent in 'Barbie' sales.
Sure, Sonny and Cher had been pop stars during the mid-Sixties, but they were too 'square' for the tabloids then. This was a new Sonny and Cher, one the public knew little about. The Enquirer sold big when they featured Cher on the covers as a bead-encrusted, trailer-park Cleopatra. Bored with reading glowing stories about Elvis? No problem, the tabloids reasoned, we'll write them about Sonny and Cher and how much in love they are!
The Enquirer (and others) mostly ran with public relations, fluff stories at first - about how happy and rich the couple was. With Sonny and Cher's weekly television show getting more and more popular, issues featuring the couple on the cover flew off the racks.
Luckily (for the tabloid publishers), there were problems coming to light between the two stars almost immediately - which seems only natural, considering the stress of a runaway hit television series along with a hectic recording/touring schedule.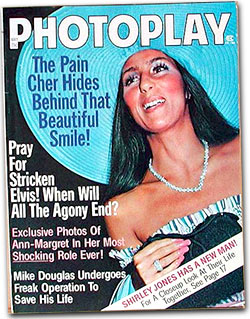 With the breakup of Sonny and Cher in 1974, happily detailed blow for (sometimes fictitious) blow in the tabloids for at least a year prior - along with the separate cavorting of the two stars - the papers and the so-called "movie magazines" had fodder for the entire decade.
So much so, there were a half dozen tabloid papers crowding supermarket newsstands by 1974 - including rival Rupert Murdock's National Star, a full color tabloid launched that year with a $6 million publicity blitz.
Supermarkets opened up space around their checkout stands to display new publications when People and US magazines were unleashed in 1974 based on the demand for stories about stars like Sonny and Cher. Particularly Cher, because she was leading a roller coaster life - at least according to the Enquirer, comfortably selling around five million copies each week by that point.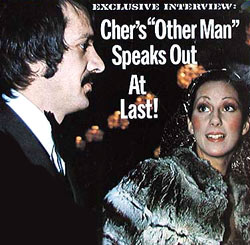 "But a thing I read last night really hurt my feelings," Cher said about the London Observer in 1976. "The Cher show is starting to run in England, and I guess they figure a piece like this, about me, will stir up interest. What rotten stuff! Like - 'This woman lives in a two million-dollar house, spends 500 bucks a week on manicures, drives one of her three Ferraris, when she's not using her Rolls-Royce or Mercedes, has 600 pairs of shoes, and 1000 beaded dresses, and she's not happy, and isn't it a shame.' I sure as hell wouldn't like anybody like that. Thank God she doesn't resemble anybody I know."

The tabloids linked Cher to everyone living and dead - married one month, divorced and pregnant the next. She reunites with Sonny, then drops Sonny, dates every other star in Hollywood, opens a roller-disco, goes punk rock, then starts dating guys half her age.
Just throw in a few other bizarre details, true or not, it didn't matter - because it's perfectly legal to print just about anything you like about a celebrity.
NEXT:
History of the Tabloids Part Two /
CHANGING FOR THE TIMES...