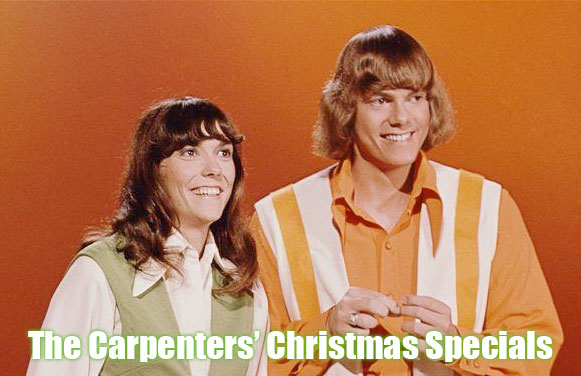 by Billy Ingram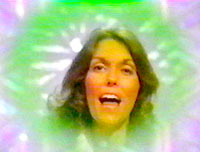 Christmastime in the 1970s provided the networks with a golden opportunity to present variety hours starring popular recording artists in a glittering setting. The Carpenter's holiday specials in particular were superb examples of successfully transplanting a pop music group to television with their artistic integrity intact.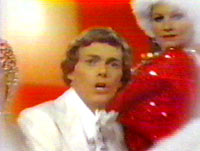 The Carpenters hosted a popular summer variety series in 1971 on the NBC network but with their recording and touring schedule in overdrive, it would have been unprofitable for them to continue the series. By 1976, record sales and concert revenues for The Carpenters were dropping precipitously; television became a more attractive venue.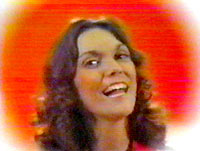 Rather than attempt another weekly series (the musical-variety genre was in steep decline), the duo signed on for a number of specials for ABC beginning with 'Carpenters Very First Television Special' in December, 1976. Produced and directed by Bill Davis (The Jackson's variety hour) and featuring guests Victor Borge, Howard Cosell and John Denver, the program scored top ten ratings.
Naturally, ABC pegged the Carpenters for a Christmas-themed special the following year.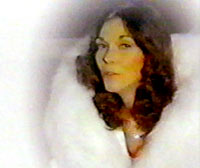 CHRISTMAS 1977
The premise of the Carpenter's second Yuletide special in December, 1977 ('The Carpenters At Christmas') was simple - Karen, Richard and their band have just finished shooting a major production number so Karen's having the gang over for a holiday party afterwards.
Richard wants to bow out. "I can't put my finger on it," he complains. "but Christmas just doesn't feel the same as it used to." He's got the holiday blues and would rather spend the evening moping about, writing hit songs.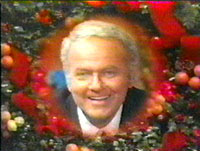 In the storyline, Richard trolls Los Angeles looking for the spirit of Christmas (won't find it THERE!). Along the way, he runs into a character played by Harvey Korman (who was just coming off his long run on 'The Carol Burnett Show' and starting a new deal with ABC).
Korman bravely soldiers through an extended song and dance number, then heads out to look for holiday cheer with Richard - only to run into Kristy McNichol (who had just won an Emmy for her role in 'Family'), playing a little girl with, conveniently, nowhere to go on Christmas.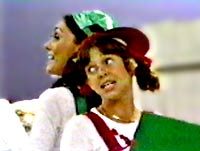 Familiar variety show trappings, lushly orchestrated special material and lots of soft focus lenses with icy filter effects - combined with a generous helping of The Carpenter's classic Christmas recordings and plenty of red, white and green - made this one of the Seventies' most visually memorable holiday variety specials.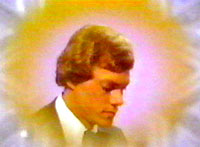 Musical highlights included 'Home For The Holidays', 'Sleigh Ride' and 'Winter Wonderland', all superbly sung by Karen Carpenter along with a lovely rendition of 'O Holy Night' dramatically rendered on piano by Richard Carpenter.
Richard selected the holiday songs featured on the special personally, resulting in a refreshing, sentimental mix of religious and pop standards.
You got the feeling watching this program that Richard wasn't entirely at ease in front of the camera, but his musical contributions made this production a timeless one, a nearly perfect screen capture of what Christmas represented in America twenty five years ago.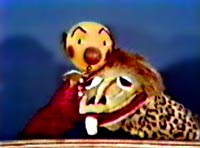 Another reason the show was so pleasing: Burr Tillstrom's Kukla and Ollie (without Fran) performed an inspired vaudeville style routine. Tillstrom and his puppets were a big hit in the early days of television and could be seen weekly on 'CBS Children's Film Festival' airing Saturday mornings from 1971- 1977.
Tillstrom's performance on The Carpenter's special was a revelation - an old-fashioned musical comedy tour de force, a rare (and last) primetime appearance by the venerable and talented children's entertainer (he died in 1985).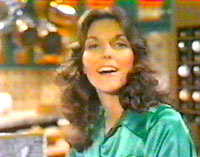 Bob Henry ('The Flip Wilson Show') produced and directed this multifaceted gem and Billy May (possibly TV's greatest musical conductor/composer) served as musical director. The program was a ratings smash.
Given that Carol Burnett's retro-special attracted nearly 30 million viewers recently, one of the networks should seriously consider rushing 'The Carpenters At Christmas' back on for 2005.
ABC brought the duo back in May, 1978 for a musical-comedy special ('Space Encounters' with guests John Davidson and Suzanne Somers) built around their modest but entertaining novelty single, 'Calling Occupants Of Interplanetary Craft.'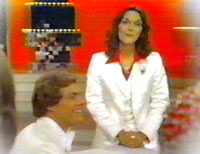 While Karen was caught up in her now familiar tragic health problems (she began suffering from anorexia around 1975, possibly brought on by a reference to her being chubby in a newspaper review), Richard was battling his own demons in 1978 - seriously abusing Quaaludes (a powerful sleep aid / late-seventies party drug).
Richard's performances began to suffer as a result. He was unable to perform at all for a British television show in November of 1978 (Karen told the audience he had the flu); around this same time filming began for the Carpenter's third Christmas special for ABC.
CHRISTMAS 1978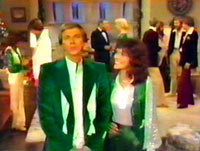 Though he may not have realized it at the time, Richard Carpenter's world was beginning to crumble around him. The duo was on a roll as far as the network was concerned, returning for the holidays on ABC in 1978 with 'The Carpenters: A Christmas Portrait'. Designed to coincide with a vinyl release of the same name, the album failed to crack the top 100 that year; it has subsequently sold over a million copies and is rightfully considered a holiday classic.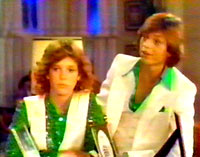 On the special, Karen & Richard are 'throwing a party' with a quirky guest list including film legend Gene Kelly ('Singing in the Rain') and Georgia Engel (Georgette from 'The Mary Tyler Moore Show') and some magician no one's ever heard of.
Kristy McNichol was back again, this time with her brother Jimmy in tow. The two McNichols were hot at this time; they had a minor hit as a duo in 1978 ("He's So Fine" with the Chiffons singing back-up) and starred in their own CBS special in December, 'Kristy and Jimmy present Young and Foolish.' In addition, Kristy had recently signed a million dollar deal with CBS to star in five TV movies.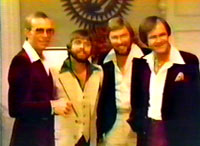 The Carpenter's band returned for this special as well - how many other singers featured their touring band members on the TV shows? (Other than Bobby Darin and Desi Arnaz, I can't think of any.) We also got a glimpse of Karen and Richard's parents on this special.
Lynne Vogt tells us, "The band member with the full beard is none other than Mouseketeer Cubby O'Brien. He was a percussionist in Carol Burnett's orchestra, and met the Carpenters when they were guests. He then toured with them for years."
Bob Henry again directed and produced, this time with Nelson Riddle serving as musical director.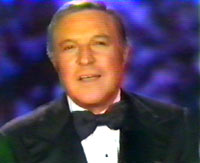 This holiday production wasn't as well-realized as the first, there's more emphasis on traditional classical Yuletide songs from around the world (BORING!) and new special material that had little to do with the holidays - like a tedious musical number about siblings sung by the McNichols and Carpenters, and Gene Kelly's tribute to the Blarney stone.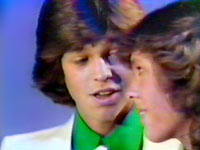 A version of a Spanish carol 'sung' by Kristie and Jimmy McNichol was as painful to watch as it must have been to film; leading one to believe that this wasn't so much a Christmas celebration as an interconnected series of awkward moments framed by unfortunate circumstances; a holly, jolly train wreck.
Still, Gene Kelly was in fine form, singing and dancing as effortlessly as he did in his immortal MGM movies. Kelly was making a lot of television appearances around this time in a kind-of comeback that ended abruptly with the big screen flop 'Zanadu.'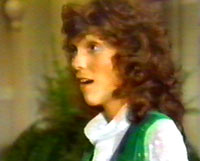 One unlikely scene found Karen singing 'Santa Claus Is Coming To Town' as she whipped up baked goods and desserts for the gang in the kitchen.
From the special:
Gene: "What my theory is, you might even call it Kelly's law, is that people give unto others what they would most like to receive themselves."
Richard: "Yeah. That makes sense to me."
Kristy: "Well, Jimmy and I gave the gift of family and that means a lot to us."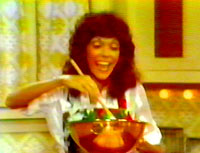 Karen: "Wait a second - I'm giving everybody food!"
I'm not sure if this was meant to be ironic, since Karen was noticeably too thin here; her life-threatening condition was becoming apparent to everyone.
There was a shortage of familiar Carpenter's Christmas tunes on this special (other than "Merry Christmas, Darling") but bright spots included Richard's performance of selections from 'The Nutcracker' backed by a full orchestra and Karen's soaring vocals bringing 'Ave Maria' to lush life.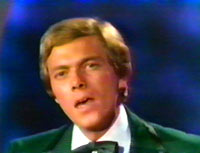 The Carpenters were always considered a mellow act, but this hour bordered on the catatonic. One possible explanation: a month after 'The Carpenters: A Christmas Portrait' aired, Richard checked into a clinic for his Quaalude addiction. Those things will mellow a person out...
Soon after Richard left rehab, The Carpenters went into production for what would be their last network special, broadcast in May, 1980, 'Music, Music, Music' with guests John Davidson and Ella Fitzgerald.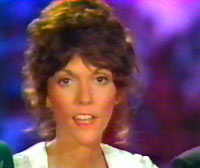 Karen and Richard returned to the recording studio in 1981 for an album that brought them their last hit single, "Touch me When We're Dancing," but Karen's condition wasn't getting any better despite seeking aggressive treatment that lasted over a year.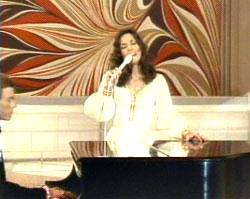 Karen Carpenter collapsed of heart failure and died on February 4, 1983 in her parent's Newville Avenue home in Downey, California - a house that she and Richard originally bought for themselves (see sidebar).
---
DID YOU KNOW:
The announcer on the Carpenter's specials was Dick Tufeld, the guy who 'yelled out' the opening to so many classic variety shows like 'The Hollywood Palace'. He is probably best known as the voice of the Robot in the 'Lost In Space' TV series and motion picture.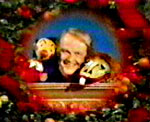 "It's like being in love with a very loud and powerful lady who was once innocent but now drinks too much."
- Burr Tillstrom
on working in television after the early-Sixties
---
AT HOME
WITH THE
CARPENTERS?!?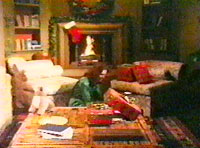 On the second Carpenter's Christmas special, Karen is shown to be living alone in a penthouse apartment. The second special seems to show Karen and Richard living together in a comfy house, a set that looked remarkably like the Carpenter's real life family home.
How do I know this? TVparty viewer Sal Gomez sends us his home video of a trip through the Carpenter's Newville Avenue home:
"I have included a tour of the former Carpenters home in Downey California. This was shot in 1999 as part of a tour package from a convention celebrating 30 years since the release of the 1st Carpenters album.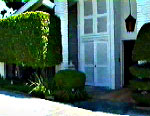 "The house (no longer owned by Richard Carpenter) is located on Newville Ave and is referred to as the Newville home. It was purchased by Richard and Karen in 1970, just after the success of the "Close To You" single, as a place where the brother and sister could live in and use as a home, office and rehearsal studio.
"They bought the empty lot next door and expanded the house to include a Billiards room, wine cellar, soundproof music room and garage.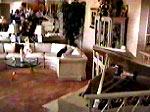 "Richard and Karen bought another home located 2 1/2 miles away on Lubec Street for their parents but when their parents temporarily moved into the Newville house they refused to leave so the house became theirs. Richard & Karen moved into the much smaller Fidler Ave home together until Karen moved out in the late-seventies into a high-rise condo on the Avenue Of The Stars in Century City.
"The Newville home is also famous to Carpenter fans for appearing on one of the duo's album covers ("Now & Then").
"Karen Carpenter died in the Newville Ave home. She had gone there the night before to have dinner with her parents and spend the evening so she could go shopping with a friend of hers at a local Downey Gemco the following morning.
"Richard Carpenter continued to live in Downey California (a very middle class neighborhood) until recently. The Newville house and Richard's home were both extensively decorated for the Christmas holiday seasons over the years so you might infer that their specials were true to their feelings for Christmas.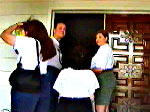 "Richard stayed in Downey to be near his mother until she passed away; he left Downey in the summer of 2000 to live in his new home in Thousand Oaks. He has also begun to work more in recent years and appeared in a video concert special featuring Petula Clark broadcast on PBS stations. Richard accompanied Petula on a couple of numbers made popular by the Carpenters."
- Sal