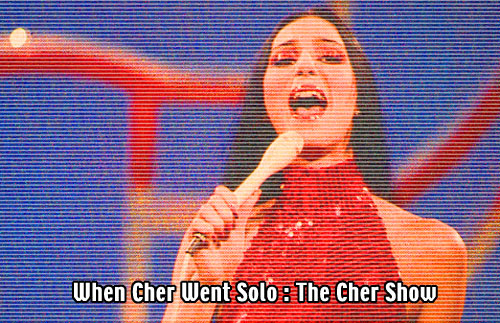 PART TWO
/
PART ONE HERE
by Billy Ingram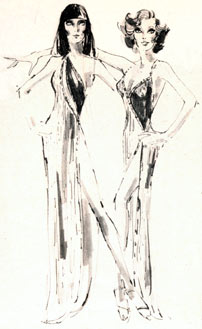 Ratings were high for Cher's first show (actually a special broadcast on a Wednesday night, February 16, 1975, and not her regularly scheduled Sunday night berth) featuring Flip Wilson, Bette Midler and Elton John (in a rare prime-time appearance).
Elton John waas the hottest superstar in the world in 1975, he interupted his Chistmas vacation to do the special, while Bette Midler was coming off a self-imposed hiatus from show business.
One of the early episodes featuring Cloris Leachman ('Phyllis') and Jack Albertson ('Chico and the Man') won an Emmy for each of the guest-stars.
Cher created tabloid headlines immediately with her navel-exposing Bob Mackie outfits and started talking with 'hip' slang terms like "You cats sit tight", and "Be cool".
"There were so many things that were censored - ideas and words." Cher said looking back on the show in 1980, "All I know is I got in trouble for showing my belly button, and every time I turned around after I went off the air, all you saw were Cheryl Ladd's boobs."
Cher opens with a bit off of her magnificent Stars album
Even with strong initial ratings, the first season ended with the 'Cher' show at number 23. In contrast, 'The Sonny and Cher Comedy Hour' finished 7th the year before, so it was decided that the 'Cher' show needed a minor overhaul.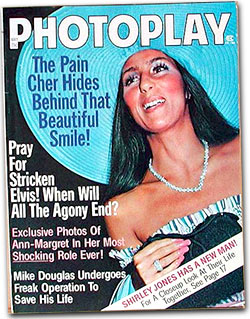 The second season saw a new orchestra and a more upbeat opening with a new theme song (based on Cher's Sixties hit "All I Really Want to Do" penned by Bob Dylan).
The second season also brought lower ratings, so the star made a bold decision. Cher would team up with Sonny again and start mid-season with an all-new series.
Whether this was entirely her decision (or an ultimatum from the network) is open for debate. After all, wasn't this the same Sonny she sued for "involuntary servitude" in violation of the 13th amendment to the Constitution (forbidding slavery) just a year before? The same Sonny that demanded $1.5 million in cash just to get out of her contract with him?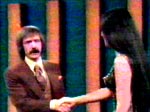 There were other difficult legal issues that had to be settled before Sonny and Cher could work together on television again. The couple's former record label was owed an album (which was hastily recorded and never released), and the couple had to embark on one last tour during the summer hiatus to fulfill another long standing contract that Sonny had made before the divorce.
With these issues settled, 'Cher' left the schedule on January 4, 1976, replaced a month later by The Sonny and Cher Show. The logo for the new show featured a hand with the fingers crossed for luck.
Ratings for the new Sonny and Cher series were high at first, the premiere episode reached the magic number seven, but then fell to the same levels as the 'Cher' show over the next few weeks.
Ratings for the second season were lower still, in spite of the fact that the opening dialogues between the couple were funnier than ever as they discussed their divorce and separately dysfunctional lives. 'The Sonny and Cher Show' was canceled after a year and a half run in August of 1977.
Cher went on to do a variety special for NBC in 1979 ('Cher - And Other Fantasies') before embarking on a very successful career as a Las Vegas entertainer and Oscar-winning motion picture actress.
---
YOU TUBING CHER
Lily Tomlin as Ernestine gossips with Cher from the Cher show.

Cher takes questions from the audience on The Mike Douglas Show.