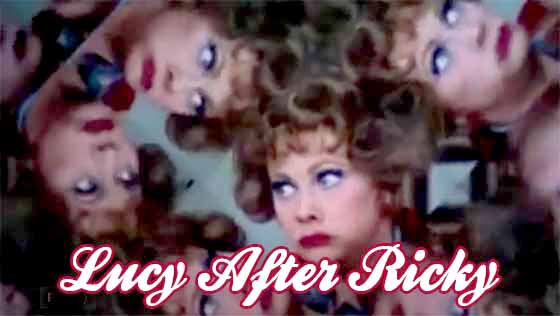 by Cary O'Dell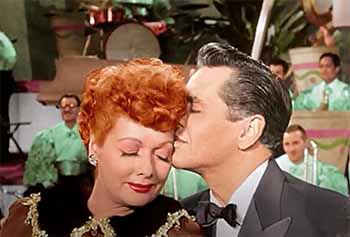 It's a commonly accepted viewpoint that, after "I Love Lucy," Lucille Ball never again, during her long small screen career, achieved the artistic heights of her years as "Lucy Ricardo."
In fact, one author, in assessing her latter era said that for most of her subsequent TV career, Ball was coasting on the "fumes" of her past glories.
But a recent Christmas present of the full "Lucy Show" series on DVD (yes, I'm old-fashioned), has allowed me to revisit post-"Love" Lucy and, to my delight, I've discovered that Ms. Ball and her second series is far more than "fumes."
First: Is "The Lucy Show" as good as "I Love Lucy"? No. But then again, what other sitcom has ever reached the comedic heights of the original "I Love Lucy"? Though shows like "The Office," "Seinfeld" and, arguably, "Friends" have come close, Lucy and Ricky and Fred and Ethel remain the gold standard.
Furthermore, history also tells us otherwise regarding "The Lucy Show" and makes a case in favor of the program. It was not viewer's nostalgia for the original Ricardo sitcom that kept "The Lucy Show" solidly in the top ten for the full duration of its run from 1962 to 1968. Nostalgia doesn't result in ratings, otherwise, Ball's final series "Life with Lucy" would have been far more successful.
Additionally, though not available over all the streaming services like it is now, "I Love Lucy" was already being rerun at the time "The Lucy Show" was on the air. If viewers wanted "I Love Lucy," they could have found it and watched it--and they probably did--but they also wanted to the new Lucy, more Lucy.
Such follow up success for Ball, in popular and artistic terms, should not be that surprising, really. After all, ever after "Love," Lucy is still Lucy: a peerless physical comedienne. But, it should also be noted that she's no slouch with the dialogue, the comebacks, the double-takes that are also the part-and-parcel of comedy. No one else that I can think of can turn a single word—her often-uttered "Honestly!"—into such a singular comedic achievement.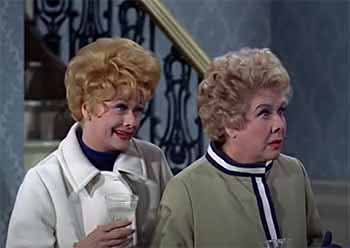 Furthermore, originally teamed with old "Love" co-star, Vivian Vance, and later with such near equals as Ann Sothern and Carol Burnett, Ball continued to lay the groundwork for all future female comedic pairings. In watching the original Ball-Vance dynamic one clearly sees the genesis of "Laverne & Shirley," "Kate & Allie," Patsy and Edina from "Ab Fab" and the "2 Broke Girls."
The early seasons of "The Lucy Show" is filled with dynamite comedy vignettes. Lucy and Viv install a TV antenna, Lucy and Viv install a shower, etc. The episode with the two of them trying to negotiate some kids' bunk beds is a comedic tour de force.
One of the things that makes "The Lucy Show" of further value is the various ways it has proved to be so prescient. As a widowed mother with two kids who has welcomed her friend, Vivian, a divorcee (!) with a young son, into her home to split expenses, "The Lucy Show" (in its first incarnation) is strangely timeless and relatable. Numerous episodes revolve around Lucy, and Viv, trying to stretch a dollar or get more money out of the miserly men in their lives (Lucy's banker, Viv's unseen ex-husband). In this way, the two women prefigure a generation of later single mothers trying to do their best with overly low and often inconsistent child support payments.
That predicament also meant not only that Lucy often had to take on various tasks she was ill prepared for but also had to usurp the traditional gender dynamic. In one episode, she takes over as referee for the boys' football team; if the men won't—or can't do it—then she'll do it. Later, she insists on joining son Jerry on a "Father-Son" camping trip. (In one early installment, Lucy laments to Viv the lives their sons are living "without fathers.")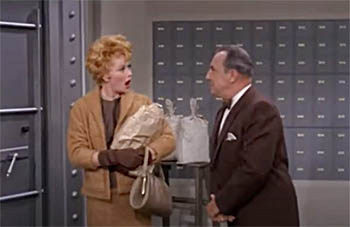 Later, in the life of "The Lucy Show," in a major revamp of the show, Lucy moves to California and starts a job working for mean Mr. Mooney. Lucy remains with the times. Here, she's a working woman now. And though, in her employment, Lucy might never have won any Secretary of the Year Awards, her treatment at the wrong end of Mr. Mooney's blustery temper should have made her the first to call for unionization or, at least, PR intervention!
Additionally, Lucy is also still a single woman and a single woman "of a certain age." She is negotiating the dating scene with its pleasures and pitfalls and with a healthy appetite for the opposite sex. And just like that! So move over Samantha, Carrie and Charlotte, Lucy Carmichael is TV's most famous modern woman!
Re-watching these shows, I noticed something else. When most of us think back on Lucy Ricardo we often summarize her as always launching various schemes and hijinks and then having them end in near disaster. And though this does sometimes happen, often Mrs. Ricardo is just at the mercy of her circumstances. It is not her fault that the conveyor belt of chocolates zoom by a warp-speed. It is not her fault that the woman she's stomping grapes with in Italy suddenly turns homicidal.
This is also quite true with latter-day Lucy, too. In re-seeing "The Lucy Show," I was struck by the great universality of Lucy's Lucy Carmichael. You see, Lucy is all of us. She is you and me when the attempted DIY home-improvement job goes completely awry. She is you and me when the first day at the new job is a complete catastrophe. She is you and me when the attempt to save a couple of bucks ends up costing us a small fortune.
Rather than a long good-bye or denouement to her 1950s TV heyday, Lucy evolved with the times, her talent intact while also expanding her humanistic appeal. So, whether as Ricardo or Carmichael or Carter: All hail Lucy!