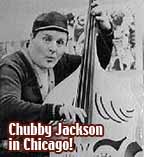 Remembering
Chicago Locals
Tom Jacobs reflects on Uncle Johnny Coons, Frazier Thomas, Ned Locke and other memorable performers.
The Bozo Show
"Who's Your Favorite Clown?" Rick Goldschmidt looks back on Bob Bell's long career.
Ray Rayner
One of the most beloved Chicago entertainers. He started performing in a WWII prison camp!
Here's Geraldine
Jim Stewart and his marvelous puppets.
Gigglesnort Hotel
The wonderful world of Bill Jackson and his Dirty Dragon as told by Rick Goldschmidt.
More on
Gigglesnort Hotel
You won't believe some of the crazy responses we got on this show!
Garfield Goose
Frazier Thomas: A Family Classic.
More Chicago Faves
More on Ray Rayner, Bozo's Circus, Ziggy Zoggo and others. What happened to Yardley Black Label Commercials, Gorilla Milk, Summer Blond and those days on the beach on the Fox River?