If you don't believe television
(and society in general)
has changed much during the last
few decades, take a look at these -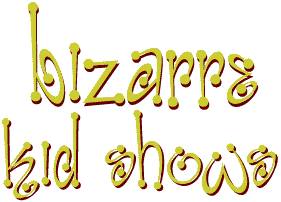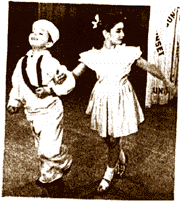 Star Time
Holy Jon Benet! Wee ones
compete in a weekly fashion show
circa 1952.
---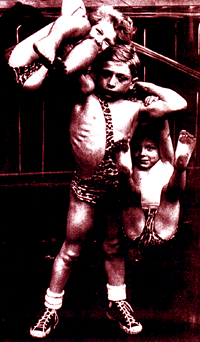 Strong Man
Kids compete in feats of strength - the prize is the opportunity to be gawked at on the Steel Pier in Atlanta for a week.
---
Peter W. Pixie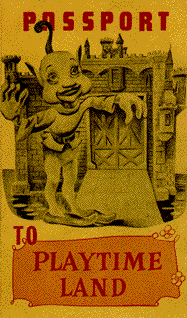 When Frank Paris (designer of the original 'Howdy Doody' puppet) walked off the phenonmenally successful children's show hours before airtime in May 1948, he planned to take the puppet and start his own show.
But NBC sued and won an injuction against him ever using the Howdy Doody puppet again, so he created a new character in 1948 and called him Peter W. Pixie. The Peter Pixie show was broadcast over WPIX in New York. It did not catch on.
Viewer Ted Rosenberg sends us a copy of his Peter W. Pixie club passport. This character looks like the world's first rave kid - or perhaps a prototype of the Marilyn Manson look! Click to see the inside of the piece.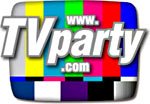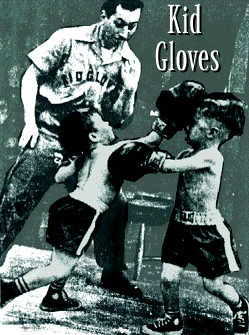 Kid Gloves
Only in the fifties - toddler and pre-teen boys don boxing gloves and battle to the finish!
Produced in Philadelphia, the series was an audience hit in 1951 but lasted only 26 weeks because - big surprise - no one would sponsor it.
The announcer was Bill Sears with commentary by Boxing commissioner John De Groza; the ref was Frank Goodman.
---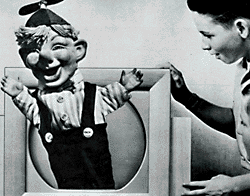 Time For Beany
This show existed in two forms - originally it was a puppet show, later a cartoon.
Created by Bob Clampett, this fifteen minute series told the stories of Cecil the Sea Sick Sea Serpent and his mates Beany and Captain Horatio K. Huffenpuff. Occasionally they run into the meanacing Dishonest John (who would say, "Neyah-ah-ah, It's Dishonest John!"). The name of Beany's boat was the 'Leakin' Lena'. Voices by an all-star cast: Daws Butler, Jerry Colona, Stan Freberg and Bob Clampett as 'Cecil'.
Started out as a local LA kid show in 1948, joined the Paramount syndicated network in 1950 and ran until 1955. In 1961, the show was turned into a cartoon that ran for five years on ABC's Saturday schedule (1962-1967) and in syndication.
---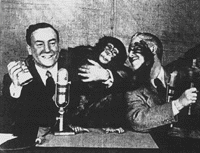 Ever wonder how Marlin Perkins ('Wild Kingdom') got his TV start? He was the host of Zoo Parade, a very popular show in the early fifties that featured different captive animals every day.
PR4 & PR5 Pages for ads - CHEAP!