ANCHORWOMAN
I know, everyone says there are too many reality shows but they're cheap to produce so we'll be seeing a lot more from the networks. But can they keep coming up with fascinating ideas?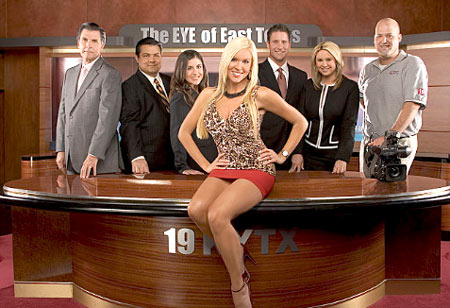 The demented new FOX reality show Anchorwoman looks like it was budgeted at $1.98 but it's the series' tackiness that makes it watchable. The premise gets points for originality - take former Barker's Beauty / WWE diva Lauren Jones from Los Angeles and give her a job in Tyler Texas as a news anchor. Not a feature reporter but actually presenting the entire newscast.
Talk about whoring for ratings. Little miss perfect has absolutely no experience in any aspect of the job but she does have an amazing rack. It tits were brains she'd be Walter fucking Cronkite but as it is Lauren can barely read the teleprompter. When asked if she was left handed her reply was, "I don't know." And wait until you see what this bimbo wears on her first day at work, you'd think she was showing up to ride a pole.
The best part of the show are the looks on her co-worker's faces, especially the female co-anchors, as they get to know the 'new gal.' Seems they have a problem with a painted up tart laboring in what they believe - or believed - to be a noble profession. It's a cold slap in the face to find out you can be replaced by Little Annie Fanny.
Anchorwoman is amusing and compelling in that train wreck sort of way. As you would expect, the production goes out of it's way to make everyone look foolish but that doesn't take much effort given the typically clueless TV management types on display and the inherent tension in the situation.
At the end of the first show, after a few days of rehearsal, a feckless station manager throws this nubile newbie on the air to anchor the 5:00 news for the first time. Will she make it? You'll have to tune in to find out.
Anchorwoman could be a hell of a show but I don't see where it can go after 4 episodes or so unless they make Lauren a feature reporter, get her out into the community. Or will they instead plant more dippy blondes at other stations and before we know it we'll all be tuning in to the Hooters girls for our news. Would we even know the difference?
UPDATE - Anchorwoman was cancelled after the disasterous first episode.
---
A segment about Anchorwoman from Good Morning America:
---
---