BIONIC WOMAN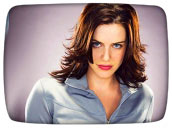 I was not a fan of the original 1970's Bionic Woman series, although it was a tad bit better than The Six Million Dollar Man, the show it was spun off from. This highly anticipated new version of Bionic Woman is brought to us by David Eick (Battlestar Galactica) and Jason Smilovic (Lucky Number Slevin) and, like the original, Jamie Sommers survives one hell of a car crash to be given high tech, super-human prosthetics to replace her useless limbs and right ear and eye.
The price tag for the hardware has gone from 6 to 50 million dollars but this time around Miss Sommers has a wayward teenaged sister to contend with along with a general reluctance to be a freakish super woman confronted on all sides by shadowy adversaries.
The bionic babe is played with a raw intensity by Michelle Ryan (Eastenders) who is surrounded by a strong supporting cast including Miguel Ferrer (Crossing Jordan) who always impresses as the swarthy bad guy, Chris Bowers (Rescue Me), and Mark Sheppard (Battlestar Galactica).
There are multiple levels of intrigue at play, it's a little bit Terminator with a slice of Prison Break and some nasty government conspiracy elements thrown in for good measure. The special effects are terrific, the whole production has an oversaturated glow that gives the series an otherworldly presence.
The pilot covers a lot of ground and, like any good drama, leaves a lot of unanswered questions. As a stand alone hour it's enjoyable, a little limp but it is capped off with a rousing bionic cat fight that's sure to please. Still, it's hard to know if this one's solid or not.
Bionic Woman is already in trouble, one of the executive producers (Glen Morgan who worked on The X-Files) has quit citing "creative differences," rarely a good omen and production may be halted in order to, "give the writers a chance to focus on refining the show's directions."
It's hardly fair to judge an expansive concept like this on just one just episode but Bionic Woman could be a real winner depending on where they go from here.
Look for Bionic Woman starting Wednesday, September 26th at 9:00pm ET/PT. Here's a preview:
---
---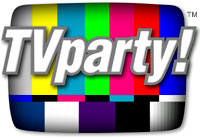 New TV Show Reviews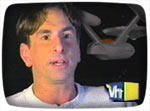 Reviewed by Billy Ingram,
as seen on VH1, Trio and Bravo.
On BRAVO'S 100 Funniest Movies this month!
Auto huren makes it possible to compare all car rental companies all over the world!
Compare the top sellers of Instagram followers on Buy instagram followers reviews!
An overwiew of guides and gutscheincode with the best tips and tricks to save money! on Ebookers.
FROM THE PRESS RELEASE:
The British are coming, the British are coming. "Bionic Woman," premieres on NBC on Wednesday, September 26 at 9:00 p.m. Michelle Ryan, the star of the series, is English as well as Damian Lewis, the star of "Life" and Scottish Kevin McKidd, the star of "Journeyman." Across the pond, the accomplished young actress has appeared in films, on the stage and on television (BBC's "EastEnders" and "Jekyll").

BIONIC WOMAN
Wednesdays on NBC (9-10 p.m. ET); Series Premiere: Wednesday, September 26
Struggling as a bartender and surrogate mom to her teenage sister, Jaime Sommers (Michelle Ryan, "EastEnders") didn't think life could get much harder. But when a devastating car accident leaves her at death's door, Jaime's only hope for survival is a cutting-edge, top-secret technology that comes at a hefty price.
With a whole new existence and a debt to re-pay, Jaime must figure out how to use her extraordinary abilities for good -- while weighing the personal sacrifices she will have to make. Ultimately, it's Jaime's journey of self-discovery and inner strength that will help her embrace her new life as the Bionic Woman in this new action-drama series.
Also starring are: Miguel Ferrer ("Crossing Jordan") as Jonas, the man who employs Jaime's boyfriend; Chris Bowers ("Rescue Me") as Will, Jaime's boyfriend, who performs the operation; Will Yun Lee ("Witchblade") as Jae, the specialized operations leader; and Molly Price ("Third Watch"), as Ruth, Jonas' second-in-command.
"Bionic Woman" is produced by Universal Media Studios and executive-produced by David Eick ("Battlestar Galactica"), Glen Morgan ("The X-Files"), and Jason Smilovic ("Lucky Number Slevin").
Michelle Ryan - "Jaime Sommers"
British thespian Michelle Ryan first achieved success in the United Kingdom for her portrayal of Zoë Slater in the popular BBC series "EastEnders." Earlier this year, Ryan was seen in Sean Ellis' debut feature film "Cashback," based on his Oscar-nominated short film. The film recently screened at the Aspen comedy festival.
In addition, Ryan recently starred alongside Jimmy Carr and Carmen Electra in the Stephen Surjik-directed comedy, "I Want Candy." She has also appeared in the ITV production of "Mansfield Park," and can soon be seen in the BBC production of "Jekyll," opposite James Nesbitt and Gina Bellman.
Ryan's other television credits include "The Worst Witch," "Burnside" and "Miss Marple: By the Pricking of My Thumbs," in which she played the vampish Rose Waters. Her theater work includes roles at the London Palladium, Her Majesty's Theatre and Millfield Theatre. Last summer, Ryan appeared on stage in the Toby Young and Lloyd Evans stage production "Who's The Daddy?" She played Tiffany the Mole, one of the lead female roles, in an outrageous portrayal of life at Britain's foremost political and literary magazine (The Spectator) during the Blunkett Sex'n'Visa scandal.
Ryan is based in London, and her birthday is April 22.
Everything you're looking for is here: