Canterbury's Law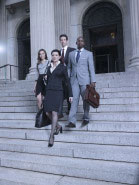 I'm not a big fan of courtroom dramas, in fact I avoid them at all costs, but Canterbury's Law I found to be surprisingly invigorating. It's an off-kilter, edgy legal drama that focuses on a hard-hitting, driven defense attorney.
This hour-long series is produced by Denis Leary and Jim Serpico (the guys behind Rescue Me) and stars Julianna Margulies (ER, The Sopranos) as a brash, unapologetic attorney who will stop at nothing to get what she wants both in and out of the courtroom; a multi-faceted woman with as many personal entanglements as legal.
Emmy winner Julianna Margulies is simply mesmerizing as Elizabeth Canterbury, she carries the weight of this series effortlessly. The actors are all on top of their game; Adain Quinn co-stars as her husband and Ben Shenkman, Trieste Kelly Dunn and Keith Robinson are seen as Canterbury's frazzled staff. The look is gritty and the characters inhabit some interesting back stories.
True to form, the first episode ends in a Perry Mason moment - you know, where the lawyer badgers a witness into confessing - but it's done with a twist so shocking it left my jaw on the floor.
It's difficult to judge a series from just 2 episodes but Rescue Me is one of my all-time favorites so FOX could very well have a hit with Canterbury's Law if the field isn't already too crowded or if the genre isn't played out. If anyone can pull off a curious show like this it's Leary's team, they broke the mold with Rescue Me and there's no reason to think they can't do it again.
It becomes apparent after the pilot that this will be no ordinary courtroom drama, the series immediately begins to deconstruct in a manner that left me wondering, "Where are they going with this?!?" I'm looking forward to finding out.
Canterbury's Law debuts Monday, March 10th at 8/7c.
Here's the trailer for the show:
---
THE PRESS RELEASE:
From executive producers Walon Green ("Law & Order," "Hill Street Blues"), Denis Leary ("Rescue Me," "The Job") and Jim Serpico ("Rescue Me," "The Job") and creator and co-executive producer Dave Erickson ("Murder in Greenwich") comes CANTERBURY'S LAW, a courtroom drama about a rebellious female defense attorney who's willing to bend the law in order to protect the wrongfully accused.
ELIZABETH CANTERBURY (Julianna Margulies) is a force of nature. An attorney on the rise, she puts her career on the line to take on risky and unpopular cases, even when they take a toll on her personal life. Elizabeth and her law professor husband, MATT FUREY (Aidan Quinn), haunted by the unsolved disappearance of their young son, struggle to distance themselves from the tragedy and put their relationship back together. But those goals become elusive whenever Elizabeth's work provides a stark reminder of the justice absent in their own lives.
At the office, Canterbury has surrounded herself with a brilliant crew of attorneys. RUSSELL KRAUSS (Ben Shenkman) was forced out of the Rhode Island Attorney General's Office when he went toe-to-toe with his morally bankrupt boss. His reputation tarnished, he turned to Canterbury, who was the only lawyer in Providence willing to take him in. Now Russell provides a much-needed voice of reason for Canterbury even when she doesn't want to hear it, his position of influence well-earned by their years of friendship.
CHESTER GRANT (Keith Robinson) and MOLLY McCONNELL (Trieste Kelly Dunn) are the associates rounding out Canterbury's legal team. Chester is a congressman's son who has turned his back on both his father and his father's politics. Headstrong and passionate, Molly is quick to take sides – even if she finds herself in the opposite corner from Canterbury.
Produced by Apostle in association with Sony Pictures Television, CANTERBURY'S LAW, whose pilot was written by Erickson and directed by Mike Figgis ("Leaving Las Vegas," "Cold Creek Manor"), introduces an attorney like no other: one whose professional and personal battles are equally vivid; and whose strengths and vices, victories and demons, all combine to serve those in need of justice.
---
---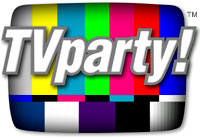 New TV Show Reviews
Canterbury's Law on FOX
Monday, March 10th 8/7c

Julianna Margulies, "Elizabeth Canterbury"
Aidan Quinn, "Matt Furey"
Ben Shenkman, "Russell Krauss"
Trieste Kelly Dunn, "Molly McConnell"
Keith Robinson, "Chester Grant
Jim Serpico, Executive Producer and Denis Leary, Executive Producer
Julianna Margulies, "Elizabeth Canterbury"
Jim Serpico, Executive Producer and Denis Leary, Executive Producer
Mike Figgis, Director
Jim Serpico, Executive Producer and Denis Leary, Executive Producer
Aidan Quinn, "Matt Furey"
Trieste Kelly Dunn, "Molly McConnell"
Keith Robinson, "Chester Grant"
Julianna Margulies, "Elizabeth Canterbury"
Everything you're looking for is here:
Shop Amazon's New Kindle Fire