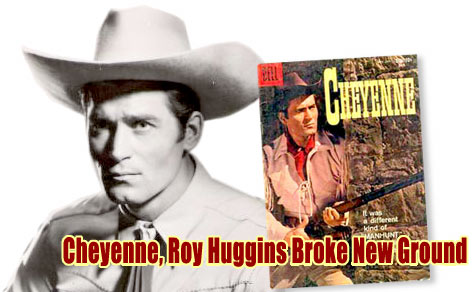 by Jim Longworth

The first season of Cheyenne is now available on DVD, but it is not an accurate representation of what the groundbreaking series became. In fact, the first season was so maligned, that there almost wasn't a second.
Cheyenne premiered in September of 1955, the same year as Gunsmoke first appeared. But Gunsmoke began as a half hour show, which meant that Cheyenne had the distinction of being the first hour long TV series in history.
Hopalong Cassidy, Roy Rogers, and Gene Autry had all preceded Cheyenne, but it was Cheyenne that launched the era of Westerns on TV, which peaked in 1959 when the networks aired over thirty oaters in one season. Before Cheyenne became a success, however, some changes had to be made.
In what turned out to be his last major interview, the late great TV writer and creator Roy Huggins spoke with me at length (in TV Creators, Vol 2) about his career, and his early days at Warner Brothers Television.
During Cheyenne's first season, the title character (played by Clint Walker) had a sidekick (L.Q. Jones), and, according to Huggins, the storylines were more geared to kids than adults. Monsanto and other sponsors not only threatened to pull their ads, they threatened to sue Warner Brothers if changes weren't made to the new Western show.
That's when Warner executive Bill Orr begged Roy Huggins to leave Columbia and take over Cheyenne. Huggins' first order of business was to drop sidekick Jones. Roy also turned Cheyenne Bodie into a no nonsense loner, and made the story lines more serious.
After righting the Cheyenne ship, Huggins moved on to create Maverick, which was James Garner's first starring role.
Huggins also created a number of other shows for Warners, including 77 Sunset Strip, before leaving to create The Fugitive. In the 1970's Roy reteamed with Garner, when he created The Rockford Files. Huggins other series included Baretta and Hunter.
But Roy's work on Cheyenne helped to redefine the TV Western, not only by proving that an hour series was viable, but by opening the door for other non traditional heroes such as those featured on Wanted Dead or Alive, The Rifleman, and Have Gun Will Travel. Huggins is also credited with not only saving Cheyenne, but Warner Brothers Television and ABC along with it.
Ironically, Huggins did such a good job on Cheyenne that Clint Walker's success created contract battles with the studio. Walker was constantly having to make personal appearance tours, and Warners was raking in all of the proceeds.
That arrangement, coupled with long work weeks, caused Walker to bolt the series in 1958, and stay out of work until he returned the next season. In his absence, Walker was replaced by Ty Hardin as Bronco, and after Clint's return, Bronco and Sugarfoot (starring Will Hutchins) alternated with Cheyenne for the weekly time slot.
Walker went on to appear in motion pictures such as The Dirty Dozen, Night of the Grizzly, and The White Buffalo, and he starred in the short-lived TV series Kodiak. But it will be his masterful characterization as Cheyenne Bodie for which Walker will best be remembered.
Meanwhile, Walker, Garner, Warner Brothers, and ABC all owe Roy Huggins a debt of gratitude, and we as fans are richer for Roy's many TV creations.
---
Jim Longworth is host of Triad Today, and author of TV Creators, volumes 1 & 2, and serves as a judge for the prime time EMMYs.