EMBEDED VIDEO CLIPS ARE IN REAL PLAYER FORMAT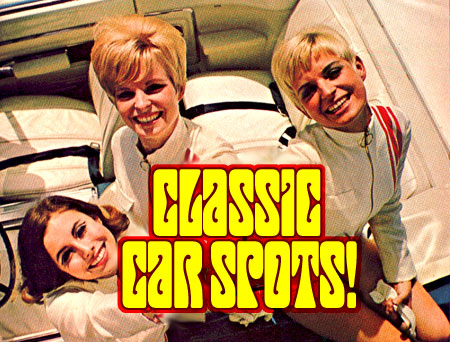 (DISCLAIMER: the author BILLY INGRAM
drives a 1970 Mustang convertible and briefly worked in automotive advertising)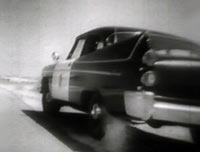 The Dodge Coronet coupe was the vehicle of choice for California Highway Patrol cruisers in 1957.
In this commercial, we are shown the sleek CHP headquarters in LA along with chrome-rimmed, black and white Dodge beauties hurtling through the desert thanks to torsion air suspension.
From 1956-1988, Dodge sold cars to the CHP - now they primarily buy Ford Crown Victorias and Camaros.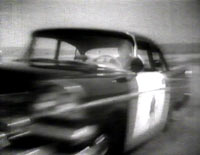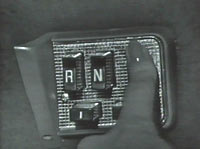 1957 Dodge
To accent the high-tech nature of the push button 1957 Swept-Wing Dodge, the car is compared with the latest in TV technology, offering us an opportunity to view a 1957 television camera close up.
This car was unique because you would actually change the gears by pushing buttons on the dashboard. Available with 'Torsion-Aire Ride,' four barrel carbs and a 354 cid Hemi V8. And don't forget the 'realm of silence' ride.
The '57 Chevy is an American icon, but the Dodge pickup that year was its poor cousin. Still, the D100 half-ton was a solidly-designed truck, available for the first time with power brakes, power steering and a push-button, three-speed automatic transmission.
Observe what Dodge called the 'Giants of the Low Priced Three.' The 'Dodge Power Giants' were available in one-ton models with a 315 cid V8 engine packing 204 horsepower. You don't see many of these trucks restored and on the road today - they were all worked to death!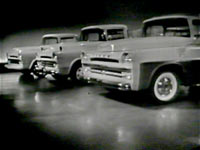 This was the height of the golden age of early V-8 Pickups; but the sleaker, meaner-looking Chevy trucks were solidly number-one in sales in 1957.
Fly the new Suburban - the latest in space-age design with fold-down rear seats and a back window that goes up and down with the flick of a switch. This ad used airplanes as a metaphor for the family car, a common theme in auto advertising. After all, this was the 'Jet Age.'
A handful of celebrities gathered on a soundstage in 1957 to endorse this line of new Ford tank-like vehicles.
The announcer was future 20/20 host Hugh Downs, look for Arthur Godfrey, Dick Powell and Tennessee Ernie Ford (all popular on TV at the time) in this fall commercial than runs for over three minutes.
(With the 1956 models, the Ford Motor Company began to take passenger safety seriously with the introduction of padded instrument panels, sturdier steering wheels and seat belts. In spite of this, there was tremendous resistance on the part of consumers to using those seat belts.)
Those who like 646-206 test test outlet there is an option for them as different designs. You can shop here not only 642-374 passguide practice test but also 1z0-102 exam questions. Beside you can shop at our fair price shop for 640-721 practice test exam outlet. You can get cissp training practice questions questions as well.
Television never looked so good!
Deliver crystal clear images
with 720p tv.
Let's Make A Deal!
The 1960-70's game.
Las Vegas Legends
The great stars of yesterday!
You won't be gambling with this new book
filled with amazing stories about Dean, Frank,
Louis Prima, Jerry Vale and Las Vegas in the 1970s!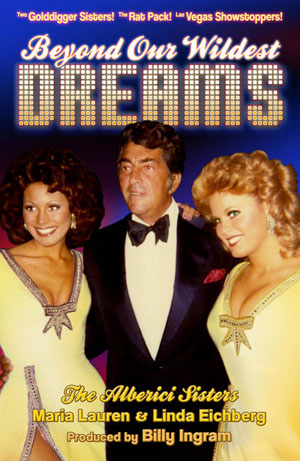 Las Vegas RAT PACK GOLDDIGGERS - Great new book!
SPECIAL: Las Vegas Sensation Lola Falana!
Don't Miss: Our Fabulous salute
to TV Game Shows!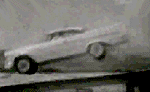 1958 Dodge
The American automakers really knew how to design cars in the fifties - and they got pretty sophisticated at selling them on television as well. That's because they had a lot of money to spend!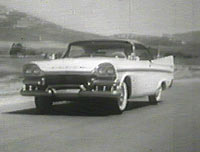 Dodge shot one of their 1958 model cars out of a cannon to prove their 'Swept-Wing' autos were sturdy enough to take the punishment. Heck, they designed the damn things like a bullet anyway!
They even stripped the car down to the chassis and shot it out of the cannon again to demonstrate durability. If you ever longed to see a '58 Dodge dissected to the skeleton and rolling down the road, this is the commercial for you!
The '58 Buick had a lot of chrome and this spot gives you tight closeups of the remarkable metal work that adorned these 3,000 pound behemoths.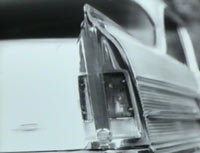 Cars with fins were on the way out by 1958 - Buick was lucky, they had the more subtle versions. The 'Airborne' B58 Buick was equipped with a B12000 engine and Dyna-Flow transmission.
1963 Ford Sunliner Convertibles


You gotta love a commercial that invites you to - "Lean back and look - look at patterns. This is what a convertible was made for. To watch the blue world as it turns."
Is this a car commercial or an acid trip?!?
Buick's answer to the VW bug used humor in their ads - as Volkswagen had done so successfully.
Forty + years ago, you could get a 1969 Opel for around $40 a month on a three-year loan.
1969 Buick Skylark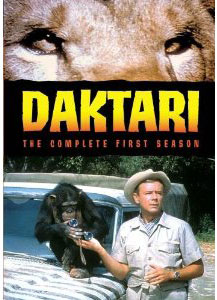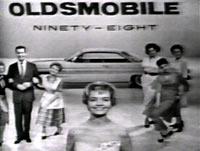 1961 Oldsmobiles
This is a prime example of a style of advertising that was popular decades ago, the big musical production number.
In this spot, ladies and gents dance and sing around the new Super 88, Dynamic 88, and Ninety-Eight luxury cars - a Rocket V-8 powered vehicle redesigned to be sleaker than the bulky designs earlier in the decade.
Look for pre-Brady Bunch mom Florence Henderson singing and dancing in this spot. She went from advertising cruise control to ooze control - Florence Henderson is now the spokesperson for Polident.
The Olds 88 was renamed Delta 88 in 1965.
In the expanding boom economy of the late fifties, television changed the face of advertising forever. Magazine readers and radio listeners were used to celebrity endorsements but with television you could actually see and hear your favorite star interacting with the sponsor's product in your own home - for the first time.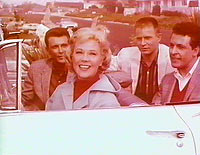 Pop star Dinah Shore starred in this exciting, elaborate presentation that was flawlessly executed; everyone looks great, the music is snappy and even the helicopter lands on cue; a fine example of old-school 'bigger-is-better' advertising dynamics at work.
This kind of big production number-style advertising came back in style briefly (and better than ever) in ads for Mountain Dew, Old Navy and The Gap in 2000 - but in the case of The Gap, it was a resounding sales failure.
These commercials were also subtle social cues as to which cars were meant for women or men.
1965 Chevy line presented by the Bonanza,
Man From UNCLE and Bewitched casts:
Javelin was AMC's ugly duckling muscle car - here a modest accountant-type is carefully driving his Javelin while other drivers want to challenge him to a race (or blatantly come on to him).
When he turns the car over to the parking garage attendant, the kid peels off.
Richard Dreyfuss in a 1970 Javelin commercial.
A catalog of all the classic TV
shows on DVD!
---

1961 Studebaker Lark
A classic illustration of advertising at its best, this spot shows you how easy and economical the bug was to fix - and the ending is a real twist. You may have to see it again to believe it, I did.
'Those Daring Young Men In Their Flying Machines' was Plymouth's slogan for their failed attempt at marketing their fading, bloated (but stylish) 1970 muscle car line.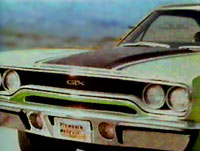 If you're a fan of the '70 Barracuda or the GTX convertible (as I am), you'll love the shot of these large, lurking monsters roaring down the road.
This was the last gasp for a proud line of hot cars. Muscle cars were massive in bulk and way too heavy by 1970, averaging a mere 8 miles a gallon.
That had never been a problem with plentiful gas stocks, but the gasoline price hikes and oil embargoes of the early-seventies put all of Plymouth's muscle cars out to pasture by mid-decade.
A memorable, lighthearted spot for AMC's compact car - showing a driving instructor who (literally) runs into all kinds of trouble with his hopeless students.
Poking gentle fun with their product's image was a risky tactic, and sales weren't the greatest for AMC in 1968.
The automaker's entire product line in the Seventies was a total embarrassment, culminating with the laughable AMC Pacer ('Wayne's World'). (That statement is strongly disputed by AMC lovers around the country!)
That's a young Diane Keaton in the driver's seat in this commercial.

1966 Mustang
"Should a single girl buy a 1966 Mustang?" That's the burning question posed here. Success and marriage are right around the corner if you do, at least according to the fine folks at Ford.
The Ford Mustang introduced a new era in car making and merchandising - an affordable, sporty, small (by 60's standards), well-designed automobile marketed primarily to women. Enough men bought the Mustang that Ford repositioned it as a musle-car a few years later.
Goodyear Tires - 1969
What if there was a flat tire - and no man around? That's this woman's anguish. She needs the tire with the built-in spare. You gotta get off those Firestones, girl!
Ad for the 1970 Dodge Charger... what a beautiful car that was!
One of the many Shell Challenge spots. Two cars with a full tank of gas set out at the same time - will the car with Platformate outlast the car running on regular gas?
Panels on the back of the car flipped up when the car ran out of fuel. Watching cars run out of gas was inherently more interesting when gasoline was less than 20 cents a gallon - not so fun today.
There were a number of variations of this campaign, in this one the cars are driven by women - as if that mattered!
Women drivers were a standard TV joke in the Sixties - so much so that, even today, a bad driver up ahead is usually assumed by many to be a woman.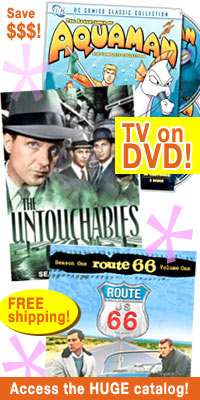 Felix Chevrolet in Downtown LA is one of the oldest dealerships in Los Angeles - maybe in the country - opening the showroom doors in 1921.
This early-1970 ad is typical of the late-1960s style of TV hard-sel, the long format ad that ran on the Late-Late Show.
---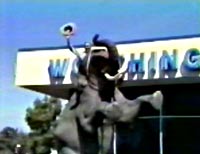 A fixture on Northern & Southern California television sets since the 1950s, Cal Worthington and his dog spot (which was anything but a dog, most likely a large circus animal) will do anything to sell you a car at his "big friendly supermarket of cars and trucks."
Cal's been using this same jingle for almost forty years and no wonder - it's one of the catchiest ever written.
Cal Worthington made the phrase "I'll stand on my head to sell you a car" famous. Indeed, his commercials feature the dealer going to great lengths to get your attention, making him one of the most recognizable personalities in the LA area.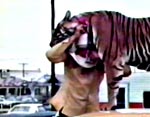 Featured here is a three-minute video collecting many of of Cal's greatest stunts from the late-sixties and early-seventies.
The elaborate set-ups include hanging upside down from an airplane, riding a whale and being mauled by lions, tigers and bears - oh my!
---

:BONUS CLIP:
Cal Worthington based his ads on those by California legend Chick Lambert and his dog, Storm. Chick veered off the script one day to record this unbelievably funny (and profane) take-off on TV used car salesmen.

This is probably the funniest clip on TVparty!
---
TV Commercials on DVD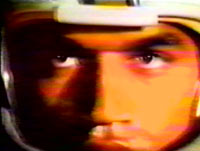 When an automaker chooses a spokesperson for their product line, they look for someone strong, dependable and trustworthy. A person of solid integrity who reflects the stability of the car company itself.
That's why Chevrolet chose O.J. Simpson to appear in their 1970 Chevy Nova commercials.
In this spot, the '70 Nova is compared feature by feature with O.J. Simpson - as in; the Nova has more horsepower than OJ Simpson and the Nova has more padding than OJ Simpson.
Here's another comparison - if the Nova killed anybody it was probably an accident.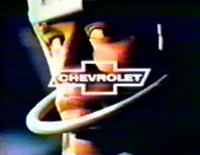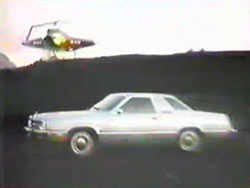 1977 Ford Futura
Between 1970 and 1977, cars got small and exceedingly ugly. Chrome and metal turned to plastic and the Ford Futura in particular was a noxious piece of crap. Notoriously unreliable but there are still a few on the road.
---