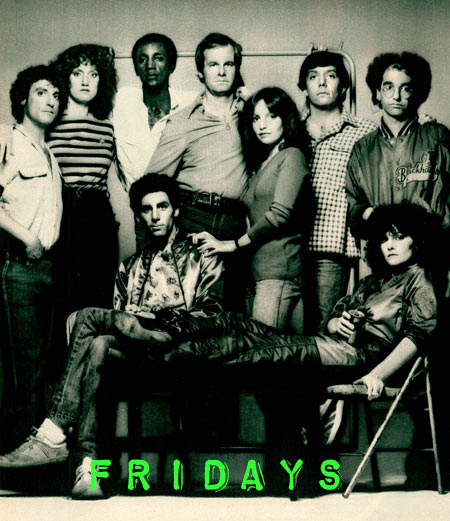 PART THREE - by L. WAYNE HICKS
Read part one here
FAMILIAR CHARACTERS, AGAIN AND AGAIN

Fridays may best be known for its recurring characters, particularly those performed by Michael Richards. Moffitt and Lee expected Richards and Blankfield to be the breakout stars on Fridays, the way Chevy Chase was the first year on SNL, and gave them plenty of airtime.
The versatile Blankfield appeared as Ken, a hunchback, and Blankfield tapped into the drug culture with his portrayal of a pill-popping pharmacist. Richards is best remembered as Battle Boy and as Dick, the hapless ladies man. The audience loved seeing these characters again and again.
"ABC always wanted more returning characters," Fridays writer Rod Ash said. "We resisted, but finally gave in. The writers rarely ever wanted to do a character twice."
Ash and Mark Curtiss created the character of The Pharmacist.
"The problem," Moffitt said, "is the performer and or the writer get tired of the characters long before the audience does. Generally one, two, three times, whatever, then they're finished with it and then you have to convince them to do more because the audience wants it, they want to see it."
Moffitt said Fridays probably used Richards' characters too often, particularly Battle Boy. "We did a lot of those, probably too many of them, but it was such a great character, this nasty little kid who would set fire to his plastic toys and burn his sister's dolls and do all kinds of nasty little things and blow things up. The audience loved it, loved that character. We loved that character, actually. We had to convince Michael to keep doing it."
Moffitt said Fridays was split between offering the audience familiar characters they liked and trying experimental comedy pieces, which usually were tucked in at the end of the show.
"We called it our experimental spot, which is the things we weren't sure would work or that we didn't think would get much laughs, we'd put at the end when people are asleep," he said. "The thing about late night television is as you go along you don't build an audience, you lose an audience."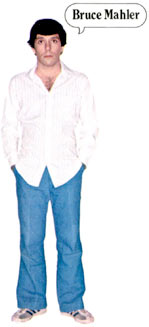 Having nine cast members - the original SNL had just seven - meant a constant battle for air time and attention, said Roarke. "We all wanted air time. None of us wanted to be shuffled to the back of the room and so we were all hustling to get our own things on the air and there's only room for a certain number."
Other recurring characters included Burrell as the Friday Focus reporter, Mahler as the Spanish radio announcer, David and Blankfield as loudmouthed wrestlers the Golden Boys, and Mahler and David as two death-defying rabbis who, in one memorable bit, ride a motorcycle through a wall of matzo.
"The main thing is it was funny," Moffitt said. "You don't have an hour, or eventually 90 minutes, of funny material. Nobody does. Saturday Night Live never has. You have highs and lows. But on every show there's something that was really funny."
Of course, the material had to clear the censor first.
"I think we were the only show on ABC that had a censor on the set all the time," said Mark Curtiss, a Fridays writer. "In the first Pharmacist sketch, which had a guy popping pills, hallucinating, we expected big notes (suggestions from the network). We had a line in there that said "and if you take it with a little coffee, it kicks in that much sooner.' The only note we got from the censor was that we couldn't say 'coffee.' They said it might offend the sponsors."
DRUG HUMOR THE NORM

Other recurring characters tapped a drug-related vein. Darrow Igus appeared as the Rasta chef, a Jamaican whose recipes called for "ganja." Larry David, Bruce Mahler and John Roarke recreated the Three Stooges as pot-loving reprobates.
Roarke said he was pitched on Fridays as "a West Coast version of Saturday Night Live, and not too many people knew what that meant. What is a West Coast version of Saturday Night? And somebody decided the stereotype of West Coast, in order to define West Coast, was drugs. I don't know if that's accurate. I don't think it's actually true. But somebody had that as definition of West Coast and edgy."
Rich Hall, who wrote for and appeared on Fridays before heading off to SNL, told an interviewer in 1988: "Fridays was strange work. It was a solid, talented cast, but the ABC executives insisted on a lot of sensationalistic comedy. Also, Los Angeles audiences are whoopers and hooters and when you can get laughs for just saying 'cocaine', the inclination is to get lazy."
"What seemed hip and on the edge back then," Roarke said, "was the easy drug jokes and people reacted to it very strongly because the kids in the audience, when they heard the word amphetamine, they'd scream and yell and go nuts. That was like a button we could push. But I wouldn't call it good comedy. We were pushing some buttons."
Drug humor was part of Fridays from the beginning. The pilot included a sketch with a puppet who snorts cocaine. And at least of the drug humor doubtless came from the experiences of various Fridays personnel.
"Drugs came through our business industry," Moffitt said. "Drugs came through like a wave and everybody was sort of caught up in it for a while and the wave went out and receded and it left behind some pour souls who just ruined their lives. Everybody tried it. Everybody experimented. It sort of washed over us and then we went on with our lives. I don't want to mention any names, but I know of at least two whose lives it ruined that I know personally that had something to do with the show."
Richards recalled in his interview with the Memphis newspaper: "It was hell; the pace was maddening, and the quality of the work was diminished by the process. And frankly, the writing wasn't that good. I was always a big fan of SCTV and I compared all comedy writing to them. I kept telling the writers that we should be more like SCTV, but they got stuck servicing only those characters I brought with me from my standup days. (NBC began airing SCTV Network 90, a Canadian humor program about a local TV station, opposite Fridays in May 1981.) And then there were a lot of drugs being used on the show, and that disturbed me. It's not fun to be pitching an idea to a writer who's putting crack up his nose."
The temptation to try drugs might have come from the grueling pressure Fridays exerted on the cast and staff.
"Since we started in the middle of the season, we actually did 36 weeks, 3 on and one off, without a major break," Moffitt said. "Saturday Night Live has never done more than 20 shows in a season. We did 36 our first season. And people were having a hard time just staying awake and functioning. That's why I think people got into some kind of controlled substances that would help them stay awake and function. It was really, really tiring. People would sleep on the floor and sleep on the couch and doze when you could. It was a very intense time."
GUEST STARS AND A TRAGIC DEATH
By the end of 1980, viewership for Fridays was up and critics had begun to publish praise for the show. But ABC wasn't satisfied to let the show continue as it had been.
Fridays was forced to make room for guest hosts as well as for musical guests, starting with the first episode of 1981. The first guest was George Carlin, Jack Burns' old partner and the first guest host ever on Saturday Night Live. Subsequent weeks would see the Fridays stage graced by Shelley Winters and Henny Youngman - not quite the hip acts Fridays' audience craved - along with hipper stars Andy Kaufman, Valerie Bertinelli and Father Guido Sarducci.
"Well, the network wanted a guest star, so guess what?" Moffitt said. "We had a guest star. We didn't resent it. It was just one other thing that made us more like Saturday Night Live than we wanted to be."
The choice of guest hosts brought Fridays closer to SNL as well. Kaufman had regularly appeared on SNL, and Sarducci rose to prominence on the rival show.
The move to include a guest host was all about ratings, Roarke said. "They wanted to make sure they can stick as many pieces of candy in front of people as possible."
Behind the scenes, however, Bill Lee's health problems made it hard for anyone to think about being funny. A heavy smoker, Lee had been diagnosed with lung cancer in October, 1980. The cancer spread quickly.
"It was very hard to be funny with Bill so ill," Chartoff said. "But he wanted us to go on and, of course, we did."
Lee died Feb. 3, 1981. He was 44.
"It really, really tore everybody up, Bill Lee's death," Roarke said. "Here we were in a situation where we were supposed to be creating laughter and happiness, and there was this tragedy. Not just his death. He suffered from serious cancer and deteriorated. It took a bit of time. He would come in to work and he would be obviously suffering and not looking great and things went down from there. It was very intense."
Moffitt, himself a smoker as well, stopped. He said he considered Lee his best friend as well as his partner. But Lee's illness left a hole in the show.
"It was meant to be run by two people," Moffitt said. "I was directing. I was in the control room. Bill was in the hospital. I have the cast on the stage. I'm on the phone with the censors arguing points and everything stood still on stage. Nothing's moving."
Pat Tourk Lee, an agent at William Morris - she represented Chartoff - took a leave of absence from the agency while her husband was sick and helped out at Fridays. "She would deal with the lawyers and the censors and those kind of problems so I could get back to work directing and staging the show with Jack," Moffitt said.
After Bill Lee's death, Lee became Moffitt's partner in Moffitt-Lee Productions.

NEXT: PART FOUR:
ENTER ANDY KAUFMAN
What happened to the FRIDAYS' cast?
FRIDAYS TV SHOW
FRIDAYS - The Creators & Cast
FRIDAYS - Drugs & Death
FRIDAYS - Andy Kaufman
FRIDAYS - The End