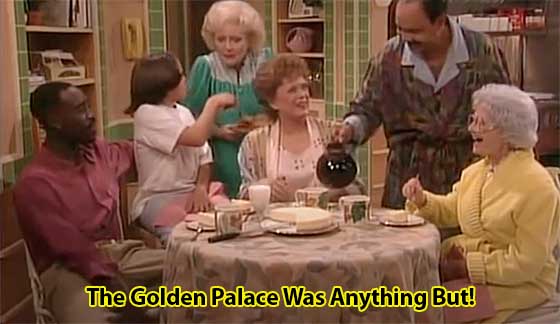 The Golden Palace : Flop Golden Girls Spinoff!
by Billy Ingram
What happens when 3 out of 4 cast members of a hit TV sitcom don't want to end it? Retool and debut a new concept that strains credulity to the max (see also: AfterMASH).
The Golden Girls was one of the highest rated sitcoms of the 1980s as well as being one of the funniest. I suspect that show will continue to be as popular as it is today, one that will stand the test of time easily.
After 7 seasons, Bea Arthur decided it was time to call it quits but the rest of the cast didn't want the production to end, thinking there was more comedy gold to mine.
"The last couple of years Bea just decided she didn't want to do situation comedy anymore," Betty White told the Archive of American Television. "And she was not comfortable, she wasn't happy, and some of the bloom rubbed off a little bit. Again, I think we ended just a clip early, I think there was a lot of life but there's just no point if one isn't happy."
So Golden Girls creator Susan Harris came up with a fresh concept for the familiar cast and pitched it. "We were all ready to split," White continued. "And she [Harris] explained it to us and it sounded like a marvelous idea. These cloistered women who were living in a nest, in their house, sell their house because Dorothy gets married, Bea Arthur gets married. They sell the house and buy a hotel, one of those art-deco modern hotels, and they have to get out of that sequestered situation and face life as it comes in off the street, through the lobby of the hotel. It's a whole new world for them."
"The three of us," Rue McClanahan told the Academy, "Not Bea but the other three, were called into Witt-Thomas-Harris' offices and they said we have an idea. Instead of just ending the show and instead of bringing in someone else to replace Dorothy, which I thought was the better idea by the way, we're going to have Blanche sell the house, buy the Golden Palace hotel and they're all going to run this old hotel."
NBC was interested in airing The Golden Palace but, in light of a precipitous drop in ratings for Golden Girl's final season, from the top ten to number 30, the network would only option 13 episodes. CBS lured the production away to kick off their new Friday night comedy block in the fall of 1992, doing so with a guarantee of one full season, 24 episodes.
The Golden Palace starred Betty White, Rue McClanahan and Estelle Getty reprising their characters from The Golden Girls along with Cheech Marin and a very young Don Cheadle who help run the hotel. And of course they had to add an annoying kid.
McClanahan felt like a spinoff wasn't the right course of action, "Because it took the center out of the characters as they had been established, particularly Blanche. She had to become a business woman, she had to run a hotel and she didn't know how to do that. How did she learn how to do that?"
Ratings were great to begin with, the sitcom winning its timeslot for the first few weeks, but as fans realized this was a pale reflection of a superior program they switched over to Family Matters on ABC. It didn't help that the theme song, 'Thank You For Being A Friend,' was remade in that awful, early-nineties, soulless soul synth music style.
The Golden Palace ended the season at #57 in the Nielsen ratings.
Considered by many to be the best of the run, Bea Arthur returned as Dorothy for a 2-part storyline, episodes 7 and 8, 'Seems Like Old Times: Part 1' and 'Seems Like Old Times: Part 2'.
After production ended Estelle Getty's character Sophia moved over to Empty Nest, itself a successful Golden Girls spinoff. Betty White joined the cast of Bob starring Bob Newhart in the fall of 1993, the only show from that Friday night comedy block on CBS to get renewed. Bob was cancelled mid-season.
In some syndication packages The Golden Palace was folded into The Golden Girls series. Judge for yourself whether The Golden Palace was a worthy successor, here's the pilot episode:
THE EIGHTIES: EARLY EIGHTIES NETWORK PROMOS / TV 1986 / WOODY HARRELSON AS WOODY ON CHEERS / FALCON'S GOLD: CABLE TV'S FIRST MOVIE / BILL & TED'S EXCELLENT ADVENTURES SITCOM / CREATORS & CAST OF IT'S A LIVING THAT HAVE PASSED AWAY / MOST UNEXPECTED MOMENT IN TV HISTORY / NORMAN LLOYD TRIBUTE / ORSON WELLES INTERVIEWS ANDY KAUFMAN / EARLY MTV STARS MISSING PERSONS / FALCON CREST / PEE-WEE HERMAN / 1981 CHARLES GRODIN INTERVIEW / THERE ARE FUNNY EPISODES OF MAMA'S FAMILY - HONEST! / HANGING WITH SEAN PENN 1986 / 1985 GEORGE CLOONEY INTERVIEW! / IT'S A LIVING / EDDIE MURPHY AS JAMES BOND? IT ALMOST HAPPENED! / AUNT BEE'S DYING WORDS TO ANDY GRIFFITH / THE GOLDEN PALACE / MARRIED WITH CHILDREN'S ED O'NEILL & AMANDA BEARSE'S LONGTIME FEUD / PAUL McCARTNEY vs MICHAEL JACKSON / HOW NBC GOT ITS GROOVE BACK / 1980's WCW WRESTLING / ALAN ALDA DISCUSSES THE M*A*S*H FINALE / I WAS ALMOST CUJO IN THE STEPHEN KING MOVIE / 1986-87 TV SEASON / 1988-89 TV SEASON / 1990-91 TV SEASON / 1991-92 TV SEASON / WHY SHELLEY LONG LEFT CHEERS? / JASON ALEXANDER BEFORE SEINFELD / PEOPLE vs JEAN HARRIS / TROUBLED 1980-81 TV SEASON / "KISS MY GRITS" FLO HAD HER OWN SHOW? / CULLY HOLLAND / ONE SEASON WONDERS... THAT GOT RENEWED! / DWIGHT SCHULTZ ON WORKING WITH GEORGE PEPPARD / DEMPSEY & MAKEPEACE / THE BAXTERS / G.L.O.W. / FRIDAYS / GREATEST AMERICAN HERO / Great 1983 Carson Tonight Show / EARLY '80s TV COMMERCIALS / LOST MOVIE POSTERS /RICH HALL / FILTHY RICH / 1980's TV WRESTLING STARS / TV DADS / FOX'S JOAN RIVERS / CHEVY CHASE DEBACLES