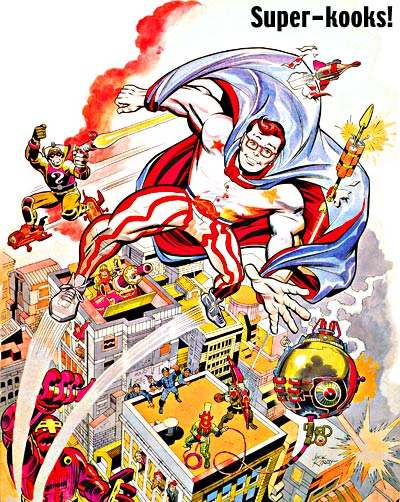 The Great Super Hero Bust - Part Two / / Part one here
by Billy Ingram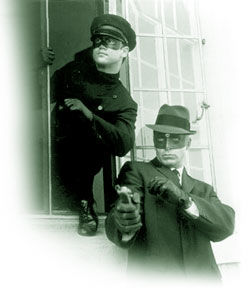 The Green Hornet was originally a product of 1930's radio and not comic books. Other than that minor distinction, the similarities to Batman were many; wealthy Britt Reid, crusading newspaper editor (whatever happened to those guys?!?) and his butler Kato are secret nighttime crimefighters. They patrol the city in their souped-up car and capture do-badders with high-tech weapons and old-fashioned karate chops.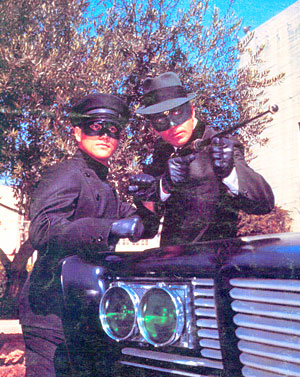 Keeping with the winning formula, Van Williams, another detective show cast-off (Bourbon Street Beat, Surfside Six) was hired for the lead role. Kato was embodied by relatively unknown martial-arts master Bruce Lee, who went on to movie icon status and an early, mysterious death. Paid only $400 per episode, Lee claimed the reason he got the part was because he was the only person who auditioned that could accurately pronounce the name Britt Reid.


View the unaired pilot for The Green Hornet.
TVparty reader Howard Moore tells us, "You couldn't be more wrong when you say that Bruce Lee primarily got the job of Kato on The Green Hornet because he could pronounce 'Britt Reid.' That was something Bruce Lee would say as a joke.
"Actually, William Dozier was looking to cast an Asian in the part of 'Number One Son' in a remake of Charlie Chan and it was his hairstylist, Jay Sebring who suggested Bruce Lee (he had seen Lee perform at a karate tournament in Long Beach, California). After testing Bruce and signing him to a year-option, the Charlie Chan deal fell through, but Dozier had by then become interested in doing The Green Hornet and cast Lee in that instead."


View Bruce Lee's screen test for The Green Hornet.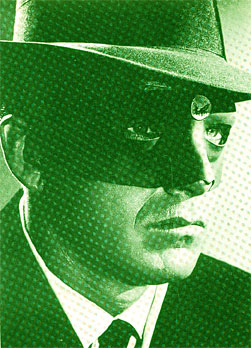 On the very first episode, The Green Hornet and Kato delved into the mystery of "The Silent Gun," a flimsy story about gun that made no noise. The next week, they faced a strangler, the next a killer pet leopard.
The overall pedestrian nature of the scripts became quickly apparent, pointing up the inherent problem with this series. Why have two fantastically clad heroes in a blown-out muscle car when all they're after are two-bit burglars, bootleggers, and common kidnappers?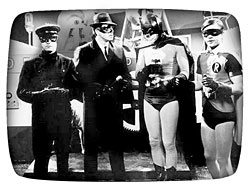 In an attempt to generate some buzz, the Green Hornet and Kato appeared on two episodes of Batman in March, 1967. When the heroes / adversaries squared off against each other, Bruce Lee expressed extreme displeasure that he had to let Robin win their match. The Gung Fu athlete wanted to really let loose on Burt Ward and kick his pampered TV-star ass all over the lot.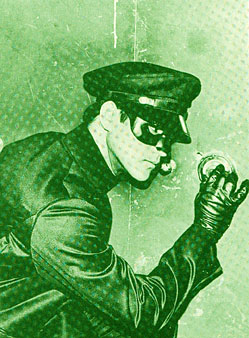 Dark, moody, serious, and slotted on Friday nights (where no fantasy show had ever done well), The Green Hornet wasn't the hit ABC was looking for.
Ironically, the series had everything it needed to be a hit; the concept was there, the production looked great—they had only to unleash Bruce Lee. That would happen later, in another medium.
CBS and NBC were determined not to make the same mistake when they launched their superhero rip-offs. They would make darn sure their offerings were as silly as they could possibly be.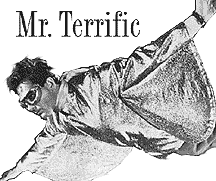 Mr. Terrific on CBS was the story of nerdy Stanley Beamish, who works for the Bureau of Special Projects in Washington, D.C. As part of his job, he swallowed an enormous jawbreaker-sized "Power Pill" developed by the government that turns him (and only him) into a superhero with tremendous powers—for one hour. Trouble comes when the pill wears off and timid Stanley is forced to face the crooks without his super-abilities. Mr. Terrific can even fly during his brief hour of power but he has to flap his arms to do it!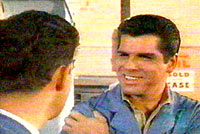 Also appearing on the series were Dick Gautier (Hymie the Robot from Get Smart) as gas station attendant Hal and John McGiver as head of the government bureau that watches over Stanley.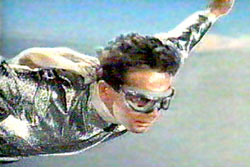 Typical plots: Stanley finds himself with a miniature transmitter implanted in his tooth when he visits a spy dentist; while the president's plane flashes an SOS, Stanley is busy seeing a psychiatrist about his temporary inability to fly; in another episode Stanley impersonates a safe cracker that is his exact double. I told you they were typical plots!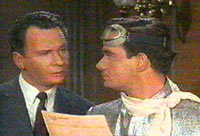 TVparty-er David Kaufman remembers, "A regular gimmick on Mr. Terrific was the photographic and sound effects used when Stanley took the power pill. His face would turn various colors and smoke would come from his mouth/ears (a la Mr. Drysdale drinking Granny's moonshine).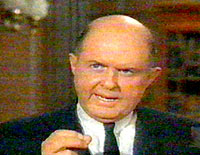 "When MT's buddy Hal or anyone else would take the pill, instead of becoming super-powered, lens effects were used to make their head shots briefly become wider/thinner. Very clever for 1967 TV.
"Another running gag was the "jet blast" effects with unfortunate results whenever MT took off. It was corny, yes, but very amusing all the same. Captain Nice had very few scenes of the cap flying.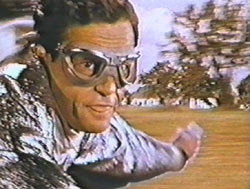 "The producers must have had budget or production problems. When he did fly, usually shown in very short spurts, there was a good sound effect, a bit like that of Hanna-Barbera/Alex Toth's Mighty Mightor.
"The movie Boogie Nights had a scene in which an extra was dressed in a Captain Nice costume! This little homage blew me away when I saw it, that anyone would remember and care enough to do that, knowing that very few viewers would 'get it'."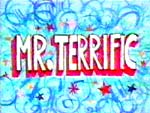 You can still see Mr. Terrific occasionally. Several episodes were combined to make a TV-movie called The Pill Caper. Unfortunately, because the main character gets his powers by taking drugs, this series itself was never offered by the studio
for syndication.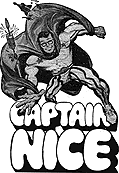 Mr. Terrific debuted on CBS January 9, 1967. That very same night, immediately after it went off the air, in fact, Captain Nice hit the airwaves over on NBC, brought to you by the creators of Get Smart.
This steroidal sitcom starred William Daniels (that old guy on St. Elsewhere) as Carter Nash, a police chemist who develops a serum giving him basically the same powers as Mr. Terrific, except Captain Nice didn't have to flap his arms to maneuver the friendly skies. Oh, and it was Carter's mom who made his dopey-looking costume.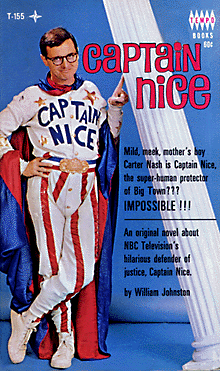 TVparty reader D.J. adds, "Do you know how Captain Nice/Carter Nash got his super hero name? The initial chemical explosion conveniently ripped Carter's business suit down to cutoff pants over long johns (that his overbearing mother made him wear) and his suit coat was reduced to a swatch of cloth hanging down his back. A witness to his first adventure pointed out and asked him about his monogrammed 'C.N.' belt buckle.
"Carter made up the name Captain Nice off the top of his head (and almost immediately regretted doing so). His mom made his dorky costume and made him wear it before letting him go on his next mission."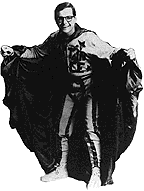 The pilot was written by series creator Buck Henry. Alice Ghostley co-starred as Nash's mother and Ann Prentiss portrayed policewoman Candy Kane, the Lois Lane love-interest type.
In one episode, Captain Nice battled a psychotic doctor who kidnaps Candy Cane, injecting her with a lethal tropical poison. In another, Carter tries to become Captain Nice, only to find his mother drank all of the formula.

View Captain Nice from You Tube
After The Green Hornet proved a disappointment, Dozier filmed two dreadfully lame "campy" pilots featuring comedic versions of Wonder Woman and Dick Tracy but they went nowhere.
Hurting for fresh ideas, the TV producer went back to Julie Schwartz and Carmine Infantino (remember them?). Sinister Catwoman, Dozier told them, was the public's favorite character on Batman but she couldn't be featured every week.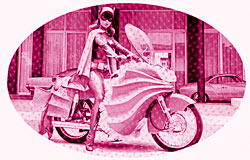 What could be done? The comic book guys came up with Batgirl, designing a form-fitting costume similar to Catwoman's with an added cape and groovy Bat-cycle for Dozier to copy. A zippy pilot episode was produced for a Batgirl series, with Yvonne Craig, a favorite of summertime beach movies, cast to fit the super-heroine's tights.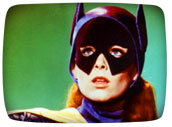 As the 1966–67 season rolled to a close, super-heroes were falling by the wayside. Bat-mania was wearing off like a bat drug. With ratings in the cellar, Captain Nice flew off the screens on August 28, 1967, the same night Mr. Terrific flapped his last.


View the Batgirl pilot from You Tube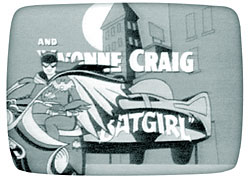 ABC realized they needed a way to get the spark back into Batman, renewed for a third season but down to just one night a week.
Rather than risk a spin-off from a sinking franchise, Batgirl was added to the roster of Batman in the fall of 1967. With more lead characters, less time for story, and a week between cliffhangers, the formula wore paper-thin. Still, there were third season highlights like Batman and the Joker competing in a surfing contest, Ida Lupino as the entrancing Dr. Cassandra, and Anne Baxter as Queen of the Cossacks teamed with Vincent Price as Egghead.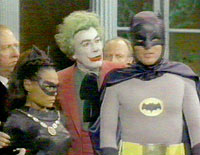 In a casting choice that sent shockwaves through Hollywood, Eartha Kitt took over the role of Batman's love-interest Catwoman.
Forget the bi-racial aspect (which producers did by ignoring the romantic angle), Kitt was virtually blacklisted by the networks after she spoke out against the war during an event at the Johnson White House.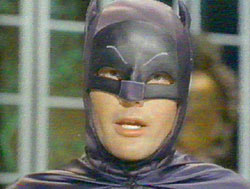 Bat-ratings were down in 1968, adult viewership dwindled to a mere 10 percent. With only kids watching and the show consistently over-budget, the decision was made to cancel Batman and take the money and run—straight to afternoon syndication of the reruns.
NBC discussed picking up Batman for a fourth season and a deal was almost struck, but they backed out because of the expense of rebuilding the Batcave set, which had been destroyed just days after the cancellation notice came down.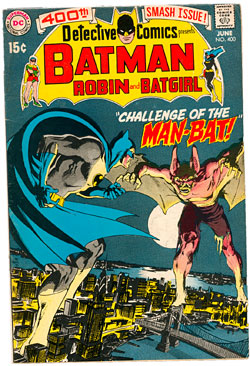 Ironically, while Batman had been saved in the comics by making him more serious, the TV program and unbridled exploitation made the character a buffoon in the mind of the public. When the Bat-fad past, sales of comic books in general plummeted. Batman comics in particular took a beating, leading to the near extinction of the character (and the entire industry) a decade later.
In a bizarre twist, Captain Nice co-star Ann Prentiss (sister of Paula from He & She) was convicted by a Santa Monica, California court of battery in 1998 for assaulting her eighty-six-year-old father, solicitation of murder, assault with a firearm, and making terrorist threats toward Richard Benjamin, her sister's husband and TV co-star.
Calling Captain Nice!