Remembering Chicago
Local Kid Shows
Remembering Kids
TV's Jazz Master -
Chubby Jackson
* The Chicago Years *
by Kevin S. Butler
October 25, 2018 marked the 100th birthday jazz bandleader, singer, songwriter, entertainer and kids TV host/performer Chubby Jackson.
Chubby not only introduced the reruns of the Little Rascals films to the young viewers of Chicago and NYC, he also introduced them to the music of swing era greats like Gene Krupa that rivaled Leonard Bernstein.
The son of vaudeville performers Chubby (who was born in NYC under the name of Grieg Stewart Jackson) seemed to have a natural gift for performing comedy. Inheriting his dad's talent for physical comedy. Jackson was introduced to jazz music thru a fellow jazz musician as he recalled in a January 22, 1989 interview, "At the time in high school in Freeport, Long Island. He was a good enough string bass with The Bunny Barringan Band and I would hang around with the band as a gofer. And I became aligned with their lingo and hang out with musicians and enjoying the their abilities on the bandstand. So, it was very natural that I would combine the inners of me, which came from show business to the love of playing music."
Chubby developed his talent as a singer during his stint with The Jan Savit Band. As I got into the game of playing with bands. "I used to sing a lot. So that brought about the need to perform. I was in a band called Jan Savit where I actually had to sing rhythm songs. So to sing rhythm songs at a mike in a theater? You don't just stand in front of the mike. I made facial moves and danced a little bit, that brought out the performer in me."
It was during his stint as a jazzman that he acquired the nicknames of Chubbo from former piano player turned actor Jose Ferrer and later Andy Picard (a member of Raymond Scott's band) bestowed upon him the nickname Chubby.
He continued to work with swing era bands until 1954 where during a stint with Louis Armstrong's Orchestra in Chicago that Chubby made the transition into children's television.
As Chubby explains, "I never considered the fact that I would ever end up doing a children's (TV) show, that was the furthest thing from my mind. Actually, what happened, I was with the Louis Armstrong band at the Chicago Theater in Chicago and my son Duffy was born. Louis was going to London and I couldn't go with Louis because it wasn't fair to (leave) my wife with a little baby around the house. I got invited to join the musicians' staff at WBKB (TV) in Chicago."
Chubby provided the musical accompaniment for ABC TV's premier puppet show Kukla, Fran & Ollie with the series' band.
One night, he was presented with another invitation that changed his career. "This one particular night Fran Allison had to go to Denver or someplace for some kids of promotion. So Burr Tillstrom came up to me and said, 'It's you tonight Chubby' and I said what are you talking about? 'I want you to give Beulah Witch a bass (fiddle) lesson.'"
Jackson brought his bass fiddle up to the proscenium of the puppet stage and he began to show the Kuklapolitan Player's "resident sorceress" how to play jazz music.
Tillstrom wanted the show to be regimented prior to broadcast but during the telecast he would quickly go from rehearsed performance to delightful improvisation.
"Burr Tillstrom was task master because he wanted things done (right) but he also had a marvelous flare for humor and performance," Chubby explained. "He was famous for rehearsing and when the show came on he would do the exact opposite. There was no way of getting him centered down to, 'This is what we rehearsed, let's do it. He'd ad lib on that show nightly, whether it was music or it was talking. That's why the show was so lovely. It did have that prepared look to it and our little bit fell into that category."
Tillstrom was so impressed with Chubby's talents as an on camera entertainer that following the series' evening telecast. He contacted the director of ABC TV's daytime programming, Dan Shuffman, suggesting that he create a new kiddie show for him.
Shuffman called Chubby and asked him to come to his office the next day for an audition.
He won the audition and working with an actor who was taking a hiatus from a theater company. The pair created a series titled, Professor Chubbo, where Jackson, clad in a costume consisting of an extremely large pair of pants loaned to him by Dick (Two Ton) Baker, a top hat, mustache, rimless specticals, etc.
The actor would wear a similar outfit and serve as The Professor's alter ego who would prevent the mischievous savant from getting into trouble.
Eventually the actor who played Prof. Chubbo's alter ego had to return to the theater and left the series at the same time the station execs at WBKB acquired the rights tothe Little Rascals films.
They decided to have Chubby mc the films on a daily program titled Laff Time. The talented musical entertainer worked with the station's set designers to create a clubhouse set and he got a cardigan sweater and beanie. Chubby took on the role of the clubhouse leader.
The show became very popular with the young viewers of the Windy City and it became a successful lead in for Walt Disney's kiddie variety show The Mickey Mouse Club. Soon ABC TV began to add filmed series to their daytime line up and Jackson was asked to do interviews with Disney's talented performers from these filmed programs on his series.
Unfortunately, his first interview was not successful as Chubby recalled, "All of a sudden they (the station) were bringing in (guests) for me to interview. Which is something that I've never did in my life. Jersey Joe Woolcot, Celeste Holm, The Lone Ranger, Bill Bendix. But my first interview was a train wreck because I didn't shut up."
"So, the director, I can't remember his name, he came up to me and he said to me, 'That was probably the worst interview that I heard since I've been television.' And I said, 'What did I do wrong?' He said to me, 'Why don't you shut up. If you're going to interview someone, just get into a conversation with him or her, agree or disagree, get cute if you want, get personal, and don't lead into questions with, 'You're in Chicago to promote and blah, blah,blah, that's very dumb.'"
Chubby took his director's advice. On the next program, character actor William Bendix appeared and the pair struck up an entertaining and hilarious conversation that worked out so well that subsequently Jackson became more comfortable talking with his guests.
During the show's run in the Windy City, he created a promotional contest where his viewers would vote for their favorite Little Rascal. After a certain amount of time, the number of votes came down to Spanky McFarland and Jackie Cooper. After tallying up the ballots, Spanky won the election.
Spanky, who was then hosting his own local kids show on KOTV Ch.8 in Tulsa, Ok., was contacted and he came to Chicago received his award from Chubby.
Around the same time, Chubby would also receive an award from TV Guide for his efforts in local children's television. As he explained, "About nine months later I get a telegram: 'You've been nominated for the best kid's show in Chicago.' So I we went to The Edgewater Beach Hotel that night and I'm seated there (at the dais) with my wife and I see Jan Murray coming down the steps."
"We use to work with Woody Herman's band. I go up to him and I say 'Hey Jan!' and he says, 'Hey Chubby what are you doing here?' I tell him, 'Shh! I'm up for an award for a kiddie TV show!'" Murray didn't believe Jackson but when the name of the winner for the best kids television show in Chicago was announced, needless to say, Chubby and Jan were surprised at this happy revelation.
Reportedly, Chubby also hosted reruns of Laurel & Hardy films on WBKB. He dressed up as Oliver Hardy but worked with a Stan Laurel dummy that did little more than sit on a park bench as Chubby as Ollie performed some comedy schtick to introduce the films of the comedy duo. (No kinnie film prints or photos of this series is known to exist)
For a time, one of Chicago's most popular kid's personalities Ned Locke appeared on Laff Time serving as Chubby's announcer and side kick. The series continued to bring the cinematic antics of The Little Rascals to kids in Chicago until 1959 when WBKB decided to move the program to the network's NYC flagship station.
As Chubby explained, "I was called into the office (of) Red Quinlin and asked if I wanted to go to New York to do the same show. The show was starting to get its petered out feeling for the reasons of management. So off I go to New York to get involved in the same kind of show but it did change."
UPCOMING: PART TWO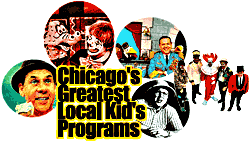 Chicago Local Kid Shows / Garfield Goose
Bob Bell's Bozo Show / Gigglesnort Hotel
Unforgettable Ray Rayner / Here's Geraldine
Chubby Jackson / More Chicago Locals

Lost Kid Shows Homepage / Shock Theater's Zacherle / Sesame Street / Andy's Gang / Sandy Becker / TV Pow! / Hilarious House of Frightenstein / The Friendly Giant / Madison's Cowboy Eddie / Who Was Doodles Weaver? / Lost Kid Show Recordings / Winky-Dink and You / Remembering Winky-Dink / Captain Kangaroo / The Old Rebel Show / The Soupy Sales Show / Walt Disney's Shows / The Magic Garden / Mad Mad Monster Party / Houston Local Kid Shows / Boston Local Kid Shows / Fabulous Sally Starr / New York City Locals / More New York City Locals / Tooter the Turtle / Crusader Rabbit / Paul Winchell and Jerry Mahoney / Alex Toth's Television Work / Diver Dan and Whirlybirds / Sonny Fox's Wonderama / The Pinky Lee Show / Bizarre Kid Shows / Chicago's Kid Shows / Chicago's Ray Rayner Show / Garfield Goose and Friends / Bob Bell's Bozo Show on WGN / Bill Jackson's Shows / Gigglesnort Hotel Memories / Bob McAllister's Wonderama / Cincinnati Local Kid Shows / More Cincinnati Locals / Make A Wish / Hot Dog / Supermarionation Puppet Shows / Philadelphia Kid Shows / Philly's Captain Noah / The Chief Halftown Show / Philly's Gene London / Bertie the Bunyip / Dickory Doc / Adam Android / LA Kid Shows / The Merry Mailman / Do Do The Kid From Outer Space / Romper Room / Romper Room Around the USA / St. Louis Kiddie Shows / Religious Kid Shows / San Francisco Local Kid Shows / Johnny Jellybean / Johnny Jupiter / Shrimpenstein / Uncle Fred Sayles / Raleigh's Uncle Paul / Shenanigans and Video Village / Pip the Piper / Thanksgiving Day Cartoon Specials of the 70s / Monster Movie Matinee / Big Blue Marble / STM Club / Popeye on TV / Cleveland Local Kid Shows / Wixie's Wonderland / Jet Jackson and Sky King / The Original Animated Hercules / Ruff & Reddy