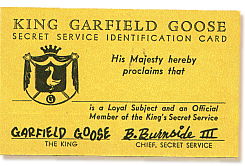 My earliest childhood memories begin with the memories of watching GARFIELD GOOSE & FRIENDS on WGN-TV Channel 9 in Chicago. Who could forget watching the Little Theatre Screen and seeing CLUTCH CARGO cartoons, THE FUNNY COMPANY or the Christmas Classics THE THREE LITTLE DWARVES (Hardrock, Coco & Joe) / SUZY SNOWFLAKE / UPA's FROSTY THE SNOWMAN.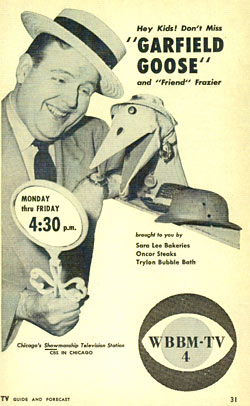 Frazier Thomas was the unflappable host decked out in an admiral's jacket and he surrounded himself with puppets (worked by Roy Brown who later became Cooky The Clown on BOZO's CIRCUS) like Garfield Goose (King Of The United States), McIntosh Mouse (Named long before the computer), Beauregard Burnside III, Chris Goose, Mama Goose and my personal favorite Romberg Rabbit.
Frazier, born June 13th, 1918, in Rushville, Indiana, began his broadcast career in radio at age 18 as a summer replacement movie reviewer on Cincinatti's WLW-AM. The job paid $13.36 a week. He also began traveling and working as a professional magician. In 1941, he returned to WLW as a full-time staff announcer and began working on their experimental television station.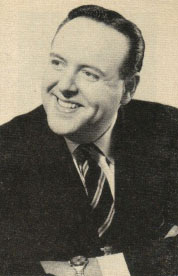 It was at WKRC-TV in Cincinnati that he conceived the idea of GARFIELD GOOSE. The concept of "The Goose" was due to an early childhood memory that Frazier had of the Catholic Nuns at a church across from his home.
They would hold bazaars on a regular basis and a regular feature was called "The Hungry Goose." One of the Nuns made a Goose puppet out of a stocking and children would give the goose a penny or Nickel and receive a small prize.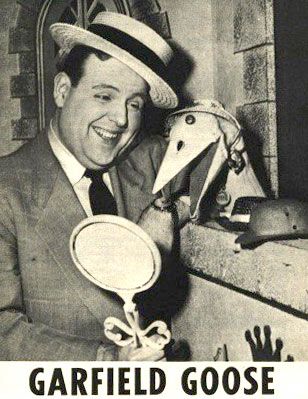 Frazier needed a way to give prizes away on a television show he was a part of and decided to develop a goose. He called him Garfield Goose, first because of the alliteration and second because Garfield was the telephone exchange for the TV station he was working at.
Frazier brought Garfield Goose to Chicago in 1952 on WBKB-TV (which is now WLS-TV Channel 7) and he also hosted a show called PETTICOAT PARTY on WBBM-Channel 2. WGN-TV Channel 9 bought the rights to the show in 1955. GARFIELD GOOSE AND FRIENDS became one of the longest running children's program in Chicago history. It was hugely popular, originally appearing in the afternoon. Kids would rush home from school to see their favorite afternoon show.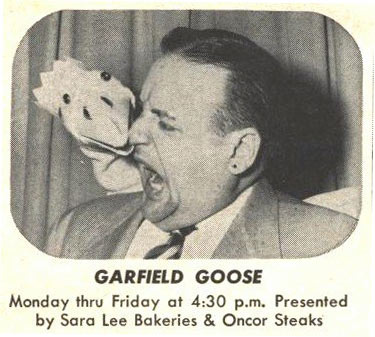 The look of the show and the personality of the puppets relied heavily upon Roy Brown. Coming from an art background, Roy Brown was just the right ingredient needed to make this show something special. He did all of the on-air graphics and designed the sets. He also went on to design the graphics for THE RAY RAYNER SHOW and BOZO'S CIRCUS. He later used his puppet talents on the CUDDLY DUDLEY character that the Chicago Tribune developed for THE RAY RAYNER SHOW.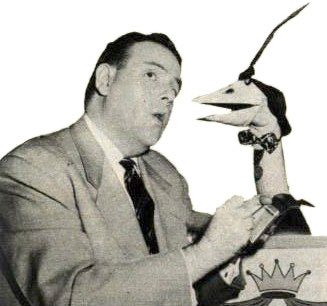 Brown's unique way of handling the puppets gave them distinct personalities, even though they never spoke a word. When Frazier was asked why Garfield never spoke, he replied, "If I had a talking Goose, that would not be realistic." Brown recalls, "Frazier was a perfectionist and we both would have printed up scripts. He would make actions and reactions on the script for Gar, Rom, etc. and I would carry out these actions looking at a monitor below the curtain and behind the little theatre Screen."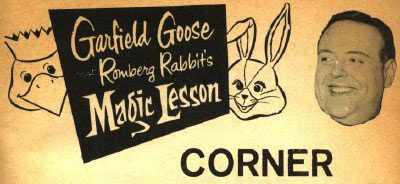 During the 1960's GARFIELD GOOSE & FRIENDS had a merchandise tie in with PEPPERIDGE FARM Bread and Rolls. There was a large GARFIELD pinback button, A "ROMBERG'S Find The Rabbit - Card Game," A GARFIELD Shampoo bottle, Many Coloring books and A GARFIELD GOOSE hand puppet developed by PLUSH TOYS, INC. (tough to find complete with Crown these days). WGN-TV also sent out many different postcards, autographed photos and membership cards to promote the series.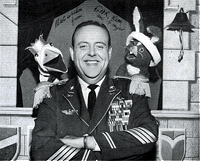 In the early Seventies, GARFIELD GOOSE & FRIENDS moved to an early morning position in the WGN-TV lineup. These are the days I remember best.
A great feature on the show during this time was a segment called HOBBY CORNER. Frazier would invite viewers to come in and show what they like to do in their spare time and it was always interesting.
The theme song from the show is indelible in my mind and I recently traced it to Ethel Smith (Famous organist who can be seen in Disney's MELODY TIME). The theme song was titled "Monkey On A String" from her LP called BRIGHT & BREEZY and Frazier cleverly edited the trumpet from CINDERELLA with the tune to make his opening theme.
In 1962, Mr. Thomas began hosting a wonderful show called FAMILY CLASSICS, a Sunday afternoon series of family films on Channel 9. He personally selected and edited the films to be shown, featuring such wholesome titles as "The Adventures Of Robin Hood," "Treasure Island" and "The Swiss Family Robinson."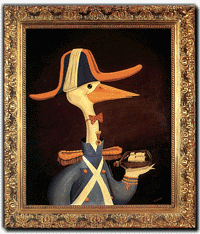 Again, Roy Brown created a wonderful painting of Garfield Goose for the set and the books shown with beautifully painted film titles were nothing more than covered dictionaries and encyclopedias. The set is now housed at the MUSEUM OF BROADCAST COMMUNICATIONS in Chicago.
This elegant handling of these cinematic classics continued for many years with Frazier and still exists today, occasionally being hosted by Roy Leonard.
On July 1, 1976, the CLOSED CIRCUIT WGN FAMILY NEWS LETTER announced "Garfield Goose To Operate BOZO'S CIRCUS - Appoints Frazier Thomas Circus Manager." With Ned Locke's retirement from BOZO'S CIRCUS, it was decided that Frazier would be the perfect replacement.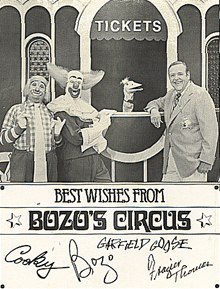 GARFIELD GOOSE AND FRIENDS ended it's long run on WGN-TV and was reduced to a segment of BOZO'S CIRCUS. For some reason, kids really didn't understand the Goose during the lunchtime hour and the puppets were phased out in 1981 when "Bozo's Circus" became "The Bozo Show" and replaced Ray Rayner's weekday morning time slot.
In the newsletter it states "Mr. Goose announced that he is anticipating active participation in the long-running circus that is seen every weekday at noon on Channel 9, and that he and Frazier intend to devote all their energies to operating it." It really didn't work out that way.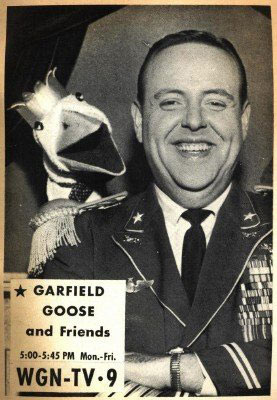 Frazier Thomas passed away on Wednesday, April 3, 1985 at the age of 66, two days after suffering a stroke at the WGN-TV Studios on West Bradley Place. Since his passing, the 2500 block of West Bradley Place has been appropriately renamed FRAZIER THOMAS PLACE.
Frazier had given the Chicago viewers a reason to tune in to WGN-TV just about every day of the week. His comforting and professional manner was part of his appeal and he helped create an era of television in Chicago that is sorely missed. Today's generation will never know the type of television that Frazier was a part of and it's a shame.
The MUSEUM OF BROADCAST COMMUNICATIONS also houses the original cast of puppets from GARFIELD GOOSE & FRIENDS and one of Frazier's original jackets. You can also view some clips from GARFIELD GOOSE & FRIENDS on a television near the exhibit.
Rick Goldschmidt
www.rankinbass.com / Rickgoldsc (at) aol.com for e-mail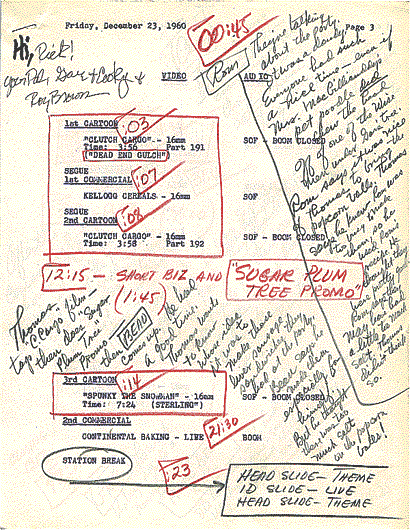 More images from Garfield Goose & Friends here!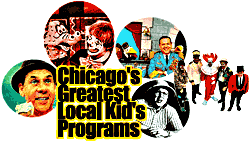 Chicago Local Kid Shows / Garfield Goose
Bob Bell's Bozo Show / Gigglesnort Hotel
Unforgettable Ray Rayner / Here's Geraldine
Chubby Jackson / More Chicago Locals

Lost Kid Shows Homepage / Shock Theater's Zacherle / Sesame Street / Andy's Gang / Sandy Becker / TV Pow! / Hilarious House of Frightenstein / The Friendly Giant / Madison's Cowboy Eddie / Who Was Doodles Weaver? / Lost Kid Show Recordings / Winky-Dink and You / Remembering Winky-Dink / Captain Kangaroo / The Old Rebel Show / The Soupy Sales Show / Walt Disney's Shows / The Magic Garden / Mad Mad Monster Party / Houston Local Kid Shows / Boston Local Kid Shows / Fabulous Sally Starr / New York City Locals / More New York City Locals / Tooter the Turtle / Crusader Rabbit / Paul Winchell and Jerry Mahoney / Alex Toth's Television Work / Diver Dan and Whirlybirds / Sonny Fox's Wonderama / The Pinky Lee Show / Bizarre Kid Shows / Chicago's Kid Shows / Chicago's Ray Rayner Show / Garfield Goose and Friends / Bob Bell's Bozo Show on WGN / Bill Jackson's Shows / Gigglesnort Hotel Memories / Bob McAllister's Wonderama / Cincinnati Local Kid Shows / More Cincinnati Locals / Make A Wish / Hot Dog / Supermarionation Puppet Shows / Philadelphia Kid Shows / Philly's Captain Noah / The Chief Halftown Show / Philly's Gene London / Bertie the Bunyip / Dickory Doc / Adam Android / LA Kid Shows / The Merry Mailman / Do Do The Kid From Outer Space / Romper Room / Romper Room Around the USA / St. Louis Kiddie Shows / Religious Kid Shows / San Francisco Local Kid Shows / Johnny Jellybean / Johnny Jupiter / Shrimpenstein / Uncle Fred Sayles / Raleigh's Uncle Paul / Shenanigans and Video Village / Pip the Piper / Thanksgiving Day Cartoon Specials of the 70s / Monster Movie Matinee / Big Blue Marble / STM Club / Popeye on TV / Cleveland Local Kid Shows / Wixie's Wonderland / Jet Jackson and Sky King / The Original Animated Hercules / Ruff & Reddy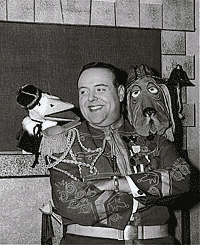 Rick Goldschmidt's Blog!

rankinbass.com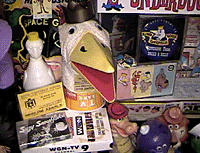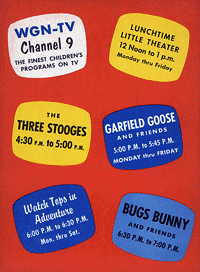 More images from
Garfield Goose &
Friends here!

Catalog of all
Classic TV Shows
on DVD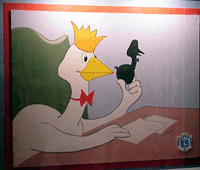 "My father, Clifford Goodall, was involved in producing Garfield Goose hand puppets. They were awesome!! I remember that we had so many of them around the houise that I would give them to all my friends at their birthday parties. Does anyone remember them?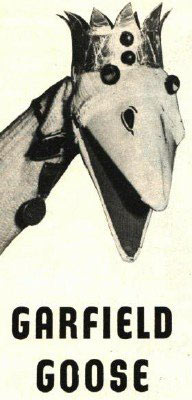 "My brother and I were in the Easter Parade in Chicago in the late 50s, riding with a very gigantic Garfield Goose in the back seat of a convertible and "clacking" Garfield Goose puppets on each hand. I believe that there was a picture of us in the Chicago Tribune, which I would LOVE to find. Any help wopuld be appreciated!
"Unfortunately, the hand puppets never really caught on and were not widely distributed beyond Chicago (I think there was a display in the Walgreen's downtown.)"
- Patti Goodall Strawderman, now in Richmond, VA