The last BOZO show was taped on June 12, 2001 and aired on WGN-9 - Saturday night, July 14 at 7:00 p.m. CT.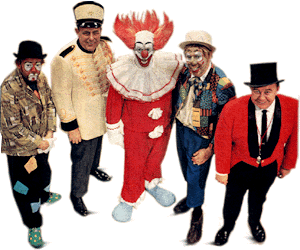 Thanks to Mark Christiansen, Patrick Owsley, Mike Murphy and Ron Murphy for providing us with some of the photographic elements.

DON'T MISS THIS:
Rick Goldschmidt's Blog!

---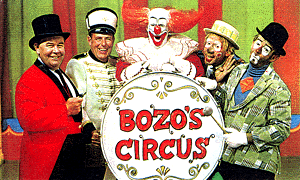 \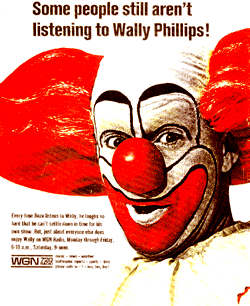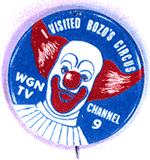 "I was never a big fan of Bozo the Clown, but there is one thing that will always stick in my mind. When I was in grade 5, in 1965, there was a student in my school who had leukemia and had a short time to live.
The sister superior of my school, it was a catholic school in New Jersey, knew that this terminally ill child loved Bozo The Clown. The Sister phoned the network and Bozo and his entire crew came to our little auditorium and filmed a show right there for this boy. It was only for the grades one, two and three; so we didn't get to see the show, but we were all at the window when the busses showed up.
It was wonderful to see all the characters come out and they stopped to say hello to us too. Later on, as I got older, I realized how much that meant not only to the young child but to his family.
They lost their child, but they will live with a beautiful memory of the joy and happiness he had for that brief moment. A moment where he didn't have to think about being sick. One brief afternoon turned into an eternal memory for these people. From that day on, Bozo became one of my heroes."
- Sincerely, Billy Villano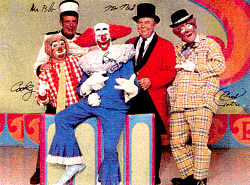 Bob Bell reappeared on WGN TV Chicago's "Bozo Show 25th Anniversary Tribute" in the fall of 1986.
Mr. Bell appeared towards the end of the show sporting a beautiful black tuxedo, white hair and mod metal rimmed eyeglasses. He did some shtick with "Bozo" (played by comic/character actor, mimic and singer/dancer Joe D'Auria) and then "Bozo", Mr. Bell and the other cast members - "Oliver O. Oliver" (Ray Raynor), "Sandy" (Don Sandberg), "Wizzo" (Marshall Bordeen), "Golly Gorilla" (Jay Weckler), "Mr. Ned" Ned Locke and Pat Hurley - performed "Be A Clown" from the MGM movie musical "The Pirate".
The very last segment had "Bozo", Bob Bell, Allan Hall, the show's second producer/director (the first producer was Mr. Don "Sandy" Sandberg) and the other cast members along the show's hosts Tim Reid and Mary Gross getting hit with a barrage of shaving cream pies as the show went into its final credits.
Mr. Bell's last appearance on WGN was in the fall of 1988 on channel 9's 40th Anniversary TV tribute.
- Kevin S. Butler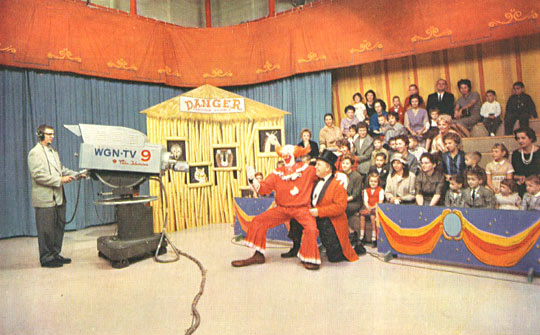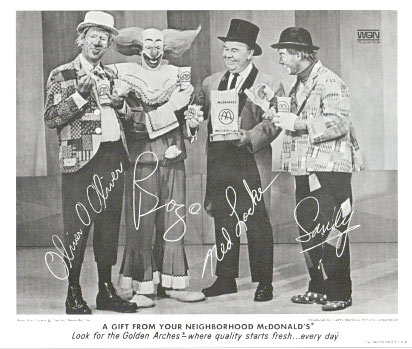 Without a doubt, the most popular Children's television show in Chicago and it's surrounding states was none other than BOZO'S CIRCUS on WGN-TV. The wait for tickets to see the show spanned several years and it was due to a very talented cast which included Ringmaster (Mr.) Ned (Ned Locke), Oliver O. Oliver (Ray Rayner), Sandy the clown (Don Sandburg), Mr. Bob the bandleader (Bob Trendler), Cooky the cook (Roy Brown) and it's shining star Bob Bell as Bozo the clown.
The success of this wonderful show is very complex. It lasted many, many years on WGN-TV and relied heavily on vaudeville routines. It came under fire for not having any educational value BUT the fact of the matter was that it was entertainment at it's purest form. This show gave kids a break from their everyday school lives and adults enjoyed it as well.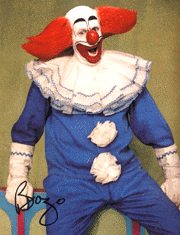 Starting out as a cartoon program hosted by Bob Bell as Bozo, it began to take on it's Circus form in the early 1960's. In a 1961 WGN Broadcast trade magazine it describes the show, "There are live animal acts and guest performers alternating with games and prizes. Chicago children are released from school. a class at a time, not only to enjoy the spectacle but also to report on the manner in which a television program is put on!" A picture of a very young Bob Bell as Bozo clowning on Mr. Ned's knee as a small elementary school audience looks on, illustrates this comment.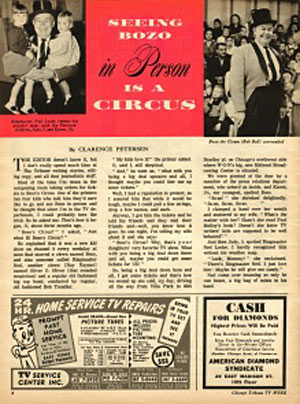 BOZO'S CIRCUS caught on fast! It was a phenomenon! spanning several generations. It's star had to be good and he most certainly was. Bob Bell joined WGN Continental Broadcasting Co. in 1956.
He played a variety of wonderful characters on THE WALLY PHILLIPS SHOW, before he debut as Bozo the clown in 1960. He also hosted Three Stooges shorts as a kindly old custodian character named Andy Starr. But he made his permanent mark on Chicago airwaves when WGN-TV moved to it's new facilities on Bradley Place and the birth of BOZO'S CIRCUS happened in 1961.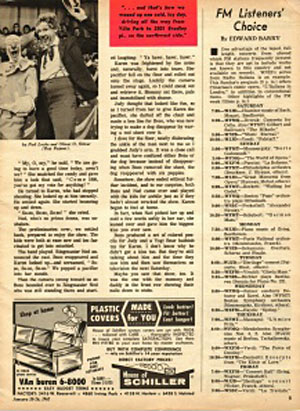 Bob Bell was one of those RARE performers that was able to appeal as much to the adults as he did to the kids. He wasn't your typical clown in makeup, he was something much more. You could always tell he was having as much fun as the audience was. He would sling jokes at the other cast members and say some funny things under his breath (similar to the way POPEYE did in his early cartoons) that were hilarious. He would brake up the studio staff and the studio and at-home audience all at the same time.
He lead the audience in applause as a performer would perform and he would never let the show get into a lull. He was always on and he certainly earned his salary. He gave 110% on each and every show.
BOZO!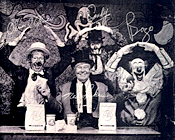 Growing up watching the show on a regular basis, the cast became a beloved part of the family. In fact, if you lived in or around Chicago during the shows heyday, you probably went to at least one show and have a memory or two to share about the experience.
I visited the show in 1973. My brother Chris and my neighbor Keith got to take part in one of the on-air games and took home prizes that day. My participation in the episode was during a commercial break. Mr. Ned gave me his microphone to hold during the break and when I returned it to him, he gave me a $50.00 MONOPOLY bill as reward.
Most people remember the actual studio for BOZO'S CIRCUS being much smaller in person. I recently went back to the studio (after appearing on WGN MORNING NEWS) and it is very small. I was quite surprised to see that the studio is still the same. The peg board walls are the originals and the ceiling curtains and fixtures are all the same. It's still there in it's original condition.
Bob Bell would always shake your hand and take pictures with each and every audience member as they exited the studio. He would always be sincere and say things like "Hey partner...that's quite a grip" or to the girls "I like your hair."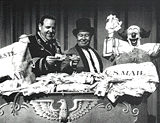 Bob Bell donned a red outfit throughout the 1960's. Don Sandburg, the show's Producer, wisely chose red to give the show a full range of color. He fought with Bozo's character owner Larry Harmon on the outfit color (Harmon wanted the color to be Blue and eventually won out) all the way up to his departure in 1969.
Don Sandburg moved out to California to work on THE BANANA SPLITS and the show went in many directions. Roy Brown was brought into the cast as Cooky the Cook and Ray Rayner left the show to devote his time to his own show, THE RAY RAYNER SHOW and his stage work. Eventually, BOZO'S CIRCUS lost Mr. Ned and gained Frazier Thomas (known from GARFIELD GOOSE AND FRIENDS). At this time I was getting older BUT still watching the show. In Chicago, you never really got too old for Bozo.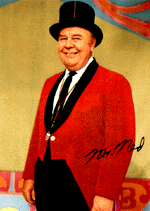 Even after all these changes, Bob Bell still had what endeared him to so many people. I have studied episodes from various incarnations of the show and they still hold up because of Bell. The show probably never would have survived all these changes if Roy Brown didn't work out as Cooky. Bell and Brown became a comedy team in the league of a Laurel and Hardy or Martin and Lewis. Each one knew what the other was going to say and they both knew how to make each other laugh.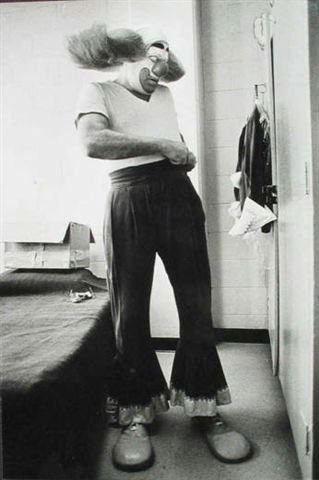 Bob Bell sadly retired from his position as Bozo in 1984 and with that decision, an end of a wonderful era in Chicago Broadcasting occurred. There was a wonderful special aired on WGN-TV entitled "Bob Bell: The Man Behind The Make-up" and it gave insight to a man that we knew very little about. When he put on the make-up, he was that character and he would never compromise that. The show closed with him as Bozo telling us (if we were children) not to hurt anyone or make fun of them. To me, Bob Bell and BOZO'S CIRCUS did have some educational value with the pure entertainment. It was wholesome entertainment for the whole family and very few shows could claim that today. WGN-TV tried to fill Bob Bell's huge shoes after his departure BUT they couldn't and it was and still is quite apparent.
Bob Bell passed away on December 8th, 1997. Part of Addison Street, near the WGN-TV studios, was appropriately renamed "Bob Bell Way," after his passing. It brings back wonderful memories when I think about Bob Bell and BOZO'S CIRCUS, but it is sad to think about the children of today and what they have to watch at lunchtime. It seems odd to think about television in such a nostalgic way. After all, I wouldn't consider myself a couch potato, certainly not as a child. Most of the things I remember watching as a kid, don't hold up upon recent viewings BUT BOZO'S CIRCUS is the exception. Bob Bell will forever be BOZO the clown to me!
- Rick Goldschmidt,
Author of THE ENCHANTED WORLD OF RANKIN/BASS
Visit www.rankinbass.com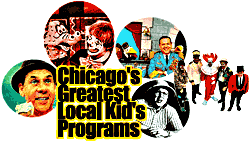 Chicago Local Kid Shows / Garfield Goose
Bob Bell's Bozo Show / Gigglesnort Hotel
Unforgettable Ray Rayner / Here's Geraldine
Chubby Jackson / More Chicago Locals

Lost Kid Shows Homepage / Shock Theater's Zacherle / Sesame Street / Andy's Gang / Sandy Becker / TV Pow! / Hilarious House of Frightenstein / The Friendly Giant / Madison's Cowboy Eddie / Who Was Doodles Weaver? / Lost Kid Show Recordings / Winky-Dink and You / Remembering Winky-Dink / Captain Kangaroo / The Old Rebel Show / The Soupy Sales Show / Walt Disney's Shows / The Magic Garden / Mad Mad Monster Party / Houston Local Kid Shows / Boston Local Kid Shows / Fabulous Sally Starr / New York City Locals / More New York City Locals / Tooter the Turtle / Crusader Rabbit / Paul Winchell and Jerry Mahoney / Alex Toth's Television Work / Diver Dan and Whirlybirds / Sonny Fox's Wonderama / The Pinky Lee Show / Bizarre Kid Shows / Chicago's Kid Shows / Chicago's Ray Rayner Show / Garfield Goose and Friends / Bob Bell's Bozo Show on WGN / Bill Jackson's Shows / Gigglesnort Hotel Memories / Bob McAllister's Wonderama / Cincinnati Local Kid Shows / More Cincinnati Locals / Make A Wish / Hot Dog / Supermarionation Puppet Shows / Philadelphia Kid Shows / Philly's Captain Noah / The Chief Halftown Show / Philly's Gene London / Bertie the Bunyip / Dickory Doc / Adam Android / LA Kid Shows / The Merry Mailman / Do Do The Kid From Outer Space / Romper Room / Romper Room Around the USA / St. Louis Kiddie Shows / Religious Kid Shows / San Francisco Local Kid Shows / Johnny Jellybean / Johnny Jupiter / Shrimpenstein / Uncle Fred Sayles / Raleigh's Uncle Paul / Shenanigans and Video Village / Pip the Piper / Thanksgiving Day Cartoon Specials of the 70s / Monster Movie Matinee / Big Blue Marble / STM Club / Popeye on TV / Cleveland Local Kid Shows / Wixie's Wonderland / Jet Jackson and Sky King / The Original Animated Hercules / Ruff & Reddy