PR4 & PR5 Pages for ads - CHEAP!
---
Rick Goldschmidt's
My Space Page
Rick Goldschmidt's
new Blog!

rankinbass.com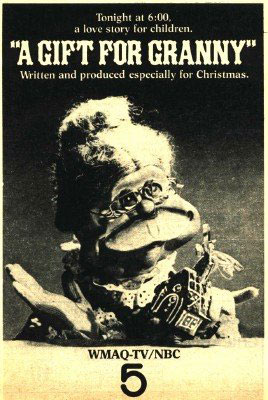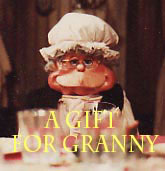 Here's a real holiday treat - remember the great Chicago (and syndicated) kiddie show Gigglesnort Hotel? BJ and the Dragon? Now you can own the classic holiday special A Gift For Granny. From the press release: It's a snow-blowing Christmas Eve, and Sonny, a little boy, battles the notorious Hunker Boys and crafty pawnbroker Craven Moore in a search for the perfect gift for his grandmother. DVD - 25 minutes.
Get The Gift for Granny on DVD now, it sells for $25 plus $5 shipping and handling. Order here.
---
---
Classic TV
Hard-to-find Classic TV
Shows on DVD!
---
GIFT IDEAS:
Click here to get autographed photos, prints and more!
Click here to
order Dirty Dragon Videos!
---
"I remember Gigglesnort Hotel! My brother and I would watch it every Sunday morning. I was young about six or seven years old. What I do remember and what facinated me most was when Bill Jackson use to paint , it was like magic to me how the picture would just appear by a few strokes of his magical paintbrush. Sunday morning shows back then were the best. We will never see shows that creative anymore, it's sad. That show was a part of my childhood I will never forget it."

- Sheri

"Thank Merciful GOD someone else remembers this show!!! I grew up in Albany, Georgia and it use to come on afternoons in the early 80's there. I think it was on WTBS before it became the "Super Station".

"I remember Maynard the Crow as the repair person. Maynard had a girlfriend crow named Myrtle. Maynard was also a musician (guitar, I think) and he sang a song about her. There was this one episode where Myrtle was acting timid or shy about something, I think it was going on stage in front of an audience with Maynard to play in his band, and she finally came around in the end. The song went something like "Myrtle was a turtle 'til she came ah-right outta her shell".

"I recall a two-part or more epic where the bellhop, the Blob, and some other characters went to another planet. I remember they were locked up in a dungeon. Blob showed up looking like a monster and scared all the guards away. The bellhop and the princess of the planet fell in love but he had to go back to the hotel. When they got back, no one believed them.

"The Lemon Drop Kid would fly in on the lemon shaped blimp and throw down lemons like bombs. If you read the painfully bad joke written on it, it would blow up and you'd be "puckerized". The trick was not to read it, but someone always inadvertently did.

"Finally, the title character was called Commander Gigglesnort or Admiral or Captain, I don't remember which, and was dressed accordingly. I remember him on top of the roof , "steering" the building with a ship's wheel. And when he'd laugh, he suck all the air back kind of like he was about to sneeze, and then snort. Hence the name.

"Again, thanks for helping me open a very tightly sealed vault which had remained hidden in the back of my mind. Whew! "

- Tramm Wigzell

"Oh my lord! I've got to send this url to my sister!!!!!!!! We've been branded as loonies for even mentioning this show. no one ever believes it's real.

"We live in Portland, Oregon and remembered long long ago in the late 70's watching this wacked out show early in the morning. Like almost before sunrise. I think they put it on so early because it was just so weird.

"I don't know that I'd go so far as to say it was satanic but I do remember one morning I was feeling very ill. Some sort of stomach flu... anyway, we went down to watch gigglesnort hotel and I just kept getting sicker and sicker... I was sure it was the show using it's "evil powers" on me to make me sick... then I just couldn't help myself, I threw up and felt like I was dying. I was absolutely convinced the show did it to me and i never watched it since.

"For over ten years now I've been talking to everyone i know at some point and asking if they remember this bit of tv history. Nobody, and I mean NOBODY has any clue what I'm talking about. Thank you for grounding this bit of my memory in reality. "

- nathan s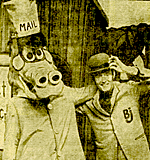 "I enjoy reading everyone's memories of their shows... but SATANIC? That's kinda extreme... I guess I know what they mean now by "younger and more sensitive viewers," but never mind.
"Personally, I had a HUGE crush on Bill Jackson. Between his good looks (at least what I thought were good looks during my latency years), his artistry (the caricatures he did were really impressive to a kid who couldn't draw a straight line), and his sculpting of poor Blob, I thought he was the ultimate in one! I always remember being so happy that such a talented person had a job where people could see what he did so well.
"I can't even guess how many years it took to realize that the superimposed sounds of the Blob during his sculpting sessions was the SAME darn tape every time. BJ reacted sympathetically when he sounded upset, encouraging when Blob gave that kinda raunchy, "hohoho" laugh, and seemed continuously interested in keeping Blob happy during his "remodelings."
"Dirty Dragon was the perfect antihero.. I never understood why he was so popular at the time. Always on the edge of a fiery rage, he indeed jeopardized all the mail in Cartoon Town, forcing BJ to walk on eggshells in his quest to first get his mail, then protect the rest from getting FIEEEE'd on. Now and then, they took turns reading viewer mail. When I sent in a letter, I gushed like mad about how wonderful I thought BJ was.. I remember getting a postcard back, with an autograph thanking me for a "VERY complimentary" letter...now I wonder if I promised him my firstborn, my chastity, or what ... I remember my heart breaking once when I saw him wearing a wedding ring..sigh.
"As an adult, I remember one campaign waged by BJ and the Dragon, called "FIE on Tailgators!!" They railed against how dangerous a habit it was and how it could result in terrible things for both the perpetrator and the victim of this behavior. Now that I drive, the slogan comes back to me at least three times a week! They were also into criticizing litterbugs and many other of the civic annoyances adults encounter. I daresay BJ used the show (in very small part) as a bully pulpit, though I never heard a soul's complaint about that.
"I remember Mother (Pearl) Plumtree, the old lady puppet, and when she married the old guy puppet, Fenster, or Fester.. I think they also called him Grandpa or something? And, of course, Wally and Weird... Wally wore a Scout uniform a lot, and had a very femmy voice, very much the "Bert" to Weird's "Ernie." There were some wild plot twists where they Doppelganged into Frankenweird and WolfWally, but I usually avoided watching the show when they went that way... They were strange enough in their usual forms!
"BJ, wherever you are, I'd still love a shot at ya..Hehehe! "
- Jussamagin, Romeoville IL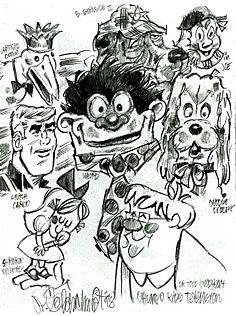 Chicago Kid Shows Illustration
by Rick Goldschmidt
---
"My husband and I were branded freaks for our Gigglesnort Hotel memories. We loved the show. When he mentioned it to me after we had been dating for a few years, and I knew what he was talking about, we both knew we were meant to be together. Nothing bonds a couple like the Lemon Drop jokester.

I watched the show right after the farm report on Saturday mornings and my husband saw it in Chicago. He does a killer rendition of the Blob's sound effects. Actually, we found out about this site after he imitated Blob at work and his boss came running out of the front office to tell him about TVparty. I have a feeling that there are a lot of underground Gigglesnort fans out there who are afraid of being branded insane. Keep the faith."

- Eric and Tricia Baird
---
"With kids of my own and a "grown up" existence I sometimes forget what it was like to be a kid. Thanks for you guys reminding me. I LOVED Dirty Dragon and the Lemon Joke Kid!

I Loved B.J. I remember he had a show before The Gigglesnort Hotel, that I can't remember the name of, that had Dirty Dragon and some of the other characters from the Hotel on it, and he would draw cartoons and things. I seem to remember that there was a neighborhood of some sort he would walk through.

It was good to remember that time in my life. It was a younger, simpler time. It was a time when the characters didn't have to break down into pieces and become something else, or when you didn't have to go into debt getting all of the perafinalia to go with the show. It was a time when things could just be funny for funny sake....no cause, no deeper meaning, just plain funny. Whoever thinks it was satanic needs some help. Thank You Bill for years of laughs and some really GRRREEEAAATTT Memories!"

- Sincerely, Gina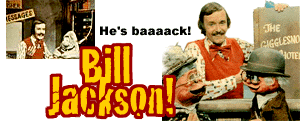 THE WONDERFUL WORLD
of BILL JACKSON and
his DIRTY DRAGON
- by Rick Goldschmidt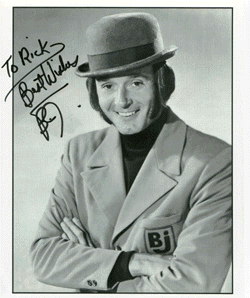 There is an undisputed champion in Chicago Children's broadcasting and he goes by the name of Bill Jackson. His talent went far beyond hosting a children's television program. He was and still is a performer, artist/cartoonist, puppet sculptor, character designer, teacher, voice actor and Producer/Director among other things. In short he is an amazingly talented man who is appreciated by many. He is also very modest and is quick to acknowledge all the many people that helped him along the way on his road to CARTOON TOWN and beyond.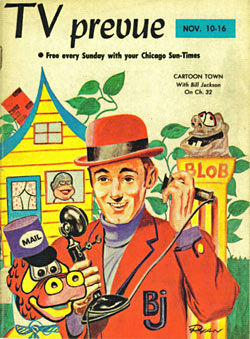 If you lived in Chicago, you certainly remember his cast of puppet characters which included CARTOON TOWN's postmaster DIRTY DRAGON, MOTHER PLUMTREE, WEIRD, W.C. CORNFIELD, THE LEMON JOKE KID, DR. DOOMPUSS, WALLY GOODSCOUT, THE OLD PROFESSOR, MERTZ, THE MARTIAN MEANIE, THE THUMPTWANGERS, FOO-FOO, and many, many more! B.J. was Mayor of CARTOON TOWN and one of the most personable guys you would ever want to dial up on your television set. He inspired many a young artist with his WHOZITS (cartoon easel drawings of famous cartoon characters) and he started many a backyard carnivals for the Muscular Dystrophy association. In short, a wonderful guy on and off the screen.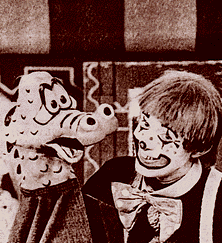 "When I came to Chicago, we did a show called 'Clown Alley' and I played a character called Freckles the Clown on WBBM channel 2. It was the best kept secret in Chicago Television (laughs)," says Bill Jackson. Bill started his television career in Fort Wayne, Indiana and was on a show called "Popeye and The Little Rascals Club."
While in Fort Wayne, he made a wonderful silent movie tribute to the old Max Sennett comedies (THE BIG APPLE CAPER) in which he played a Chaplin type character. The piece looks remarkably like it was shot in the period it represents and was re-aired on CARTOON TOWN occasionally. "We had a great deal of fun with that one!," says Jackson. "The police department was very cooperative. The car was loaned to us. The whole cast was made up of crew members from that station including the art director, who was a big help. We didn't have a whole lot of money to do it but we sure put a lot of time and effort into the production." This film can be seen on Bill's newly released CARTOON TOWN (Vol. 4) videotape.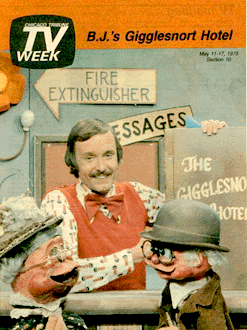 After his beginnings in Fort Wayne, he moved on to Indianapolis and began to develop a cast of puppet characters. A character named Dirty Dragon was born along with the blob (an ever changing clay character with a language of his own) and the ever popular Thumptwangers "You're Dag Bird Right" 'Clown Alley" began in 1965 and the Sunday version of the show 'Here Comes Freckles' followed in 1966.
His puppets were taking on a look of their own and were about to become a legendary part of Chicago Television history. "I designed the characters and made the heads. The process would begin by sculpting the heads in clay and then molding them into latex rubber puppets. I would then paint them. I didn't do the bodies though. The clothing was a little more complicated than just using children's clothing or something like that. Various tailors and seamstresses would sew the many costumes my puppets wore," says Jackson.
After moderate success with 'Clown Alley,' BJ (as he was now known) became Mayor of CARTOON TOWN on February 26th, 1968 and the rest is history. The memory of seeing BJ trying to land his Red Derby on his head at the beginning of each show will forever be ingrained in my memory. There are so many facets of CARTOON TOWN that are legendary. The Characters were wonderful!
Dirty Dragon was a disgruntled postman that blew so much smoke out of his snout that it would often fog up the entire television picture. Weird was a hilarious, boisterous character that brought more comedy to the show than any other puppet. The Old Professor and Mother Plumtree were full of good natured banter and could be incredibly sentimental at times. Bill Jackson's character designs and portrayals should have been enough to boost HUGE ratings at the UHF station Channel 32, but that wasn't the case initially.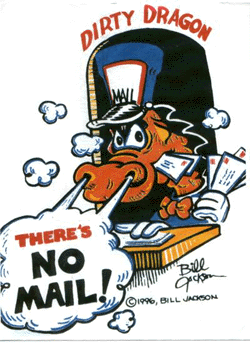 "When I was at Channel 32, we always had to do much more promotion than you would think would be necessary. At the time, 32 had the White Sox games on and they weren't winning many games. Our Promotions girl at the time was a woman named Kathy and at the time we were doing many personal appearances. We created this whole 'DIRTY DRAGON FOR PRESIDENT' campaign. I remember telling Kathy, right before we were to appear at Mayor Daley's BACK OF THE YARDS FAIR, if this doesn't work out, we are going to have to pack it up. We were at that point. Rick, I am happy to say that we broke all attendance records that day! I was brought into the fair by helicopter and I had the pilot wear a Lemon Joke Kid costume, because on the last show I was kidnapped by the Lemon Joke Kid! It was Great fun!," says Jackson.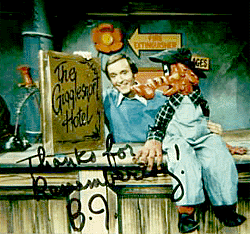 BJ and DIRTY DRAGON became household names. Touring all around Chicago and it's surrounding suburbs and promoting the appearances each week on the show. When they played the PARAMOUNT ARTS CENTER in Aurora, Artist Ron Murphy recalls, "He brought a kid up out of the audience and dressed him up as a Cowboy and called him Tex. Tex threw his horse off the stage to BJ's disbelief. I saw that same kid the next day and asked 'Tex' why he threw the horse." BJ also sold Red plastic felt covered derbys at the show for around a dollar a piece. Audience participation was always an important part of the stage shows.
For a short time on the show, Kids would write in for a phone call from BJ to do a WHOZIT on air. BJ would draw a popular character and the kid caller would get to guess the cartoon. If he did guess right, he was awarded a large pencil with Dirty Dragon's likeness on it. "It wasn't enough to just come to work and put a lot of effort into the show and the characters, we really had to get out there and make things happen. Many people didn't even have a TV set that would pick up the station. There were some hurdles to jump but we eventually made it," says Jackson.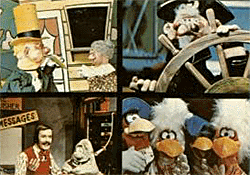 Maurice Lennell Cookies was a sponsor of the show and Bill was the perfect salesman for this product. He would always say, "Look for the box with the boy in the cookie jar on it."
I can remember that as the cookie of choice in my neighborhood. Backyard Carnivals were also very popular in my neighborhood Thanks to Bill Jackson. You could send away for the Carnival kit and there was even a chance of winning a trip for you and your family to a theme park.
The show was also host to some popular cartoon characters such as Underdog, Rocky and Bullwinkle, Beany and Cecil and I remember watching the King Features Popeye cartoons with the Sea Hag. There were wonderful musical drawing sections too with the songs of Sonny and Cher, Elton John and many others.
One of the most memorable features on the show was the appearances made by the Lemon Joke Kid. Bill's show never carried any violence in them but they did have a great deal of excitement and the lemon joke kid was his way of mixing up the show. When the kid would come to town a dark cloud would linger in the sky and lemons would fall. His bombs were his bad jokes. Bill alluded to the fact that this might be Weird in the Lemon Joke Kid's costume, but it turned out to be his look-a-like cousin. This revelation is also included on Bill's CARTOON TOWN video vol.4. "The footage we had on that was from 3/4" tape and I was a little worried that it wouldn't transfer well BUT I was happily proven wrong. It does hold up well," says Jackson.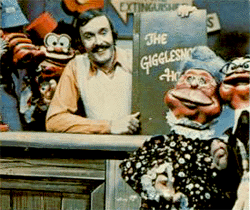 BJ made a couple of Christmas Specials during this period. The first was PLEASE OPEN BEFORE CHRISTMAS (which was actually a Thanksgiving Special to put you in the spirit) from 1968 and A GIFT FOR GRANNY (1974) which exists in two versions.
One that was originally broadcast in Chicago and one that was later syndicated (and released by LORIMAR HOME VIDEO) that he perfected during his years at CAL ARTS as a teacher.
"I like the first one better story wise. We were able to up the production in California, but we changed the plot and characters quite a bit and I think we were more successful the first time around in those areas. I am thinking about putting the first version out on home video," says BJ.
CARTOON TOWN eventually became THE BJ & DIRTY DRAGON SHOW and BJ ultimately changed his suit color from Red to Blue (just like the famous Bozo of BOZO'S CIRCUS fame). Competition became fierce during his timeslot. WGN began running reruns of BATMAN and THE FLINTSTONES and a decision had to be made. Since the live stage shows were so popular and BOZO'S CIRCUS was having great success with their audience participation format show, it was decided to make THE BJ AND DIRTY DRAGON SHOW a stage show and use 'road show' costume versions of the characters.
Something was missing. The show was still lively and fun, but it was missing the warm and homey qualities that made it popular in the first place. Realizing the show was failing, BJ urged the powers that be to go back to the old format and they did. After returning to the old format the show eventually signed off the air on July 27th, 1973. It made a brief return in the town Carefree Corners (aimed at pre-schoolers) on WGN from September, 1973 to August 30th, 1974, but the end of an era had reached CARTOON TOWN.
Bill Jackson brought back the same characters and added a few more in his critically acclaimed and highly successful series B.J.'S GIGGLESNORT HOTEL, which ran for three years (78 episodes) beginning in January of 1975. This is a very entertaining series where BJ operates and runs a hotel for Mr. Gigglesnort and brings back our favorite characters from CARTOON TOWN.
Creatively, it wasn't as successful as CARTOON TOWN because there was no longer the freedom or the spontenaity of humour that existed at WFLD. "We had to stick to a format and get across a message. I think I enjoyed myself more in the early days of CARTOON TOWN but GIGGLESNORT is a HUGE success. I put out three recent volumes of the series myself and they are sold at the Museum of Broadcast Communications. I made the mistake of calling my recent CARTOON TOWN video release Volume 4. It is actually the first CARTOON TOWN video we put out," says BJ.
The last show that included these characters was a series called FIREHOUSE FOLLIES from 1979-1980. Instead of running around in a hotel, they were running around in a firehouse. Bill went out to California after this show and joined the staff of CAL ARTS as a teacher and administrator for some 12 and 1/2 years. During this time he launched many careers in the entertainment field. He never really talked about his past efforts during this period, but every now and then a student from Chicago would recognize him from his past.
In recent years, Bill has been honored by the Museum of Broadcast Communications. On April 5th, 1995 there was a Huge turnout of Bill Jackson fans to pay tribute to his incredible body of work. Bill was quick to turn the attention to all of the people that worked behind the scenes to make him look good. This is typical of the wonderful man to which everyone paid tribute. The man we all knew and loved on the screen is the same man that you meet in person.
The work of Historian/Artist Jim Engel in bringing the focus back on BJ can not go unnoticed. He assembled a wonderful magazine called THE LITTLE THEATRE SCREEN Vol.1 No. 1 (which can be obtained from the Museum Of Broadcast Communications in Chicago) in the Summer of 1994. Being a Jr. board member at the Museum of Broadcast Communications, he was instrumental in making the 'Evening With Bill Jackson' (video available from MBC) a reality and hosted the proceedings. Most importantly, when it looked like BJ's puppets might not be housed properly at the museum, Jim single handedly constructed and designed a wonderful permanent display for BJ's puppets for the rest of Chicago to enjoy. On behalf of the fans of BJ & DIRTY DRAGON, I THANK YOU Jim!
Responding to the many inquiries at TVPARTY.com over the last few years, Bill said, "I am just so pleased and overwhelmed that they remember! The business is a very fickle thing, it really is.... and I am just so pleased and overwhelmed that they remember and care. What a beautiful thing!"
You can visit Bill's web page at: dirtydragon.com
More on GIGGLESNORT HOTEL Here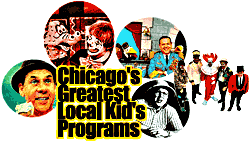 Chicago Local Kid Shows
Garfield Goose
Bob Bell's Bozo Show
Gigglesnort Hotel
Unforgettable Ray Rayner
Here's Geraldine
Chubby Jackson / More Chicago Locals

Lost Kid Shows Homepage / Shock Theater's Zacherle / Sesame Street / Andy's Gang / Sandy Becker / TV Pow! / Hilarious House of Frightenstein / The Friendly Giant / Madison's Cowboy Eddie / Who Was Doodles Weaver? / Lost Kid Show Recordings / Winky-Dink and You / Remembering Winky-Dink / Captain Kangaroo / The Old Rebel Show / The Soupy Sales Show / Walt Disney's Shows / The Magic Garden / Mad Mad Monster Party / Houston Local Kid Shows / Boston Local Kid Shows / Fabulous Sally Starr / New York City Locals / More New York City Locals / Tooter the Turtle / Crusader Rabbit / Paul Winchell and Jerry Mahoney / Alex Toth's Television Work / Diver Dan and Whirlybirds / Sonny Fox's Wonderama / The Pinky Lee Show / Bizarre Kid Shows / Chicago's Kid Shows / Chicago's Ray Rayner Show / Garfield Goose and Friends / Bob Bell's Bozo Show on WGN / Bill Jackson's Shows / Gigglesnort Hotel Memories / Bob McAllister's Wonderama / Cincinnati Local Kid Shows / More Cincinnati Locals / Make A Wish / Hot Dog / Supermarionation Puppet Shows / Philadelphia Kid Shows / Philly's Captain Noah / The Chief Halftown Show / Philly's Gene London / Bertie the Bunyip / Dickory Doc / Adam Android / LA Kid Shows / The Merry Mailman / Do Do The Kid From Outer Space / Romper Room / Romper Room Around the USA / St. Louis Kiddie Shows / Religious Kid Shows / San Francisco Local Kid Shows / Johnny Jellybean / Johnny Jupiter / Shrimpenstein / Uncle Fred Sayles / Raleigh's Uncle Paul / Shenanigans and Video Village / Pip the Piper / Thanksgiving Day Cartoon Specials of the 70s / Monster Movie Matinee / Big Blue Marble / STM Club / Popeye on TV / Cleveland Local Kid Shows / Wixie's Wonderland / Jet Jackson and Sky King / The Original Animated Hercules / Ruff & Reddy