Remembering Chicago
Local Kid Shows
by Tom Jacobs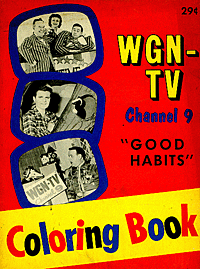 If I could conjure up some people to talk about the 50's and television of that era, it would have to include the following:
Frazier Thomas. Although I remember him hosting "Family Classics" and, for a while, he was ringmaster on "Bozo's Circus", it was his presence that, in my opinion, made "Garfield Goose" so wonderful.
I'll also give credit to a goose puppet that could show, using only two moving parts (his mouth) such a huge range of emotions from laughter, confusion, determination - that goose (or, I should say, the genius behind the goose) seemed to able to do anything.
I remember one episode where Garfield had invented a food tablet--a whole meal in one little pill. He had a row of them on that little window where he always came to converse with Frazier. Through a minute of Garfield "talking" (Frazier would repeat what Garfield "said" - similar to the way Bob Newhart would later do his telephone comedy sketches - we found out all about the food pills.
But Frazier wondered out loud about a boy coming in for his Thanksgiving dinner all ready for a big meal - only to be served on pill and a glass of water. You could actually SEE Garfield mulling this over for a minute and then, with great fanfare, pick up a each bottle in turn and throw it off-camera. I would give just about anything to have my kids see that.
Films/animation on the "Little Theatre Screen" like "The Cinnamon Bear", "Clutch Cargo", etc., made a great show even better. I only wish I could have told Mr. Frazier Thomas how much he meant to me.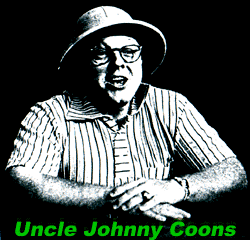 Uncle Johnny Coons. Give that man a silver star for making a great kids show--out of almost nothing. He did have some silent movies--but he did not just show them: he narrated throughout the action: "Watch what's going to happen here, boys and girls...", "He's throwing light bulbs on the floor because the noise sounds like a gun being shot...but DON'T DO THIS AT HOME".
Other than that it was a one-man show. True, he had a nemesis named "George" who was always playing tricks on Uncle Johnny. But "George" was always off-camera until the punch line when somebody would push a dummy next to Uncle Johnny Coons. The dummy would appear to be laughing--a laugh that still haunts me as some place between evil and insane.
It is also true that Johnny Coons had a dog on his show. But he always referred to him as "Blackie, my invisible dog." There were a few recorded barks, whines, and yips but mostly is was Uncle Johnny Coons alone on the set almost convincing thousands of kids that there was a dog with him.
My mom liked him because, almost every day, he would tell his audience that they were sitting "too close to the TV." "Back up about six and three-quarters feet" he would gravely intone. We listened and obeyed.
Ned Locke. I was almost too old for "Paddleboat" when it came on the air but my younger sister wasn't so I had a great excuse for watching it.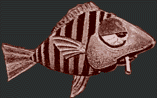 How I would dearly like to show my kids an episode of "Diver Dan" - a series shown on "Paddleboat." "Dan" was the only human in it (a hard-hat diver). The only other figures I remember was an underworld-type (a barracuda) and his accomplice (a triggerfish, of course.) That triggerfish always had a cigarette dangling from his mouth--an image (100 feet under water, remember) that never failed to crack me up.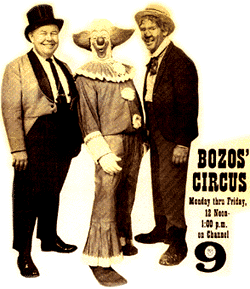 But Mr. Lock's greatest role was ringmaster on "Bozo's Circus." I always got the impression that he REALLY enjoyed doing that show--even being the stooge from one of the pranks that Bozo and Cookie would play on him. As I grew older I realized that many of the asides were for the benefit of the adults--and that made it even funnier.
I don't know if it was in the script or not but once Ned Locke, in a fit of frustration at Bozo and Cookie, said, "You, you... you CLOWNS!"
Bob Bell. He WAS Bozo. Need any more be said? Maybe just one thing: if any little kid had the misfortune to miss the first bucket in the "grand prize game", Bozo was always willing to admit that he gave the kid a "crooked ball" (and, therefore, another chance.)
Two-ton Baker. I would like to have gotten to know this man better. And, I would also like to tell him that after almost 50 years I haven't been able to get out of my head this little song he would have us sing to conjure up some character named "Bubbles." The song consisted only of the words: "HAS ANYBODY HERE SEEN BUBBLES?--B U B B L E S...
Very Best regards, Tom Jacobs
I recall Uncle Johnny Coons was the host of Lunch Time Little Theatre. The program aired on WMAQ (WNBQ) in Chicago. He would always run Laurel & Hardy shorts.
Uncle Johnny was also the voice of Uncle Mistletoe cartoons shown during the holidays courtesy of Marshall Fields.
The greatest kid show of them all was Ding Dong School with Miss Francis. This program also ran on WMAQ-TV in the early 50s. I believe Miss Francis last name was Horowitz, and was an Early Learning specialist in psychology.
Two Ton Baker was the one telling us about how thrilling River View was.
- Carol Tietz, NBC-TV dinosaur
---
When remembering the Garfield Goose show, one of the things that impressed me the most was the personalities of the puppet characters, which never said a word. They communicated entirely by gesture. This is due to the magic of a very talented man Mr. Roy Brown... who also played Cooky the clown on the Bozo Show. Give Roy some credit. He was a wonderful person.

- Michael J. Sweers
---
A favorite memory growing up in Skokie while walking home from Kindergarten at East Prairie School in 1955 was listening to Aunt Dody, Uncle Buckie and Uncle Ned on Lunchtime Little Theater.
I don't remember the details of the show, other than the theme song; but I know I couldn't wait to watch it. (A child's indoctrination into television dependency.) I can sing the theme song, note perfect, I believe. Then I saw someone else had sent in almost this same sentiment to your page, and provided the song lyrics as well. I shouldn't be surprised; I'm sure there were kids like me all over who had the same experience.
- Scott Schada
---
Hi, I'm enjoying your site. I specifically went here to try to find the lyrics to the famous "soup song".

I think it was on the Uncle Johnny Coons lunchtime show in the 1950's in Chicago, might have been on Lunchtime Little Theater.

Anyhow, it would go something like this:
"Today is Wednesday, today is Wednesday. Wednesday souuuuup." Kind of going up at the end.

There was a different item on the menu for every day of the week. I know this is nuts, but if you know the lyrics to the song, could you send them along??

- Thanks, Bob Smith
Deerfield when it was population 1900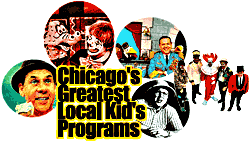 Chicago Local Kid Shows / Garfield Goose
Bob Bell's Bozo Show / Gigglesnort Hotel
Unforgettable Ray Rayner / Here's Geraldine
Chubby Jackson / More Chicago Locals

Lost Kid Shows Homepage / Shock Theater's Zacherle / Sesame Street / Andy's Gang / Sandy Becker / TV Pow! / Hilarious House of Frightenstein / The Friendly Giant / Madison's Cowboy Eddie / Who Was Doodles Weaver? / Lost Kid Show Recordings / Winky-Dink and You / Remembering Winky-Dink / Captain Kangaroo / The Old Rebel Show / The Soupy Sales Show / Walt Disney's Shows / The Magic Garden / Mad Mad Monster Party / Houston Local Kid Shows / Boston Local Kid Shows / Fabulous Sally Starr / New York City Locals / More New York City Locals / Tooter the Turtle / Crusader Rabbit / Paul Winchell and Jerry Mahoney / Alex Toth's Television Work / Diver Dan and Whirlybirds / Sonny Fox's Wonderama / The Pinky Lee Show / Bizarre Kid Shows / Chicago's Kid Shows / Chicago's Ray Rayner Show / Garfield Goose and Friends / Bob Bell's Bozo Show on WGN / Bill Jackson's Shows / Gigglesnort Hotel Memories / Bob McAllister's Wonderama / Cincinnati Local Kid Shows / More Cincinnati Locals / Make A Wish / Hot Dog / Supermarionation Puppet Shows / Philadelphia Kid Shows / Philly's Captain Noah / The Chief Halftown Show / Philly's Gene London / Bertie the Bunyip / Dickory Doc / Adam Android / LA Kid Shows / The Merry Mailman / Do Do The Kid From Outer Space / Romper Room / Romper Room Around the USA / St. Louis Kiddie Shows / Religious Kid Shows / San Francisco Local Kid Shows / Johnny Jellybean / Johnny Jupiter / Shrimpenstein / Uncle Fred Sayles / Raleigh's Uncle Paul / Shenanigans and Video Village / Pip the Piper / Thanksgiving Day Cartoon Specials of the 70s / Monster Movie Matinee / Big Blue Marble / STM Club / Popeye on TV / Cleveland Local Kid Shows / Wixie's Wonderland / Jet Jackson and Sky King / The Original Animated Hercules / Ruff & Reddy