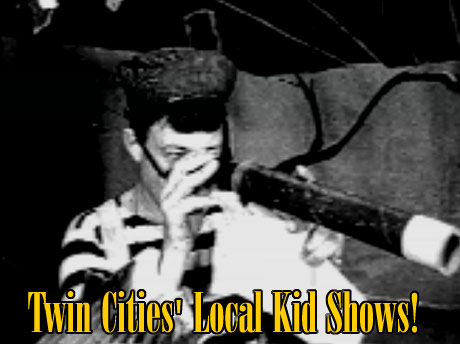 * Axel & Casey's Christmas Traditions *

A TVparty CHRISTMAS SPECIAL
Text by Julian West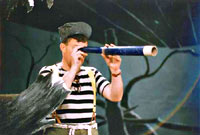 Axel's Treehouse was an idealized version of that childhood daydream, with the intimate atmosphere of a clubhouse. Anyone with a television set could join the gang.
"It is entirely imaginative," Clellan declared in 1957. "We've put Axel, a crusty old guy who likes kids, in a treehouse. It's a good setting for kids' imagination and lends itself to the stories I tell or the films being run."
Unlike many kids' TV shows, Axel and His Dog did not include a "peanut gallery" full of breathless, restless youngsters. It was felt that seeing the show in the studio would shatter the illusion for kids.
Watching Axel cavort on the mysterious, glowing cathode screen at home might seem magical; seeing the same thing in person, divorced from the alchemy of the airwaves, might expose him as a man in a goofy costume in front of a cheap painted backdrop. Worse, it would be impossible to prevent a studio audience from seeing Towser's true identity. That couldn't be allowed to happen -- despite the silliness, Axel and His Dog always maintained a tantalizing air of mystery.
---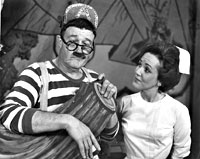 A TWIN CITIES
HOLIDAY TRADITION:
Every Christmas, Axel would deliver his own, warped version of the classic tale, The Night Before Christmas. Here are two examples, the first a home recording of one of Axel's shows.

Axel does
The Night
Before Christmas
(audio)
This clip courtesy of Robert Wild - he's the one who used his tape recorder to preserve this TV transmission from December 25, 1958 - it wouldn't exist otherwise.

Axel and Carmine bake cookies
as Axel tells the Night Before Christmas
in a holiday recording sold in stores circa 1964.
(The audio is much better on this clip.)
---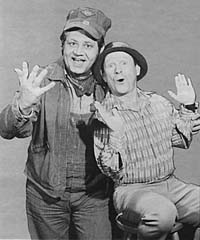 Back at WTCN-TV, Lynn Dwyer joined "Lunch with Casey" as Roundhouse Rodney after Chris Wedes in the early-sixties. The short but sturdy Lynn had previously been a skater with the Ice Capades. A gifted performer and talented mimic, Roundhouse's manic personality contrasted perfectly with Casey's pleasant quiescence.

On the show, Roundhouse might appear as Tarzan spouting one-liners, a life-size windup female doll, or do his dead-on Jimmy Durante impression.

Every year at Halloween, an evil witch would shrink Roundhouse and trap him in a pumpkin -- probably so Lynn could take a vacation. Just in time for Halloween, Casey would carve the pumpkin, rescue Roundhouse, and restore him to normal size.
---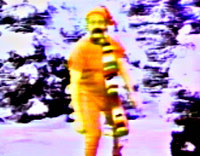 HOLIDAY CLIPS:
A popular Christmas feature on the 'Lunch With Casey' show was the musical video that he showed each year - "Walking in My Winter Underwear".
A clip from the 1969 Christmas Day episode of 'Lunch With Casey' clearly shows how religious values were re-inforced on local children's shows.
By the early 1970s, the heyday of local children's programming was coming to an end. After almost nineteen years on the air, Channel 11's "Lunch with Casey" was cancelled by Metromedia, Inc., the conglomerate which then owned WTCN.
---
NEW - DON'T MISS THIS: If you'd like to have Axel's version of "The Night Before Christmas" but don't want to pay big bucks for the original collector's
item, I offer two different CDs which both contain the 1964 recording
plus various other stuff. The CDs come with color reproductions of the
original packaging (or rare photos) and cost $10 each (plus $4 shipping per
order). Here are details about the CDs:

AXEL ARTYFACTS
This collection includes:
1. Axel & His Dog theme song (#1) (fragment)
2. Axel theme song (#2)
3. Axel's version of "The Night Before Christmas" (from TV, 1958)
From a reel-to-reel home tape recording (Note: sound quality is fair but
listenable)
4. Axel's version of "The Night Before Christmas" (with Carmen, 1964)
From the WCCO-TV Christmas record produced by Allan Lotsberg
5. The Axel TV Show (fragment, 25? December 1964)
6. The Axel TV Show (28 December 1964)
7. The Axel TV Show (31 December 1964)
8. The Axel TV Show (6? January 1965)
9. The Axel TV Show (1 March 1965)
Tracks 5-9 from reel-to-reel home tape recordings (Note: sound quality is
fair but listenable)
Special Bonus!
10. Kingscrost Lecture (December 1941)
The earliest known recording of Clellan Card as Axel, plus the earliest
known Birdie!
From a transcription disc recorded for a Northrup King sales presentation

TWIN CITIES KID STUFF
This collection includes:
1. Casey's Comedy Album for Kids -- Casey Jones & Roundhouse (1973)
Classic Casey: "The Birthday Song," "I Love Onions," and lots more!
2. Grandpa Grundy Stories -- Clellan Card (1959)
Clellan Card as Grandpa Grundy tells four children's stories!
3. Carmen Sings (1954-1955, 1968)
Songs Mary Davies sang on TV, plus the single that was her TV show's theme
song!
4. "Close Call for Santa" -- Clancy & Willie (1964)
Clancy & Willie save Christmas in the nick of time!
5. "The Night Before Christmas" -- Axel (with Carmen, 1964)
Axel's goofy Scandihoovian lampoon of the venerable Christmas poem!
Tracks 4 & 5: From the WCCO-TV Christmas record produced by Allan Lotsberg

If you're interested in either CD, please email me for details on how to
order. Thanks!
--- Julian West
towser (at) earthlink.net