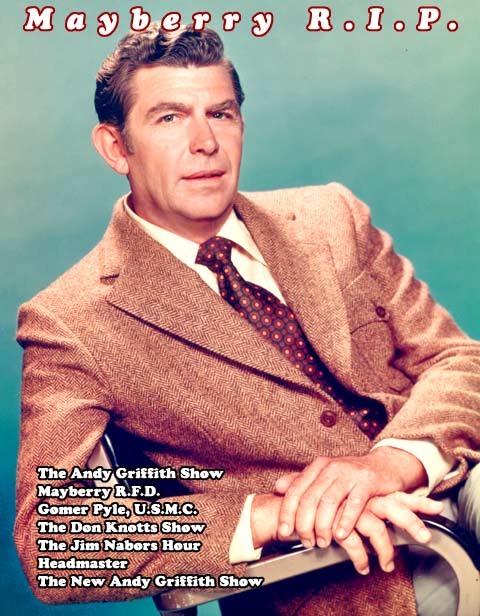 The Andy Griffith Show: Part Five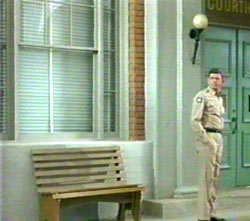 AFTER THE END
Bob Ross, second producer of TAGS and the creator of Mayberry, RFD died in 1972.
Paul Hartman (fix-it man Emmett) died October 2, 1973. While appearing on Mayberry RFD, he was also seen as Bert Smedley from 1968-1969 on Petticoat Junction.
Aaron Ruben (TAGS, Gomer Pyle, USMC) produced and developed other hit TV shows, including the first three seasons of Sanford and Son.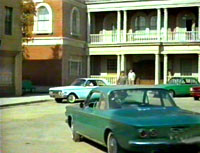 In 1976, the Forty Acres set (seen left) which served for a decade as the town of Mayberry in exterior shots was demolished.
In the early-seventies, Andy Griffith, Don Knotts and Jerry Van Dyke could be seen performing their comedy act at Ceasar's Palace in Vegas and Harrahs in Lake Tahoe. Glen Ash (The New Andy Griffith Show) did his routine as an opening act for Andy Griffith's 1975 comedy concerts.

1977 Ritz Cracker commercial starring Andy Griffith
In 1977, Abel was developed with Andy Griffith as a small town southern sheriff, but it went nowhere, airing instead as a movie of the week. Here it is:
Griffith starred in another fondly remembered but short-lived series, one with a sci-fi twist, Salvage-I in 1979.
Jim Fritzell and Everett Greenbaum went on to write for other hot sitcoms, most notably M*A*S*H. Fritzell passed away in 1979.
After Mayberry RFD, George Lindsay continued playing his Goober character on Hee Haw (in syndication) for a couple of decades. Lindsay co-wrote and starred in Goober and the Trucker's Paradise, a 1978 sitcom pilot with the former Mayberry resident operating a truck stop frequented by bodacious babes. It failed to get picked up. Lindsey died in 2012.
Buddy Foster (Mike Jones) watched his star fall just as his sister Jodie's was rising. He turned to hard drugs as a teenager, smoking PCP and shooting heroin. Buddy earned over a half-million dollars in his career as a child actor with the money supposedly going into a trust fund until his eighteenth birthday.
When that day came, Foster was astonished to find there was no money left and he owed tens of thousands of dollars to the IRS. In his book, Foster Child, he admitted it was just as well - since the cash probably would have gone for drugs and he'd be dead by now. Clean and sober for over a decade, Foster lives with his third wife in Duluth, Minnesota.
In 1986, a reunion TV-movie Return to Mayberry aired on NBC. It landed as the number two program of the week (right behind The Cosby Show); the highest-rated television movie for the year.
The roster both in front of and behind the camera was a familiar one - the teleplay was written by Everett Greenbaum and Harvey Bullock, directed by Bob Sweeny (he directed most of the episodes from 1961-63) with music by Earl Hagen.
In the story, Andy and Helen (without the kid they so proudly showed off on Mayberry RFD seventeen years earlier) returned to live in Mayberry where Barney Fife was the acting Sheriff running for reelection. Andy's son Opie was running the town newspaper.
Goober, Gomer, Ernest T. Bass, The Darlings, Howard Sprague, Otis, Thelma Lou - nearly all of the surviving cast members were on hand. It was thought that the TV-movie might lead to a revival of the series, and it probably would have had Andy Griffith not signed that year to star in a one-hour crime drama for NBC - Matlock, which ran from 1986-1995.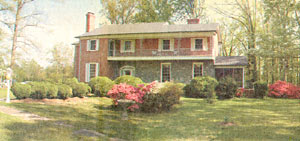 Frances Bavier was very ill in 1986 and couldn't take part in the reunion. Hoping to find Mayberry-like serenity, Bavier lived in relative seclusion (her home is seen here) in Siler City, NC. Reluctant to talk with fans or interviewers, she even turned away Andy Griffith and Ron Howard when they showed up unexpectedly on her doorstep during a break from filming the reunion show.
With dozens of cats living in her house, Bavier became the stereotypical 'cat-lady' in town - she even played that role in her last motion picture, Benji, which was filmed in North Carolina in 1974. Her entire downstairs bathroom was turned into one big catbox. She taped a few local commercials and lent her name to an antiques store (Aunt Bee's Antiques) in downtown Siler City. She died on December 6, 1989 at the age of eighty-six.
There was another reunion tribute show on CBS in 1993 with original cast members Andy Griffith, Don Knotts and Jim Nabors lounging around set recreations, reminiscing and introducing clips.
Jack Dodson (Howard Sprague) died September 16, 1994 in Los Angeles, California, USA. He was seen infrequently as Ralph Malph's father on Ron Howard's hit TV series Happy Days.
Lani O'Grady, who played Andy's daughter in The New Andy Griffith Show (and Mary, the eldest daughter on Eight Is Enough) was found dead from a drug overdose in her mobile home in Valencia, California on September 26, 2001.
Howard Morris (Ernest T. Bass) passed away in 2005, Don Knotts in February, 2006. Aneta Corsaut (Helen Crump Taylor) died in 1995, she was last seen as a judge on Matlock.
Betty Lynn, who played Barney's girl Thelma Lou, retired and moved to the mountains of North Carolina where she takes part in the annual Mayberry Days celebration in Mount Airy, NC (the hometown of Andy Griffith and the town on which Mayberry is believed to have been based). Sadly, she was robbed of some of her Mayberry memorabilia during the move.
Andy Griffith continued to be active into the new century. He released a CD of Christmas songs in 2003 and a retrospective with Andy, Don Knotts, Jim Nabors and Ron Howard called The Andy Griffith Show Reunion: Back to Mayberry aired on CBS in November, 2003, once again scoring massive audience numbers (it was rerun on January 1, 2005). Andy Griffith died July 3, 2012.
With reruns of The Andy Griffith Show airing every night on TV Land, and a best-selling DVD series, apparently Mayberry isn't a relic of the past after all.
---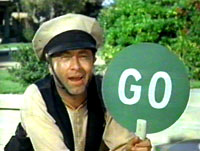 Given The Andy Griffith Show's popularity and considering how many of the cast members are still active - including Jim Nabors, Ron Howard (not that he would), Elinor Donahue (Andy's first girlfriend), Betty Lynn (Thelma Lou), The Dillards (aka The Darlings), Maggie Peterson Mancuso (Charlene Darling), Fun Girl Jean Carson - not to mention Mayberry R.F.D.'s Arlene Galonka, Buddy Foster, Alice Ghostley and Ken Berry - it would seem like a sound business move to try to get a new Mayberry series of some sort off the ground.
The Andy Griffith Show: Part One
The Andy Griffith Show: Part Two
The Andy Griffith Show: Part Three
The Andy Griffith Show: Part Four
The Andy Griffith Show: Part Five

The Andy Griffith Show: Part One
Mayberry RFD & The Jim Nabors Show
Don Knotts Show / Headmaster
The New Andy Griffith Show
The Andy Griffith Show: How it Ended