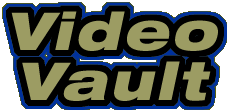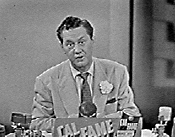 KNXT TV CBS / Los Angeles / 1948
Glamourous late-Forties' movie stars and unknown actors judge the latest record company releases. Look for a young Mike Connors ('Mannix'), then known as "Touch" Connors!
Starring Hollywood DJ Peter Potter, this long-running LA show went national in 1953 on the ABC network. After the first few episodes, the title was changed to 'The Peter Potter Show', but lasted nationally only one season.
Watch this clip and you'll see what watching television was like in the Forties, includes station and commercial breaks.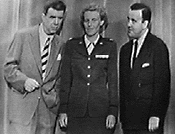 CBS / 1950 - 1953
When a series wasn't sponsored by cigarettes, it was sponsored by booze, it seems.
Ken Murray starred in the first commercial TV broadcast ever in 1930. Here our variety show star is seen drinking beer backstage with his buddy before the show.
As part of their tribute to the Air Force, Murray welcomed Colonel Paul Tibbets, who dropped an atomic bomb on Hiroshima, Japan on August 6, 1945. Six years later he joined Ken Murray when he dropped a bomb on CBS.
This clip is from the first episode, April 15, 1950. Darla Hood (Our Gang comedies) and Joe Besser (Three Stooges) were regulars during that first season.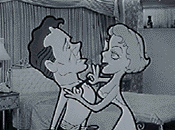 Mr. Adams and Eve
Jan. 1957 - September 1958 / CBS
Hilarious and stylish sitcom starring Ida Lupino and her husband Howard Duff. They play movie stars who are married to each other - that play a married couple in the movies. It's a wonderful send-up of Hollywood in the Fifties - that golden time when women were are dolled up with no place to go.
TV history books will tell you the 'The Munsters' were the first TV couple to sleep in the same bed - but the 'Adams' and the 'Goldbergs' were both seen under the same sheets almost a decade earlier.
DEEP DISH VIDEO CLIPS
from the second episode:
Howard and Eve are told by their agent that they are not 'typical people'. This comes as a shock! They tell him he's a typical agent.
The couple decide to become 'typical' - this involves getting up at 7:30 in the morning, for reasons even they can't figure.
Another attempt to be 'typical', doing the laundry.
ABC / 1951 - 1953
Stimulating science-fiction with many famous guest-stars (Lon Chaney, Boris Karloff). Here is the exciting opening to this rarely seen series.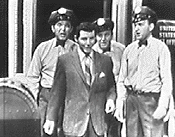 NBC / 1953 - 1957
Wednesday and Friday nights
Just a bunch of guys standing around singing songs for fifteen minutes at 7:30 in the evening. Surprisingly good because of the host's easy style and pleasant voice. Bright arrangements and classic tunes make this show a must-see. This clip is from one of the first episodes.

CBS / July - September 1956
Monday Nights at 8:30
The half-hour summer replacement show for December Bride (sponsored by Maxwell House Coffee) starred mellow crooner Vic Damone in a mostly musical format, with Tutti Camarata's Orchestra and Vic's entertainment industry friends as guest-stars.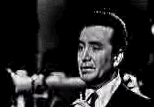 Vic Damone had a summer variety show in 1957 also - with the back-up group the Spellbinders and orchestra leader Bert Farber - then again in 1967 and 1971 substituting for Dean martin. Damone made headlines in the Sixties when he married Dianne Carroll ('Julia') - it was very rare for an inter-racial couple to go public in Hollywood in those days.
This clip (the opening number) is from the last summer show in 1956 with Guest Spring Byington (December Bride).

Click on the show's title for
streaming video segments.
Access our
extensive catalog
of classic TV shows
on DVD!
---
A choice selection
from days gone by.
Many of these series are thought to be lost forever - preserved by collector Jeff Vilencia and presented in our continuing effort to archive lost television moments.

Terry and the Pirates
1952 / syndicated
Not half-bad attempt to bring the Milton Caniff comic strip to life.
Featuring the strip's entire supporting cast, right down to the insulting oriental stereotypes that seem dated even for the Fifties. John Baer as Terry, William Tracy as his side-kick Hotshot Charlie and Gloria Saunders as the Dragon Lady.

1955 / NBC
This was the summer rerun series for 'You Bet Your Life'. Sponsored by DeSoto cars - maybe making a guy who played a con man throughout his career wasn't the best pitchman for automobile dealerships - you'll notice the DeSoto is no longer with us!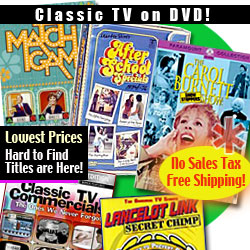 PR4 & PR5 Pages for ads - CHEAP!

Television's Greatest - local & national TV kid shows

Batman TV Show on DVD
TV on DVD
Holiday Specials on DVD
TV Commercials on DVD
TV Shows on BLU-RAY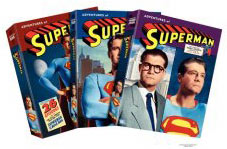 Everything you're looking for is here:
Shop Amazon's New Kindle Fire