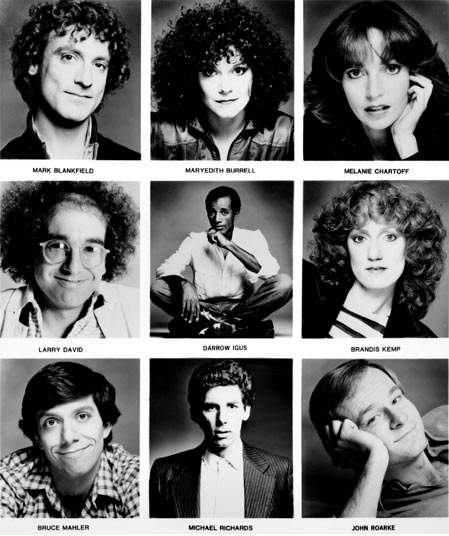 FRIDAYS - PART TWO / Fridays TV Show - part on
by L. WAYNE HICKS

NOT THE SNL WAY OF DOING THINGS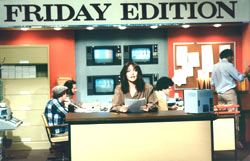 Moffitt said he took steps to distance Fridays from Saturday Night Live. The show's news parody, Friday Edition, broadcast more lengthy pieces in the manner of 60 Minutes, including one memorable spot on people hunting Muppets for their pelts. And Fridays didn't rely on the name recognition of a guest host the way Saturday Night Live did. "We didn't want a guest star," Moffitt said. "We wanted the cast to be the star."
Moffitt competed against SNL to land musical guests, and he brought to the Fridays stage the likes of the Plasmatics, the Boomtown Rats, the Clash, Split Enz and the Sir Douglas Quintet.
"We bent over backwards to get the best sound engineers, build the best sound, and then have have the record companies come and listen to it and then gradually wooed a lot of big music acts to come on the show," Moffitt said. "We never had a problem booking music acts."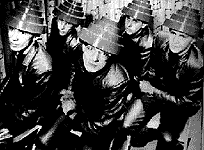 Still, said Gerald Casale of Devo, which performed on the May 23, 1980, Fridays, a stint on SNL offered a larger audience and more prestige. "Appearing on Fridays was second in importance only to Saturday Night Live," he said.
Budgetary concerns distanced the two programs as well. At the time, SNL's budget reportedly was about $600,000 per show, or about $200,000 more than what Fridays had to spend. The larger budget allowed SNL to experiment with more sketches, building sets and costumes, and then toss aside wasn't working before air time.
"Lorne's method is a little bit different than what ours was," Moffitt said. "I know that they sort of worked on a crash program. I think they still do but certainly in the early days it was a crash thing where they were up all night doing things and then they would - after dress (rehearsal) - they would drastically change the show. Bill and I, out of fear, decided we wanted to be organized."
Fridays decided early on the structure of the show, leaving little to chance. That meant there wasn't a surplus of material in case the audience at the run-through on Friday afternoon didn't laugh.
"Oh, God, please let them laugh -- that's what I'm usually thinking," Brandis Kemp told Oui magazine about her work on the show. "When you deliver a line, expecting some reaction, and there's just dead silence, that's when you want to die."
By air time Friday evening, maybe only one sketch might be cut.
That was the biggest difference between Fridays and SNL that Don Novello saw during the week he spent on Fridays. Novello wrote for SNL from 1978 to 1980, including the famous "cheeseburger cheeseburger" sketch, and frequently appeared in the character of Father Guido Sarducci. In the guise of Sarducci, with Dawn of Tony Orlando and Dawn fame next to him during the entire show, Novello hosted the April 3, 1981, broadcast of Fridays.
"Saturday Night Live used to do a lot more material and cut things as it went along, even before air sometimes," Novello said in an interview. "There would be two more sketches than could fit into the show. That's pretty expensive to do that. It was good, too. You could drop the weakest material."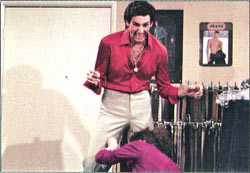 RELYING ON STANDUP BITS
Early sketches on Fridays pulled extensively on material from the cast, often bizarre routines that were part of their standup routines. Richards brought with him his comedy club routine in which he sat in a pile of dirt, a plastic helmet on his head, and set fire to toy soldiers. The character, who became known as Battle Boy on Fridays, relied extensively on Richards' facial expressions and physical performance to make it funny.
Richards recalled during a 1997 interview with The Commercial Appeal in Memphis: "I remember saying to the producers of Fridays, 'Can I burn Army men?' 'Absolutely.' 'OK. I want 2 tons of dirt.' It was just a re-creation of my childhood, a little more demented and highlighted for the sake of comedy, but we all did that. We dug holes, we blew 'em up. That's primarily why they gave me $2,500 a week, to burn Army men. What a business. What a racket."
Fridays debuted during a strange time in American history. America was enthralled by the ongoing hostage crisis in Iran, which was hammered home Monday through Thursday by Ted Koppel on ABC's The Iran Crisis: America Held Hostage program, and a presidential race between Jimmy Carter and Ronald Reagan.
Political humor, something Saturday Night Live largely steered away from at the time, became a focal point for Fridays. "On the political scene," Chartoff reported on one Friday Edition, "President Jimmy Carter said this week that after he leaves office he plans to return home to work on his memoirs and live the life of a loser. The president's memoirs are tentatively titled 'How Ronald Reagan Whipped My Ass' and they describe how Carter could rise from obscurity in Plains, Georgia, to the most powerful office in the land and still wind up in obscurity in Plains, Georgia."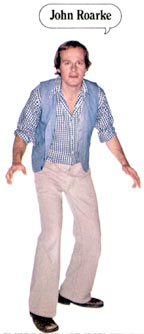 Political humor meant steady work for impressionist John Roarke, although he didn't receive the same recognition other cast members did because he often was hidden behind a layer of prosthetics and makeup. In a parody of the movie Altered States, where William Hurt devolved into an ape-like state after spending time in an isolation tank, Fridays aired Altered Statesmen. In the Fridays takeoff, Roarke enters the tank as Ronald Reagan and devolves into the presidents before him, back to JFK.
"I didn't do Reagan before I did it on Fridays," Roarke said in an interview. "I did it accurately enough first that it was OK. It was enough. I look back at some of those tapes and I go, 'Man, I was really over the top. I should have puled it way back.' But I didn't. I was pretty green. I had talent but I didn't have too much skill in those days."
Roarke's showpiece has to have been the 17-minute production number that parodied The Rocky Horror Picture Show. The movie musical, a sendup of science fiction films and featuring a transvestite as its main character, was reborn on Fridays as The Ronny Horror Show. Fridays opened with that as a 17-minute production number, with Roarke in the lead role, garbed in panties, fishnet stockings and garters and garishly made up, all as Reagan.
The Ronny Horror sketch, written by Bruce Kirshbaum, drew an ovation at its close. An amazing production, the sketch was written and rehearsed the same weekend it aired. Then Lou Adler, the producer of Rocky Horror Picture Show, put a stop to Fridays ever repeating that number.
"Lou Adler had an injunction against us doing it," Moffitt said. "He said it was a detrimental to his film."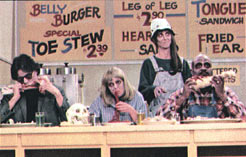 Adler wasn't the only person Fridays upset. In its first month on the air, Fridays went for shock value with a gross-out sketch called Diner of the Living Dead. The sketch featured Roarke and his girlfriend, played by Maryedith Burrell, stopping at a roadside diner. Except for them, everyone is a zombie feasting on human body parts.
That one sketch prompted six ABC affiliates to drop Fridays.
"The outcry from that, from the affiliates, was such that the network almost cancelled us," Moffitt said. "We couldn't repeat it. The network said, 'The affiliates hated it and don't do it again.' So we didn't repeat it."
During a Friday Edition that aired in the weeks after that sketch, Chartoff reported on a church group in Tennesee that was railing against TV shows it considered offensive, including Soap, Dallas and Saturday Night Live. Fridays took exception to the church's list, she noted. "First of all, we are opposed to this blatant attempt to impose their views and standards on the country at large. Secondly, we are bothered because we are not on this list."
Sketches including Diner of the Living Dead proved, Chartoff said, that "we have worked hard to be tasteless and offensive. And we believe, as much as any new show, we deserve a place on that list."
Kevin Allman put Fridays on a different list. He included the show in his book TV Turkeys: An Outrageous Look at the Most Preposterous Shows Ever on Television. He wrote that the wit evident on Fridays "made Cheech and Chong look like Noel Coward."
But by early 1981, Fridays had begun to win over the critics. Previously hurt by comparisons to Saturday night Live, then at its zenith, Fridays began to look good next to SNL. Then in its sixth year, SNL had lost all of its original cast. Michaels was gone as well. Except for Joe Piscopo and Eddie Murphy, the 1980-81 season of SNL wasn't worth watching.
Eric Mink, then the TV critic for the St. Louis Post-Dispatch, began his Jan. 2, 1981, column by writing: "This is a column about a show I used to hate. It now is a show I won't miss." In a column the previous August, he'd ripped into it as "a pitiful attempt to grab onto the coattails of Saturday Night Live." But he said the show had improved and for the last month had reached the ranks of "occasionally brilliant."
Readers of Creem magazine voted Fridays their favorite show of 1980, while Saturday Night Live was at No. 4. The show benefited tremendously from a New York Times article in March 1981 that reported Fridays had taken off while SNL "floundered under a new producer and cast" Fridays was drawing a larger audience than SNL was, and ABC had renewed the show for a second season.
The only bad news? Fridays would be pushed back to midnight.
"That was our death knell," Moffitt said.
READ PART THREE:
Drugs in front and behind the camera
...and a tragic death.
---
FRIDAYS TV SHOW
FRIDAYS - The Creators & Cast
FRIDAYS - Drugs & Death
FRIDAYS - Andy Kaufman
FRIDAYS - The End