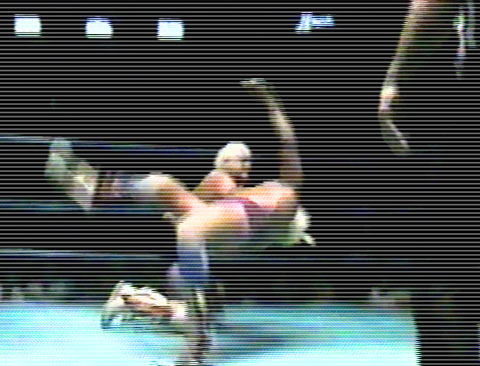 1980s TV Wrestling : Part One / Part Two / Part Three / Part Four / Part Five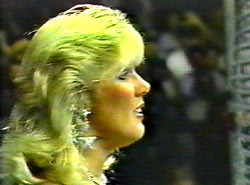 "TIME SHALL UNFOLD WHAT
PLAITED CUNNING HIDES"
Ric Flair's teamate Tully Blanchard had it all in 1985. He was a former (and future) US Heavyweight Champion, he was rich, and when he searched the world over for the most desirable woman on earth, "the Perfect Ten," he found her.
Her name was Baby Doll (aka Nikla Roberts), a statuesque, blond bombshell who could be found faithfully by Tully's side through many close matches.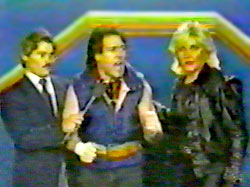 At one time married to wrestling legend Sam Houston, (brother of "Jake the Snake," see the documentary Beyond the Mat), some remembered when she tussled down in Texas.
They called her "Nicola, the Lady Giant" then. She cut an impressive figure at almost six feet tall, clad all in leather with a punk haircut and a saucy reputation for destroying people in the ring; she was Chyna before Chyna.
In 1984, Nicole turned up down south with a new identity and a brand new dream. She realized if she couldn't be champion herself, she could be the girlfriend of the champion.
---
Story Continues After This Message!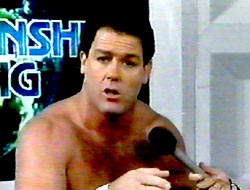 After teaming with Tully Blanchard as his ringside valet, she saw her vision blooming into reality - until one unscheduled sparring in 1985 left tough-guy Tully Blanchard reeling and Baby Doll rethinking her future.
Tully was in the ring one ordinary night, finishing up a journeyman's match (with Baby Doll on the side cheering him to victory) when he suddenly found himself facing one of Dusty Rhodes' fiercest allies, mighty Magnum TA, who surreptitiously entered the ring disguised as a cop.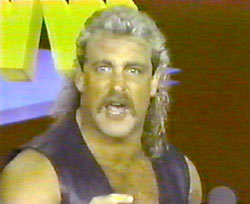 By the time Tully noticed the intruder, poor Baby Doll was handcuffed to the ropes and struggling, forced to watch as Magnum delivered his devastating move - the 'Belly-To-Belly.' - on her man Tully.
Appearing at a fan appreciation event in Greensboro, North Carolina a few days later, Tully publicly slapped Baby Doll for not helping him against Magnum. It fell to Dusty Rhodes to gallantly come to her rescue.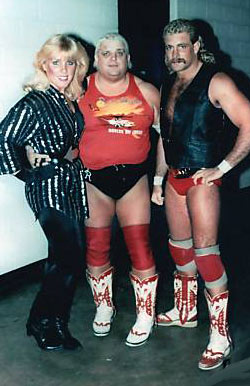 Upon such sacrifices, the gods themselves throw incense; Baby Doll shocked wrestling insiders by running straight into Dusty's arms.
Tully's bitter arch-rival, "the American Dream," now had his coveted Doll.
It was the shot heard 'round the wrestling world, signaling the senses-shattering mayhem that inevitably lay ahead.
STORY CONTINUES - AFTER THIS AD FOR VIDEO DOWNLOADS:
---
---

"OH, THAT WAY MADNESS LIES"
When Television Heavyweight Champion and humble son of a plumber Dusty Rhodes strutted into the ring to face Tully Blanchard one electric night in winter 1986, it was with the knowledge that Tully's beloved protege was now in his arms.
Rhodes was out for blood, especially since Blanchard was one of the men who ambushed him in the ring and maliciously crushed his leg just a few weeks earlier - a leg now protected for this match by a specially made, steel-reinforced boot.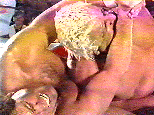 That boot was the subject of a bit of controversy. It was made to protect Dusty's leg and allow him to make the match. Without it, he would be unfairly vulnerable to attack, but his opponents cried foul. They suspected Dusty would use the hardened footwear as a weapon.
The American Dream assured his critics that he would fight clean. Despite his injury (or maybe because of it) Dusty Rhodes was unbeatable that night; he even brought Baby Doll up to dance around the ring to further piss Blanchard off.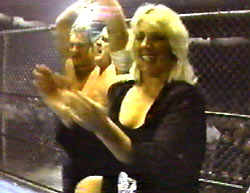 As Baby Doll led the cheers from the sidelines, Rhodes unleashed a firestorm that laid waste even to the referee, who was rendered unconscious on the cold coliseum floor.
Dusty took advantage of that lapse in supervision to use his reinforced boot as a hammer, crushing Tully's ankle in the ring (in a bold move known as irony). Not merely content with winning a hard-fought match, the American Dream took a moment to attack Blanchard's manager, James J. Dillon, who was ringside.
While Dusty was applying the sleeper hold, Dillon managed to surreptitiously toss a pair of brass knuckles into the ring, shifting the balance of power. Blanchard beat Dusty's face to a pulp with those brass knuckles and a free-for-all ensued, when the referee recovered and Tully was judged victorious.
Even Baby Doll sprang into the ring to angrily display her outrage, a first hint that perhaps she wasn't quite as dainty as everyone believed.
NEXT: PART THREE
Ric Flair, Dusty Rhodes &


---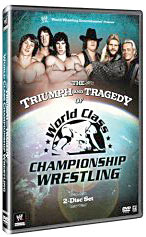 1980's TV Wrestling Greats
1980s TV Wrestling :
Part One: Ric Flair
Part Two: Dusty Rhodes & Tully Blanchard
Part Three: Jim Cornette & Baby Doll
Part Fou: Ric Flair vs Dusty Rhodes
Part Five: Betrayal!
TV Wrestling DVDs
---
1980's TV Wrestling Greats
TV Wrestling DVDs