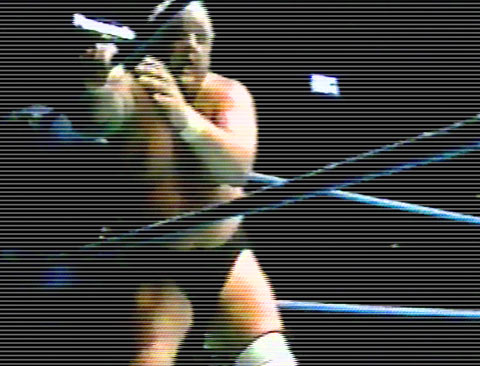 1980s TV Wrestling : Part One / Part Two / Part Three / Part Four / Part Five
"THAT GLIB AND OILY ART,
TO SPEAK AND PURPOSE NOT"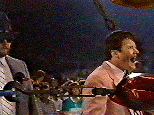 As the outspoken manager of wrestling's young guns the Midnite Express, Jim Cornette was a picture of preppy '80s style in 1986.
Always neatly dressed in Miami Vice-style tie, sportcoat, and button-down shirt with his tennis racquet consistently at hand, Cornette exuded a cool confidence that masked an egomaniacal, vicious malcontent. Cornette's ironic prop - the tennis racquet, symbol of leisure - got more use in and around the ring than it ever got on the court - Cornette blitzed his wrestler's opponents with it every chance he got.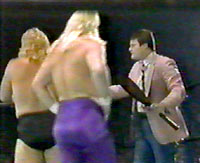 As for his attitude toward the fans, Cornette was prone to making comments like, "As for all the people wanting to know about the Midnite Express, writing all the cards, all the letters, all the phone calls. The fact of the matter is it's none of your business so don't you be bothering us with your crummy comments and your stupid questions because we don't have time for ya."
Nor was he known to respect his opponents outside of the ring.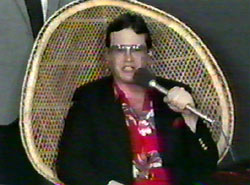 In one infamous in-studio confrontation with Baby Doll, Cornette demanded that she deliver his rambling message to Dusty: "He is going to apologize to me and he's going apologize to Big Bubba and he's going to admit that you're ugly and he's a goof and we were right all along and he is going to look in that camera and he is going to apologize, most importantly, to my mother in Louisville, Kentucky, who has demanded it, and I'm going to get that and I'm going to get that soon. Now you go back, Fatso, and you tell him that!"
When Cornette didn't get the response he desired, he instructed his bodyguard Big Bubba to shove the unsuspecting Baby Doll to the floor.
Jim Cornette eventually became a highly respected businessman working for the WWF operating the Mid-Ohio Wrestling "boot camp" for up-and-coming players. I certainly hope he isn't responsible for teaching sportsmanship and ethics, because there was an incident in the summer of '86 that Jim Cornette might wish to forget; it's undoubtedly one of the most shameful moments in the entire history of professional sports.

One sweltering summer eve, "the Midnite Express" (Loverboy Dennis and Beautiful Bobby) rushed the ring, tossed everybody out (including the referee) to allow Jim Cornette to step up and take the mic. He called out Dusty Rhodes with insults about his trademark cowboy hats: "That sure is a nice hat, Mr. Dream. Did you get a free cup of soup with that hat?"
This was after weeks of rude comments broadcast over the air like, "Let me tell you something, Dusty Rhodes and Magnum TA. You bring Baby Doll, bring her right on down there to ringside, set her big fat rear end right in the chair there, and she is going to open those big wide eyes and she is going to watch her boys, 'Dolly's boys,' get embarrassed, get humiliated, get struck down by the greatest tag team in professional wrestling!"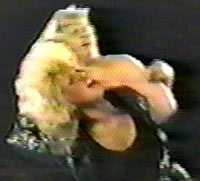 The taunts had their desired effect. When Dusty could take no more, he flew into the ring only to be overwhelmed by Cornette's posse and brought down hard.
Dusty watched in horror as his precious Baby Doll was restrained by Beautiful Bobby while Jim Cornette slammed her repeatedly with a tennis racquet to the stomach.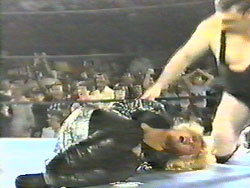 Naturally one would expect Jim Cornette and the Midnight Express to flee the arena in embarrassment. Instead, they triumphantly bragged about the whole thing as announcer David "Whip Him Like a Dog" Crockett threw down his microphone and stormed off the set in disgust.
Microphone in hand, Cornette expressed no remorse over the incident. In fact, he taunted his victims mercilessly from the announcer's booth as Dusty and his teammates carried their broken Doll from the arena: "You call that a man? I call that a piece of garbage! They're going down the aisle right now, to cart the trash out! I can whip you any day of the week, Baby Doll!"
---
Story Continues After This Message!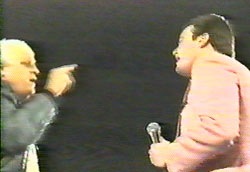 "WE'RE VILLAINS BY NECESSITY,
FOOLS BY HEAVENLY COMPULSION"
Considered by many to be the most creative and effective manager of all time, Jim Cornette's flaws (if he had any) lay in his over-exuberance, his all-out need to win and his obvious unfamiliarity with the concept of good sportsmanship.
Still, even forgiving the man's excesses, he had gone too far this time. As a result of his assault on Baby Doll and numerous other dirty dealings, Cornette found himself at the mercy of two mysterious men in black during an unexpected ring invasion.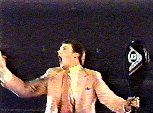 The James Boys, faces covered in dark masks and clad in black trench coats, rushed the mat during one of Cornette's matches, easily bouncing the Midnite Express from the ring. The James Boys didn't come to wrestle that night, they came for Cornette, wrapping a rope around his neck and carrying him bodily from the arena to a waiting El Camino in the parking lot.

Strung to the back bumper, with the vehicle revved up and ready to tear off, Jim Cornette was certain to become a bloody smear across the Coliseum asphalt when the Midnite Express rescued him just in the nick of time.

Observers noted that Baby Doll could clearly be seen laughing from the back seat of that speeding El Camino. True fans knew that the James Boys were in fact none other than Dusty Rhodes and Magnum TA in disguise - out for some "western vigilante-style justice."
"This is an old world solution to a new world problem," was their unremorseful take on things.

NEXT: PART FOUR:
Way down South in the land of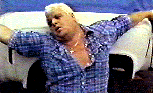 PLUS: You don't want to miss:
The Cowardly Crucifixion of Dusty Rhodes!
---
1980's TV Wrestling Greats
1980s TV Wrestling :
Part One: Ric Flair
Part Two: Dusty Rhodes & Tully Blanchard
Part Three: Jim Cornette & Baby Doll
Part Fou: Ric Flair vs Dusty Rhodes

Part Five: Betrayal!
TV Wrestling DVDs
---
1980's TV Wrestling Greats
TV Wrestling DVDs