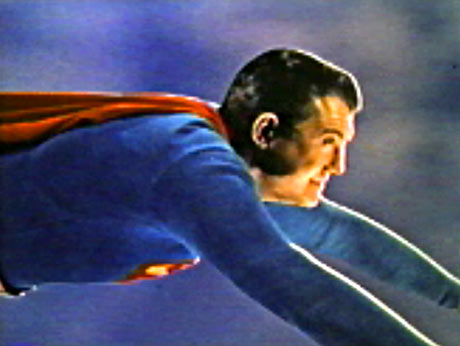 Who killed TV's Superman?
PART TWO - by Billy Ingram
GEORGE REEVES' DEATH PART ONE HERE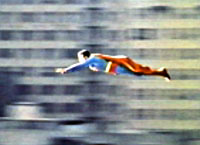 There was another side to George Reeves that went unreported in the press - this was a guy who liked to party. Late night booze fests were common at his home on Benedict Canyon. Reeves enjoyed the LA nightlife as well, and he ran into some shady characters along the way.
He engaged in a seven-year affair with Toni Mannix, the wife of Eddie Mannix, an extremely well-known, powerful MGM executive with reported mob ties. Mannix was in poor health at the time and was aware of their relationship. People who knew the couple assumed that George and Toni would marry after Eddie was no longer around.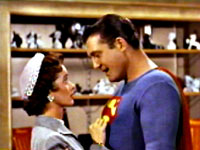 Toni Mannix was devastated when their relationship came to a halt in 1958. Reeves' new love, Lenore Lemmon, stated that the jilted lover was calling Reeves repeatedly at all hours of the day and night, harassing the actor for months before his death. So much so that Reeves retained an attorney to try to convince the disturbed woman to stop the calls that were coming up to twenty times a day, calls that were sometimes nothing more than annoying hang-ups.
The attorney wasn't persuasive, according to Lemmon, and the harassment continued unabated. On the night of June 15, 1959, Lemmon, Reeves, and two guests were partying at the actor's home. At about 1:15 the next morning, George Reeves went upstairs to bed. He had been drinking heavily and was under the influence of painkillers prescribed for injuries he sustained in a car accident.
Moments later, a shot rang out upstairs and the actor was found dead, sprawled out on his bed, naked, with a bullet hole in his right temple. When police arrived, the death was treated as a suicide since all of the houseguests agreed there could be no other explanation.
There was no sign of forced entry and the high alcohol content in the actor's blood, in combination with narcotics, made suicide a strong possibility. Was there another explanation? Police at the scene wondered about two fresh bullet holes found in the bedroom walls. Lenore Lemmon explained that she had accidentally fired the gun earlier when she was just fooling around with it.
There were no powder marks from the gun's discharge on the actor's wound, so the weapon would have to have been held several inches from the head before firing, most unusual in a suicide. There were reportedly no fingerprints on the pistol and the actor's hands were not tested for gunpowder residue.
Many who knew Reeves at the time agreed that the actor was happier than he had been in years, looking forward to his upcoming marriage, and eager to begin another season of his still-popular television series. Money wasn't a problem either-he wasn't super-rich, but the actor was still being paid residuals every time Superman was rerun in major markets.
Still in mourning over her fiancee's death, Lenore Lemmon suffered another indignity when the will was read-Reeves' entire estate was willed to Toni Mannix, who said the actor must have meant the money and the house on Benedict Canyon to help the charities that they both worked with.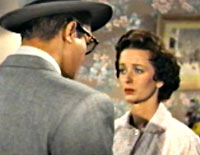 "Toni got a house for charity and I got a broken heart," was Lemmon's dramatic statement to the press.
Leading the charge for more concrete answers about what happened that fateful night was George Reeves' mother, who held up cremation of the body for three years while noted Hollywood investigator Jerry Geisler looked into unanswered questions surrounding the highly suspicious death.
Coincidentally, both Geisler and Reeves' mother died of natural causes before they could prove foul play was involved.
Had someone entered the house, someone with a gun and a ruthless reputation, murdered the television star and warned everyone in the home to stay silent about what happened?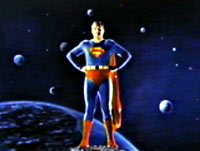 Superman producer Tommy Carr thought so, and said so for years in interviews. Co-stars Noel Neill (Lois Lane) and Jack Larson (Jimmy Olsen) generated publicity for the case in the late '80s, maintaining in press and TV interviews that foul play was indeed the cause of death. After thirty years, they were trying to keep the case alive by asking for a more thorough inquiry into the troubling circumstances surrounding the "suicide" of their old friend.
Oddly, in a 1998 edition of USA Today, Larson reversed himself and stated emphatically that he believed Reeves did commit suicide and that Larson's longtime friend Toni Mannix (recently deceased) definitely had nothing to do with it. He didn't want her memory sullied by unfounded accusations.
Another theory has it that Reeves and Lemmon argued that night and Lemmon shot her lover in the heat of the moment. But why would her guests-witnesses to a crime-risk their reputations and freedom to cover for her? Perhaps someone will provide new clues to this puzzling mystery-but with the passage of time, that becomes more and more unlikely.
Because the facts here are so murky, I asked George Reeves expert Jim Nolt what his thoughts on the case were. Jim was an on-camera consultant when the television show Unsolved Mysteries did a segment on this baffling story.
Here are his comments: "Almost from the moment the fatal shot was fired, friends of George Reeves have been questioning what happened in the early morning hours of June 16, 1959.
"Lenore Lemmon said George killed himself because he could find no work after Superman, but many who knew George remain skeptical to this day. No one is even sure who was in the house that night, and we have only Lenore Lemmon's word for the happenings.
"According to Lemmon, the only people in the house that night, in addition to George and herself, were Carol Von Ronkle, William Bliss, and writer Robert Condon. Lemmon says George Reeves committed suicide.
"However, no fingerprints were found on the gun, no powder burns were on George's head wound. No powder burns were found on his hands. The spent shell was found underneath his body... the gun on the floor between his feet... the bullet in the ceiling.
"Other bullet holes were found in the bedroom floor, and the bullets were recovered from the living room below. Were all the shots fired at the same time, or were the other bullets fired days... perhaps weeks earlier?
"We do know Lenore Lemmon and the other guests had been drinking. Indeed, Reeves' blood alcohol level was .27, well above the point of being intoxicated.
"The police were not called for about thirty to forty-five minutes after Reeves' death, but Lemmon never explained why she waited so long to notify the authorities.
"There is no doubt Lenore Lemmon and George Reeves had a volatile relationship. They were seen arguing in public earlier in the evening. Could that argument have continued back at 1579 Benedict Canyon Drive? I believe it's quite likely and that George's death was the result of that argument.
"If Lenore did shoot George, it would have simply been easier for her to say it was suicide. It would save much time and energy on her part explaining how it all happened. None of the other guests ever gave public testimony regarding the events of that night, and Lenore left California the next day... never to return."
We also heard from expert Michael J. Hayde on the subject, also an on-camera consultant for the Unsolved Mysteries segment on Reeves' death:"There is so much more to the story than can be told here, and even the book Hollywood Kryptonite didn't do as thorough a job as it should have (spending more time on a sensationalized and exaggerated account of Reeves' night life and attitude toward Superman). Even to say that the police botched the investigation is simplistic. The day after the autopsy, when Chief Parker announced that he "was satisfied with the verdict" of suicide, there were two LAPD detectives in Reeves' bedroom pulling up a carpet to discover the other bullet holes. Why, if the case had just been closed? By then, Lemmon had left town for good, and there was no evidence to link Eddie Mannix or his wife to the crime. Without witnesses or a credible confession, there was just an overwhelming amount of circumstantial evidence, which implicated no one."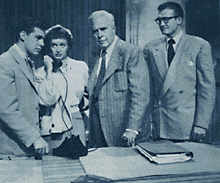 I can't help but think about the final two lines of dialogue from the last episode of The Adventures of Superman broadcast in 1958. Jimmy Olsen fawns, "Golly, Mr. Kent, you'll never know how wonderful it is to be like Superman."
George Reeves (as Clark Kent) replies, "No, Jimmy, I guess I never will," gives a wink to the camera, and fades into electronic oblivion.
PART THREE: The Final Word:
Jim Beaver weighs in - it was definitely suicide!
---
Who Killed TV's Superman - part one /
DC Comics on DVD here!