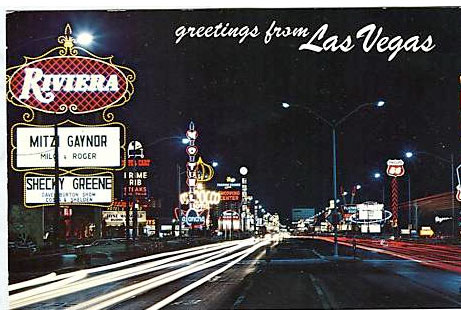 Las Vegas.
Today when people think of the Vegas Strip the first thing that comes to mind is - gambling. And why not? With the numerous exciting casinos and game rooms to choose from - not to mention thrilling games from roulette to poker to the one armed bandits - it's the idea that one could to beat the house that lures the crowds.
But in the 1950s-1970s, it was primarily the entertainers that brought the throngs to Las Vegas, the gambling was icing on the cake. Two of the biggest draws on the Strip were Frank Sinatra and Dean Martin, the core of the fabled Rat Pack. They were amazing together onstage, in those rare instances, and got along great in their private lives as well.
I asked Shawn Levy, author of Rat Pack Confidential, why Frank Sinatra and Dean Martin got along so well. "It's funny with Dean. He went from a partnership with this short-tempered, talented, in many ways kindred, only child from New Jersey—Jerry Lewis. Then he had an unofficial partnership with a short-tempered, volatile, gifted and in many ways kindred only child from New Jersey in Frank Sinatra. It makes you wonder what was going on with Dean that he was drawn to two personalities that were so similar.
"Frank was an Italian American boy from Hoboken, New Jersey born in 1915 with no siblings. How is that remotely possible? We're talking about a generation where people had nine kids. In those years Frank was lonely and he was better to do than his neighbors.
"He was like a little Lord Flauteroy, he always had new clothes. The kids on the street called him Slacksie because he always had new pants.
"There's a wonderful description that Kitty Kelley got from one of his childhood neighbors of him standing on the stoop of his house in Hoboken and watching the other kids playing, being too hesitant to be a part of that.
"Whether it was because he didn't want to put a hole in his new pants or he was afraid because he was a little guy with big ears, whatever it was.
"That guy? I can understand how that guy grew up to always want to be in the middle of a party. And when he was rich and famous the party came to him, he could throw the party whenever he wanted.
"Dean had a more typical family upbringing. Little Italy of Stubenville was really little and he could walk to all his aunt's and uncle's and grandparent's houses. Growing up in that environment you wouldn't have the same thirst from the womb for companionship and Frank always had it."
That's very true. Also Dean was someone who enjoyed playing golf more that the business of entertainment, so in that sense, the two were no competition for one another. Important in any professional relationship.