NBC - 90 minutes
September 16, 1962 - September 9, 1970
225 episodes

by Paul Arnold Green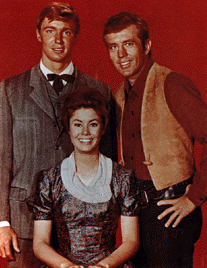 Percy Faith's distinctive theme heralded the debut of TV's first ninety-minute Western series in 1962. A revisionist version of Owen Wister's classic 1902 novel of the same name, James Drury first appeared as the Virginian in an episode of the short lived Screen Gems anthology show 'Decision'.
The original 1958 half-hour pilot saw The Virginian, fresh from the Civil War and veterinary school, arriving from Virginia to help upgrade Judge Henry's stock. With the half-hour format limiting character and story development the pilot failed to sell.
The Western was the major genre on television in the late fifties and early sixties. 'Wagon Train', 'Gunsmoke', 'Cheyenne', 'Maverick', 'Rawhide', 'Laramie' and 'Bonanza' were rewarding their sponsors and networks with large audiences. Universal's TV subsidiary, Revue Productions, decided to give 'The Virginian' another try. On September 16, 1962 James Drury made his second appearance as the Virginian. Only this time he was dressed in attire more suited to his role as foreman of Shiloh Ranch.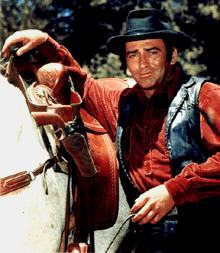 Drury recalled the screen test that landed him the role for the second time. "After the first test they wanted me to lose weight. This I did, went back for another test, the same thing happened and I went back a third time. There were about 75 actors all after the same role. The Friday before the Monday we started shooting the series, they informed me I'd be playing The Virginian!"
The series was set in the 1890's, based in and around Medicine Bow, Wyoming. Regular cast members included Doug McClure as ranch hand/assistant foreman Trampas, much changed from Wister's villainous character, Gary Clarke as ranch hand Steve Hill, Lee J. Cobb as Shiloh ranch owner Judge Henry Garth, Roberta Shore as adopted daughter Betsy Garth ( a fact only mentioned in - The Woman From Whitewing', the second episode of the series) and Pippa Scott as Molly Wood, newspaper publisher, editor and reporter on 'The Medicine Bow Banner' which she inherited from her father as revealed in the episode 'The Big Deal'. (Molly Wood was the Virginian's girlfriend and subsequent wife in the novel).
Charles Marquis Warren, fresh from his success on Rawhide, served as executive producer on the first thirteen episodes, to be subsequently replaced by Maverick creator Roy Huggins and a host of producers including Frank Price, Joel Rogosin and Cy Chermak.
One of the strengths of the show proved to be its ability to withstand the departure of various cast members. Pippa Scott was the first to depart in 1963 followed by Gary Clarke in 1964, who resurfaced in the short-lived Western series Hondo in 1967, Roberta Shore in 1965, following her wedding at Shiloh Ranch and subsequent move to Pennsylvania and Lee J. Cobb in 1966. Hollywood veteran, Cobb had complained of the daily grind of working on a TV series from the show's beginnings. Each 75 minute segment was filmed in eight days, with two shows often being shot back-to-back.
With his contract fulfilled, Cobb was eager to return to the relatively leisured pace of feature films. Only James Drury and Doug McClure stayed for the entire eight-year run. McClure's portrayal of Trampas was one of the highlights of the series and served as a perfect counterpoint to Drury's rather stolid and taciturn characterization. It is doubtful if The Virginian would have survived the early departure of McClure.
Lee J . Cobb was replaced initially by John Dehner as Morgan Starr. Judge Garth handed over control of the ranch to Starr following his appointment as territorial governor of Wyoming. Dehner only lasted one season however and was displaced by Charles Bickford (John Grainger) as the new owner of Shiloh ranch, until his death in 1967 forced the producers to look for a replacement. John McIntire, who had successfully replaced the late Ward Bond on Wagon Train, was again asked to step into a part vacated by the death of an actor. He played John Grainger's brother, Clay and introduced a wife to Shiloh ranch, for the first time, in the form of real-life wife Jeannette Nolan as Holly Grainger. It was a departure from the standard widowed ranch owner character-type so beloved by TV Western producers.
Other regular cast members included Randy Boone as ranch hand Randy Benton (63-66), Clu Gulager as Deputy, later Sheriff Emmett Ryker (64-66 and 67-68), Diane Roter as Jennifer Sommers, Judge Garth's orphaned niece (65-66), Sara Lane as Elizabeth Grainger, granddaughter to John and niece to Clay and Holly (66-70), Don Quine as Stacy Grainger, grandson to John and nephew to Clay and Holly (66-68), David Hartman as ranch hand David Sutton (68-69) and Tim Matheson as ranch hand Jim Horn (69-70). Floating cast members who appeared irregularly included ranch hands L.Q. Jones as Belden and Harper Flaherty as Harper, Ross Elliot as Sheriff Mark Abbott and John Bryant as Dr. R.M. Spaulding.
The show attracted a host of first-rate performers, including Bette Davis, Lee Marvin, Charles Bronson, George C. Scott and Brandon De Wilde. It also served as a training ground for up and coming talent such as Robert Redford, Peter Deuel, Leonard Nimoy, Julie Sommars and Kurt Russell.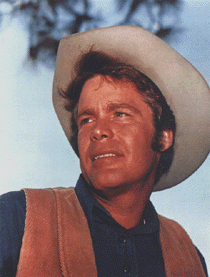 An episode in the final season, 'Holocaust' aka 'The Shiloh Years', saw the Shiloh Ranch house burned to the ground, only to be rebuilt by the story's conclusion with The Virginian, Trampas and the Grainger's raising their glasses to a new beginning.
An era in television history was nearing its conclusion, but the saga would continue in a revamped form later that year.
NEXT - PART TWO:
A format change to
The Men From Shilo
---
Paul Arnold Green writes and illustrates two syndicated features, TV CULTS and SHOWBIZ TEASER and is currently writing a book on the life and career of the late actor, Pete Duel.
Special thanks to Barbara Townsend for her kind assistance in my research.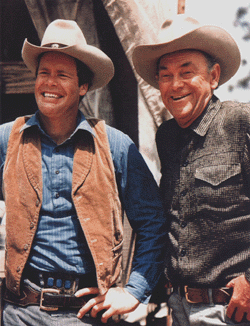 TV Guide's The Virginian Page, with TV Listings, Photos, Videos, Exclusive News and More.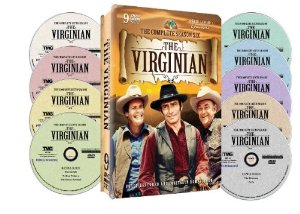 Please consider a donation
so we can continue this work!

Amazon Prime - unlimited streaming
of your fave TV shows and movies!
Get your FREE 30 Day Trial!
PR4 & PR5 Pages for Advertising