"The success of the Rat Pack or the Clan was due to the camaraderie, the three guys who work together and kid each other and love each other."
- Sammy Davis, Jr.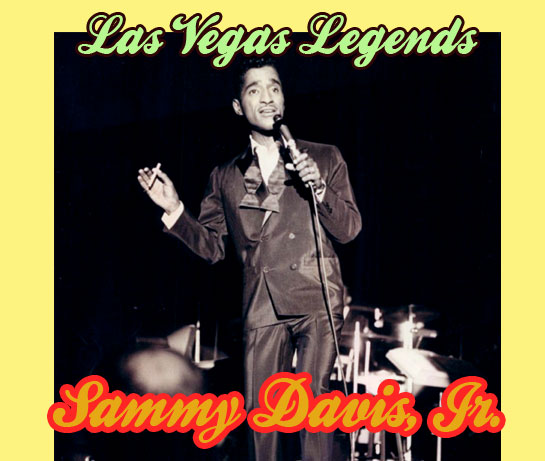 One of the most extraordinary entertainers Las Vegas ever knew.
by Billy Ingram

Sammy Davis, Jr. aka "Mr. Dynamite" - one of the greatest live performers of all time. This guy was a triple-threat... highly proficient at singing, dancing and acting. Not to mention Sammy Davis, Jr. he was a pivotal member of the famed Rat Pack along with Frank Sinatra and Dean Martin.
Sammy was not just a superstar with the casino crowd, he had a hit show on Broadway and a very successful television and recording career. He also costarred in a number of motion pictures, most notably the original version of Ocean's 11 that was shot with the Rat Pack in Las Vegas. You can learn a lot more about the life of Sammy Davis, Jr. from this interview conducted by Bill Boggs:
Here's a musical number from the Playboy After Dark syndicated late night TV series hosted by Hugh Hefner filmed in 1969 to give you an idea of just how dynamic this performer was.
Regardless of whether he was singing the classics or covering contemporary hits, Sammy generated a tremendous amount of excitement on stage as you can see here:
He wasn't just a singer who could dance, he was a dancer who could sing... here's a young Sammy when he was with the Will Maston Trio, a vaudeville group that began playing Las Vegas from the very beginning. The Will Maston Trio were the first Blacks to perform on the Strip back in 1944 - they were seen at the El Rancho Motel & Casino.
Sammy was a big draw on the Strip, he headlined at The Frontier Casino in the 1950s and 1960s. No wonder the crowds loved this guy, he was equally dynamic with ballads or fast numbers. His biggest hit, 'The Candy Man' which hit number one, was not a favorite of Sammy's but it gave him some much need heat in 1972 and swelled the attendance at his shows.
He was also a funny guy, as evidenced by this portion of his stage act where he performed hilarious impressions, here for the amusement of fellow Rat Packers Dean Martin & Frank Sinatra.
Sammy had 2 television series of note. The first was a variety show in the mid-1960s but, because he was under contract to another network, he couldn't appear on his own show for the first few weeks. It bombed. He also hosted a syndicated daytime talk / variety program in the 1970s that drew heavily from Las Vegas Strip entertainers, he even filmed episodes in Sin City.

Sammy Davis Jr died in Beverly Hills, California on May 16, 1990, due to complications from throat cancer. 2 days after Davis' death the sparkling neon lights on the Vegas Strip were darkened for ten minutes, as tribute to a long, distinguished career.
His name can be found on the Las Vegas Walk of Stars in front of The Riviera Hotel.

SAMMY DAVIS, JR.
"I had more clothes than I had closets, more cars than garage space, but no money."
- Sammy Davis, Jr.

Punk

- a look at the gay and Punk / post-Punk landscape in Los Angeles in 1980.
---
Let's watch Sammy Davis, Jr. get roasted by Don Rickles, another Las Vegas legend, on Dean Martin's show.