In the Sixties, the three networks previewed new fall shows on one-hour specials. Three to five minute teasers for each series were created so that viewers could sample what they might like before the shows debuted.
For historical purposes, here are a few examples of fall previews for some well-known (and forgotten) TV shows.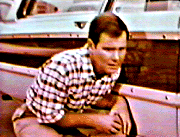 Run, Buddy, Run
Sept 1966-Sept 1967
We get more requests for this program than almost any other, this dizzy sitcom starred trumpet player Jack Sheldon (Merv Griffin Show) as a guy on the run from comical criminals.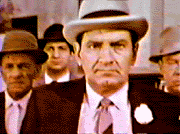 The plot: Buddy Overstreet is enjoying a steam bath when he overhears a big-time mobster, played by Bruce Gordon (The Untouchables), planning the death of a colleague.
When he's discovered hiding by the gangstas, Buddy is on the run in this sitcom version of The Fugitive, a kid fave on CBS Monday nights wedged between Gilligan and Lucy. Jim Connell played the mobster's wimpy, incompetent son.
Jack Sheldon was also a regular on 'The Cara Williams Show' and The Girl With Something Extra but is best known today as the vocalist on several classic 'Schoolhouse Rock' tunes.
Bruce Gordon played this same mobster character as a guest on dozens of sitcoms (like The Lucy Show and Sanford and Son) over the following three decades.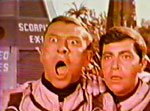 It's About Time
Sept 1966 - Aug 1967
Another CBS kid favorite from 1966 - produced by Sherwood Schwartz, creator of The Brady Bunch and Gilligan's Island (then in its third and final year on CBS).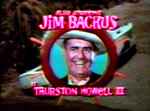 Astronauts (Jack Mullaney and Frank Aletter) break the time barrier and take up with cave dwellers played by the great Joe E. Ross (Car 54, Where Are You?) and Imogene Coca (Your Show of Shows) . Despite the popular cast, ratings were prehistoric.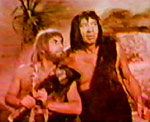 Mid-season, the cave people and Astronauts returned in the spacecraft to present-day 1967 and the focus of the show shifted to stars Coca and Ross as they encountered a rough time adjusting to 20th century New York City.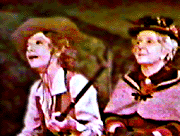 Pistols 'N' Petticoats
Sept 1966 - Aug 1967
Genuinely funny sitcom starring Anne Sheridan, Douglas Fowley and Ruth McDivett as the Hank's family of Wretched, Colorado (daughter, Grandmother and Grandfather) - who could out draw and out gun anybody in the wild West.
Tragically, Sheridan died before the season ended and Pistols and Petticoats died with her (up against Get Smart on NBC).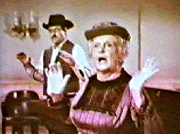 Ruth McDivett was a regular (as the ditzy little old lady) on Mr. Peepers, Young Doctor Malone, The Everly Brothers, All in the Family (73-75) and The Night Stalker.
:LAW & ORDER:
The Jean Arthur Show
Sept 1966 - Dec 1966
Early casualty of the '66 season. Jean is a defense attorney - her son (Ron Harper) is a recent law school grad, so naturally they practice law together (and sometimes against each other).
Jean Arthur made few TV appearances, Ron Harper did long stints on several soap operas during the 70s and 80s.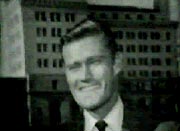 Arrest and Trial
Sept 1963 - Sept 1964
An unusual format - two 45-minute shows running back to back with intertwining plots. In the first show, the arrest of a felon is affected, in the second, the perp is given a trial.
Ben Gazzarra stars on the arrest side, Chuck Connors (The Rifleman) portrays a public defender in the second show.
This was typical sixties law and order nonsense. Here we're supposed to believe that the prosecutor would allow the defense attorney to harass and confuse a witness because "we're both looking for the truth here." Today's law shows are a bit more realistic.
The 45-minute format was tried again by ABC in 1969 with The New People and The Music Scene, tho these two shows weren't interrelated.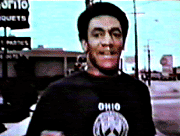 The Bill Cosby Show
Sept 1969 - Sept 1971
Fresh from his success on I-Spy, Bill Cosby begins a two-year run as high school gym teacher Chet Kincaid.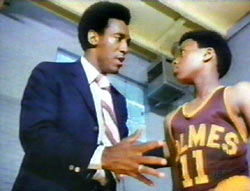 This was a thinking person's sitcom, there was no overbearing laugh track and the humor came from character interaction, uncommon for late-sixties sitcoms. In comparison, a listing of hot sitcoms in 1969 would include - Laugh-in, Bewitched, The Flying Nun, I Dream of Jeannie and Mayberry RFD.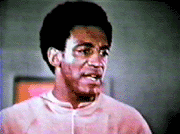 Unlike his later shows, in this production Cosby played a single guy.
Lillian Randolph (Madame Queen on Amos and Andy) played Chet Kincaid's mom in the first season, other old-time Black character actors like Mantan Moreland also appeared.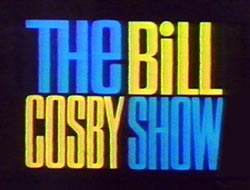 This series was not all that highly-rated, but NBC gave producer and star Bill Cosby a two-year commitment and stuck with it.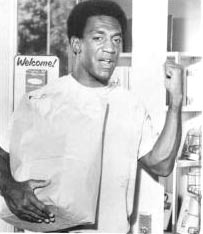 My World and
Welcome To It
Sept 1969 - Sept 1970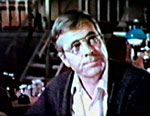 Highly acclaimed, well-written, with a superb cast, My World and Welcome To It presented life as interpreted from the writings and drawings of humorist James Thurber. Thurber's cartoons were actually drawn into the series, with many scenes mixing live-action and animation.

William Windom (The Farmer's Daughter) starred as John Monroe, a cartoonist who was constantly musing on his disappointing life and his dysfunctional relationships with women - and daydreaming about what could be.
Poor guy, he cowered in fear whenever confronting his battle-ax wife Ellen (Joan Hotchkiss) or pre-teen daughter Lydia (Lisa Gerritsen, later Phyllis' daughter).
The animated sequences were quite clever, bringing to life the Walter Mitty stories that inspired the series.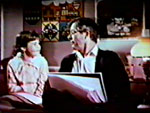 ---
A fall preview short outlining ABC's Thursday night line-up in 1965 - wall-to-wall variety shows for the old folks.
Everything you're
looking for is here:
TV on DVD
Hard-to-find classic TV
Shows on DVD!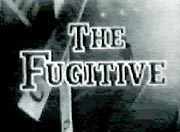 The Fugitive
Sept 1963 - Sept 1967
Dr. Richard Kimble's wife is murdered by a one-armed man and he is unjustly convicted of killing her. Based on a true story.
Kimble escapes, running from place to place using assumed identities and helping people in distress, all the time searching for the real killer - always just a step away from his pursuer, Lt. Gerard (Barry Morse).
This drama ran for four years starting in 1963, thanks to strong storylines, slick production and an unbeatable concept. A concept so solid it spawned a host of 60's imitations, spoofs (see left), a hit 1992 movie, a real-life version in 1994 starring OJ Simpson (who's presumably still looking for the real killer) and a revival on CBS in fall, 2000.

Maverick
Sept 1957 - Sept 1962
This is a promotion for the second season, featuring both Bret (James Garner) and Bart (Jack Kelly) Maverick doing what they did best - cheating at poker and chasing pretty women and talking about their coveted timeslot.
Roger Moore joined the cast as Cousin Beauregard Maverick in 1960 when James Garner walked off the series in a salary dispute. He never went back.

Burke's Law
Sept 1963 - Jan 1966
Began a second of three years with a new timeslot, Wednesdays at 9:30. This sexy ad concentrates on that message.
For the next (third) season, the show changed format to Amos Burke, Secret Agent - hoping to cash in on the spy craze sweeping TV and movies. It didn't work.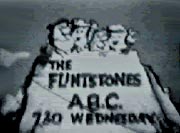 The Flintstones
Sept 1960 - Sept 1966
This short is from 1963, the third out of six prime-time seasons for the venerable stone age family.
Despite strong ratings for The Flintstones, there was not another long-running cartoon series in primetime until The Simpsons came along in 1986.
That wasn't for lack of trying. In 1964, Hanna-Barbera and ABC launched Jonny Quest , an animated adventure series that lasted one season in primetime. Like The Flintstones, Jonny Quest was rerun on Saturday mornings (on all three networks) between 1967 - 1981.

77 Sunset Strip
Sept 1958 - Sept 1964
1963 was the last year for 77 Sunset Strip and it began with big changes - moving from Friday nights to Wednesday nights with new producer Jack Webb (Dragnet), new director William Conrad (Cannon), new surroundings (no more Sunset Strip) and all the regular stars gone but Efrem Zimbalist, Jr.
Zimbalist's character was now cast as an international spy chaser. Despite the bit of the familiar music in this promo, the theme music was changed for the 1963 season. In essence, this was an entirely new show with a familiar name and star.
The new format was launched with a five-part storyline that was packed with guest stars, but it failed to click and reruns featuring the old gang (including Kooky) filled out the season.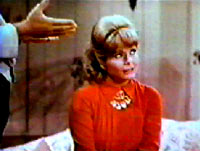 The Debbie
Reynolds Show
Sept 1969 - Sept 1970
Debbie Reynolds played a housewife who spends her time snooping into other people's business and avoiding sex with her husband (Don Chastain). Maybe Ellen wasn't the first lesbian sitcom after all.
This was basically a rip-off of Here's Lucy (rated number six in 1969), with Debbie running around in disguises and getting into stupid trouble with her sister (Patricia Smith).
Tom Bosley (Happy Days) appeared as Debbie's wiseacre brother-in-law.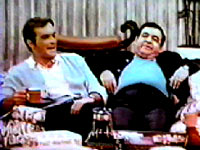 This show followed I Dream of Jeannie on Tuesday nights.


Andy Williams Show
Sept 1969 - July 1971
This is a promo for the second NBC incarnation of 'The Andy Williams Show' ('62-67), this time produced and written by the guys who were behind 'The Smothers Brothers Comedy Hour' and who would make Sonny and Cher a TV hit just two years later.
Dopey laugh-in style comedy routines featuring The Bear are interspersed with William's sublime vocals and special musical guests (like Bread and Donovan) aimed at a younger audience.
This variety hour was successful at giving young and old people something to watch together. Networks put all they had into their variety shows of the Sixties and this was an attempt to loosen up the stiff format a bit.
I honestly believe that this show could be revived, with the original producers and star, and it would be a hit today. Andy Williams can be seen at in Branson, Missouri and on tour.
:SCIENCE-FICTION: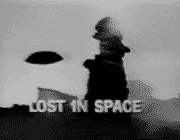 Lost In Space
Sept 1965 - Sept 1968
As far as I'm concerned, LIS was the greatest sci-fi adventure series ever - and this is an exciting fall preview with footage culled from the original pilot - before Dr. Smith and the Robot were added to the cast.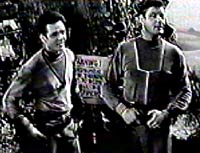 Episodes from the first and second season always began with a variation of: "Last week, as you recall, we left our young space pioneers rehearsing a harmless play, unaware that their unexpected guest star was to be a hideous, alien life form."
The first few episodes of Lost in Space are as good as any TV drama, later episodes were silly but still entertaining. Who likes TV shows that take themselves too seriously, anyway?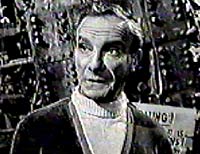 Here is Jonathan Harris in 1967 doing a fall season plug for a CBS station in Florida.
The Outer Limits
Sept 1963 - Jan 1965
TV's best sci-fi anthology series is previewed here with a variation of the familiar series opening sequence - "There is nothing wrong with your television set."
The series' eerie first episode is teased here - "The Galaxy Being". The shimmering alien creature was created by filming a treated rubber suit with a special polarized lenses.
One of the few TV series of the 1960s that could actually be chilling.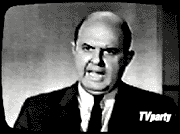 Many Happy Returns
Sept 1964 - April 1965
Lightweight sitcom about the return window of a department store and the unrelenting guy who runs it.
John McGiver, who starred in Many Happy Returns, was a regular supporting player on shows like The Patty Duke Show, Mr. Terrific and The Jimmy Stewart Show and he was a guest star on dozens of other shows.
You might recognize many of the stars from the shows featured on this page. They turned up frequently as guests and regulars on just about every TV show in production throughout the Sixties and Seventies.
Many Happy Returns featured Elinor Donahue (Father Knows Best) and Mark Goddard (Lost In Space) as a young married couple.

:BASED ON THE
MOTION PICTURE:
Tammy
1965 - 1966

Friday night cornpone starring Debbie Watson in the role made famous in the popular film series by Debbie Reynolds and Sandra Dee.
Also featured: Denver Pyle ('Dukes Of Hazzard') as Grandpa. 'Tammy' lasted only one season on ABC despite the popularity of a number of down-home comedies like Green Acres, The Beverly Hillbillies and Petticoat Junction.
The previous season, Debbie Watson starred on NBC as another teenager - Karen.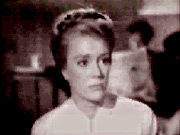 The Farmer's
Daughter
Sept 1963 - Sept 1966
One of a rare breed - a successful series based on a hit movie (from 1948). Inger Stevens assumed the role of a Swedish girl who goes to work as a Congressman's housekeeper. William Windom (My World And Welcome To It) played the lovestruck Congressman.

In an attempt to revive ratings for the 65-66 season, the Congressman and housekeeper got married. Just like modern politics, except for the marriage part...
Steven's career stalled after the show's cancellation. Just as her career started heating up again in 1970, the beautiful blonde actress mysteriously committed suicide.
Inger Stevens introduced the ABC lineup for Tuesday nights in 1965.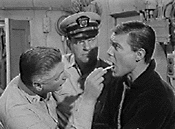 Mr. Roberts
1965 - 1966
"Exaggerates and betrays every premise of the original"
- Newsweek
Based on the hit play and movie - high-seas hijinks with Ensign Pulver, Mr. Roberts and the crew of the USS Reluctant during World War II. War movies were popular on TV in the mid-Sixties and Hogan's Heroes became a hit in '65, but this light comedy failed to attract an audience.
Part of a great Friday night lineup on NBC that included Camp Runamuck, Hank, Convoy and The Man From UNCLE.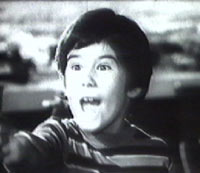 The Courtship
Of Eddie's Father
1969-1972
Entertaining family fare based on the 1963 movie starring Glenn Ford and Ronnie Howard, the TV show featured Bill Bixby as single dad Tom Corbett and Brandon Cruz as his son Eddie.
Miyoshi Umeki played Mrs. Livingston, the housekeeper and James Komack was Tom's boss Morman Tinker.
Komack was the producer of several hit shows including Welcome Back Kotter. Jodie Foster was a frequent guest as Eddie's pal Joey Kelly.
:BIG STARS
FLOP BIG: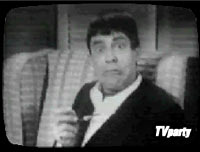 The Jerry
Lewis Show
Sept 1963 - Dec 1963
ABC lost millions when they signed box office champ Jerry Lewis in 1963 to a multi-year contract to star in his own two-hour LIVE talk/variety program on Friday nights.
Watching this promo, one can only guess how bad the show must have been. Ten points if you know who Newton Minnow is.
The show ran only until December, when ABC bought out the loud-mouthed comic's contract.
"Here is a little update to address your comments about The Jerry Lewis Show (1963).
"Mr. Lewis was given the two hour live ABC program on the heels of his tremendous success as fill host on The Tonight Show between Jack Paar and Johnny Carson in 1962. The first installment of Jerry Lewis LIVE will filed with technical problems.
"The entire balcony at the Jerry Lewis Theater (formerly the El Capitain Theater) was unable to see the show as the giant projection screen went out and the studio lights and equipment blocked the view. Downstairs the audio problems and the difficulty in being able to see and hear the show made it worse.
"Jerry Lewis was not totally prepared, but working ³off the cuff² was his successful style... when everything else is going well. Without giving the program another chance, it was cancelled after the FIRST episode. The first words Jerry spoke on the second week was, 'Well, I guess you heard the news about the show!'
"Meantime, the show ran 14 weeks, and grew better and better in time. A two man show with Sammy Davis, a fabulous program with Ethel Merman, and a much more at ease Lewis pumped the ratings higher, and the program was quite popular in the end. But the fate was sealed. ABC bought The Jerry Lewis Theater from Mr. Lewis and renamed it The Hollywood Palace. And now you know the rest of the story!"
- Rick Saphire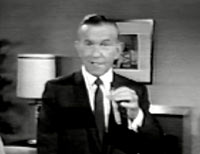 Wendy and Me
Sept 1964 - Sept 1965
When Gracie Allen decided to retire in 1958, the highly-rated George Burns and Gracie Allen Show became the low-rated George Burns Show.
Burns flopped again without Gracie in Wendy and Me. George played the old man downstairs (you know the type) from two newlyweds played by Connie Stevens and Ron Harper (Jean Arthur Show).
Breaking the fourth wall, Burns directed most of his comments into the camera like a commentator on all the 'action' taking place upstairs. Nobody likes a gossip!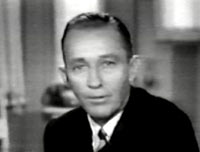 The Bing
Crosby Show
Sept. 1964- June 1965
This series cast Bing as a family man - he was anything but that in real life. When Bing remarried, he dumped the family members he had been celebrating Christmas with on TV for years and replaced them with his new family.
He was a heck of a businessman, tho - Bing Crosby's production company was responsible for many hit shows of the Sixties, including Ben Casey and another 1964 entry on CBS - Slattery's People, a political drama with Richard Crenna that made it through a season and a half.
:INVENTING
THE WHEEL: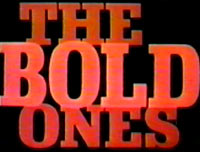 The Bold Ones
Sept 1969 - June 1973
A rotating 'wheel' of dramas. During the first season, the lineup consisted of The New Doctors, The Lawyers and The Protectors. This was an expensive experiment for NBC, costing an unheard of $200,000 an episode.
Produced at Universal Studios, the executive producer was the legendary Roy Huggins (The Fugitive, 77 Sunset Strip).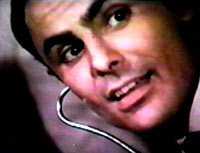 The New Doctors (with E.G. Marshall, John Saxon and David Hartman) was the only show to last the entire series run. It was also the most elaborate, with a real working operating room for a set. Hartman was quoted as saying, "Television is bringing back the medical shows because in this way they can have blood without violence."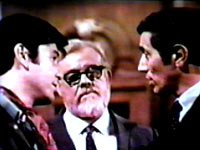 The Lawyers ran until 1972, with Burl Ives, Joseph Campenella and James Farentino. Ives played basically the same character he did in Rudolf, The Red-Nosed Reindeer, mostly walking around smoking a pipe and saying "Hold on there!"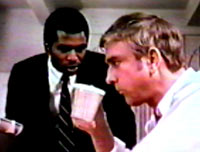 In The Protectors, Leslie Neilsen (Police Squad) plays a by-the-book Deputy Police Chief who clashes with liberal District Attorney played by Hari Rhodes (Daktari). Rhodes was one of the first Black actors to wear his hair in a 'natural' style on network TV.
This segment was dropped after one season, replaced by The Senator.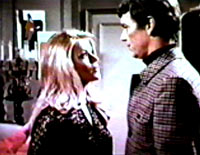 Bracken's World
Sept 1969 - Dec 1970
Supposedly steamy melodrama that took place in Hollywood, behind the scenes in the sleazy movie business where, as you know, everybody's screwing everybody (true fact).
During the first season, Bracken (a big time movie producer) was never seen, only referred to.
For the short second season, Leslie Nielsen took on the role of the now-seen Bracken.
PR4 & PR5 Pages for ads - CHEAP!
TV on DVD
Holiday Specials on DVD
TV Commercials on DVD
TV Shows on BLU-RAY
Everything you're
looking for is here:
TV on DVD
Holiday Specials on DVD
TV Commercials on DVD
TV Shows on BLU-RAY