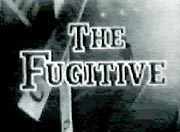 The Fugitive
Sept 1963 - Sept 1967
Dr. Richard Kimble's wife is murdered by a one-armed man and he is unjustly convicted of killing her. Based on a true story.
Kimble escapes, running from place to place using assumed identities and helping people in distress, all the time searching for the real killer - always just a step away from his pursuer, Lt. Gerard (Barry Morse).
This drama ran for four years starting in 1963, thanks to strong storylines, slick production and an unbeatable concept. A concept so solid it spawned a host of 60's imitations, spoofs (see left), a hit 1992 movie, a real-life version in 1994 starring OJ Simpson (who's presumably still looking for the real killer) and an unsuccessful revival on CBS in fall, 2000.