by Billy Ingram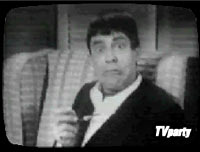 The Jerry
Lewis Show
Sept 1963 - Dec 1963
ABC lost millions when they signed box office champ Jerry Lewis in 1963 to a multi-year contract to star in his own two-hour LIVE talk/variety program on Friday nights.
Watching this promo, one can only guess how bad the show must have been. Ten points if you know who Newton Minnow is.
The show ran only until December, when ABC bought out the loud-mouthed comic's contract.
"Here is a little update to address your comments about The Jerry Lewis Show (1963).
"Mr. Lewis was given the two hour live ABC program on the heels of his tremendous success as fill host on The Tonight Show between Jack Paar and Johnny Carson in 1962. The first installment of Jerry Lewis LIVE will filed with technical problems.
"The entire balcony at the Jerry Lewis Theater (formerly the El Capitain Theater) was unable to see the show as the giant projection screen went out and the studio lights and equipment blocked the view. Downstairs the audio problems and the difficulty in being able to see and hear the show made it worse.
"Jerry Lewis was not totally prepared, but working łoff the cuff˛ was his successful style... when everything else is going well. Without giving the program another chance, it was cancelled after the FIRST episode. The first words Jerry spoke on the second week was, 'Well, I guess you heard the news about the show!'
"Meantime, the show ran 14 weeks, and grew better and better in time. A two man show with Sammy Davis, a fabulous program with Ethel Merman, and a much more at ease Lewis pumped the ratings higher, and the program was quite popular in the end. But the fate was sealed. ABC bought The Jerry Lewis Theater from Mr. Lewis and renamed it The Hollywood Palace. And now you know the rest of the story!"
- Rick Saphire