More Memories of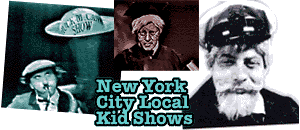 by You and Me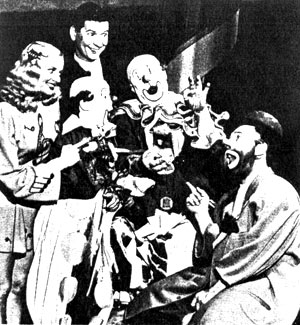 I used to watch Claude Kirchner every single night at 7:00 p.m. when I was about 8 years old, living in New York City. He had a show called Terrytoon Circus and I think it was on Channel 9 (WOR). It was on right after Sandy Becker.
Then in mid-1957 he started another show, for very young kids, called Scrub Club. It was on at 2:30 p.m. I'll never forget when I got the measles or some such thing (I had almost every childhood disease possible that year) so I got to stay home from school and watch Scrub Club. Even though it was for little kids, I enjoyed it because Claude was on. I pestered my mom to buy me Cocoa Marsh because that was always advertised on Terrytoon Circus, and I used to drink milk with Cocoa Marsh regularly. I think I must have blackmailed my mom by telling her I'd only drink my milk if she put Cocoa Marsh in it!
- Regards...Phyllis M. LaVietes

---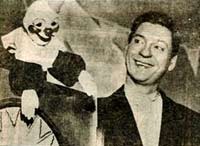 How about Claude Kirchner's sponsor "Junket Rennet Custard". Whatever became of that stuff?? You know, I watched him for years and I don't think I ever tasted that stuff once. I believe he was also sponsored by Bonomo's Turkish Taffy.
- Chris
---
I grew up in New Jersey in the 60s, and I remember WOR-TV (now WWOR) airing a new version of "Scrub Club" for three months in 1968. The show starred Claude Kirschner and featured puppets Super Flop, Super Flow, Fingers and the Great Clowney.
I still remember the words to the theme song:
The Scrub Club's here today,
A happy hip hooray.
So join the fun,
Come on the run,
The Scrub Club's here today.
Anybody remember this version?
- Howard Luloff

---
I remember a local NYC kid's show in the early to mid-60's called Around the Corner. I believe it was on WCBS and was hosted by Earl Ubell, who was the science reporter on the news. It had a catchy theme song and animated opening that went along with it, I recall a line about "an injun on an engine."
- Loretta Vosk
---
Does anyone remember the kids show The Magic Garden? It was on in the early 70's. I remember my little brother watching it. It featured 2 women, Carol & Paula and a big pink squirrel that lived in a big tree & told dumb jokes.
Around the same time there was also a show on WPIX called Joya's Fun School. It was a mostly African American cast with the host Joya; with a guy who played the piano & a guy who drew pictures. On a slightly different subject... Forgotten New York News Reporters... Does anyone remember Tex Antionne (don't know if I spelled that right!) and his little puppet-like character he had on when he did the weather? I think he was on channel 5.
- Frank Blefari

---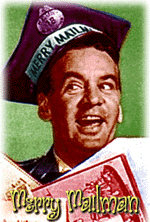 Another show of the 40's was the
Merry Mailman
on New York TV, featuring a mailman and a tune that still goes through my mind ever so often..
"I am the Merry Mailman; Ring Ring Your bell will ring; And this is what I'll bring
It's a letter from your Grandma that says she's coming to stay
Now close your eyes for a big surprise; it's a present for your birthday.
That dates back a long time. Wonder if anyone ever remembers it? I remember Officer Joe Bolton and the "Whistler and His Dog" theme song. Wasn't there another show with Uncle Fred Sales or similar around the same time? Wow..memories flood back!

---
Chalky and The Giant was on New York City television circa late 1951/early 1952, Sundays, 4:30/5:00 p.m., or so. I was going to say Channel 5 (WABD), but I wouldn't swear to it. I don't think it lasted for more than a season. Chalky was a hand puppet that had an obvious human right hand but that was part of the draw (pun intended).
From this hand he held a piece of chalk (probably a black crayon). He drew on a big sheet of paper which he would tear off when finished, then start on a new sheet. I was always hoping that he'd go through a lot of sheets so I would feel that watching the show wouldn't have been a waste of time. Although I was about 7, it did seem a bit too juvenile at times.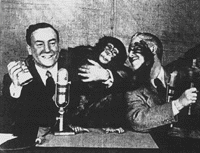 Of course, there wasn't much else a young kid would find too interesting at that time on Sunday - especially not the boring and stuffy Marlin Perkins and his Zoo Parade.(With all due respect to Marlin Perkins, I would enjoy watching him as I grew older.)
The 'Giant' was human and of the gentle sort with a caveman appearance - long beard, hair, animal skin clothing and a club. He was Chalky's friend and would just happen to be walking through the woods (hmmm, when and where was Chalky supposed to have been living?), when the Giant happened upon Chalky ("Hi, Chalky, how are you today?").
Chalky would show us ways to draw and The Giant would help explain what Chalky was doing. Years later, The Giant would remind me of Ed McMahon, enhancing the star by being a sort of second banana.
Chalky showed us kids how to make a profile of a face with the numbers 6, 4 and zero. Years later I would employ Chalky's technique as a playing/teaching aid to my children. I don't ever recall reading about this show as the years went on. What and who was behind it all, etc.? It would be nice to know.
My favorite Saturday morning show was Children's Theater with Ray Forrest on Channel 4 (WNBT/NBC), but that's for another time....
- Keith A. Reinsdorf
Nicholas Riggi, the Giant on New York's "Chalky and the Giant" from 1954-56, died on March 18, 2000. He was 76.
- Doug
---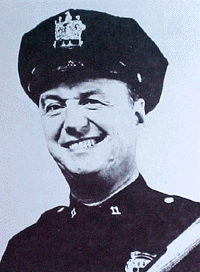 Officer Joe Bolton was a regular every evening at dinner time for me and my sister. We would sit in front of the TV, watching Popeye or the 3 Stooges. One evening my sister and I got ready in front of TV with dinner and Officer Joe Bolton opened the show with a personal message to both of us by name.

"Now George and Cindy Davis of Shrub Oak, I want you to sit at the dinner table with your parents instead of the TV." We were in shock - my father, a Policeman himself, had met Officer Joe Bolton at the train station one morning and told him of our "habit" every evening. Jack had promised him to address it on TV, and he did. That was our last supper in front of Officer Joe Bolton.

- George Davis
---
I was a little past the age of appreciating Joya's Fun School when it aired, but those who do remember the show and the kindly, fun-loving lady who hosted should know that she was Joya Sherrill and, before she became a player in the New York children's show milieu, she was at one time one of the most-often heard singing voices in the United States.
It was her voice which propelled Duke Ellington's "I'm Beginning To See The Light" into a radio hit in the 1940s; she was a member of the Ellington band in the couple of years when the Duke kept three girl singers on the payroll for different styles (Marie Ellington - the future Mrs. Nat King Cole - and Kay Davis were the others). Sherrill left a lasting impression on Ellington; he wrote of her "I'm Beginning To See The Light" recording with the band, "It is a tribute to her diction and her articulation that, whenever we play it today [by the time he wrote, the piece was in the band's book strictly as an instrumental], audiences everywhere seem to know the words."
I have a question, however: There was a New York children's host in the early 1960s whose afternoon show included a charming piece of silent comedy based loosely on the legendary clown Emmett Kelly, Jr.
This character, Mr. Rags, invariably performed his routines to a lovely little semi-jazz number, a shivery-sounding clarinet in the style of Mr. Acker ("Stranger On The Shore") Bilk with a mesh of pizzicato and pure bowed strings. In fact, I'm convinced this recording may have been Mr. Acker Bilk himself with the Leon Young String Chorale, the same ensemble who helped him make "Stranger On The Shore" the first British record to top the American charts (it's true; sorry, fellow Beatles fans, he beat the moptops by two years to the top in the colonies!) - my memory is that it's the same soft, loping semi-swing style of the other hit. But I cannot for the life of me recall the name of the song to which Mr. Rags performed. The "hook" line of the tune usually involved the shivery clarinet playing a lovely trio of climb-descending triplets and punctuating it with a middle C, followed by a bassoon playing the same bit, ending each chorus.
I believe Mr. Rags was a character developed by Fred Hall (Sandy Becker, of course, had the charmingly loopy Norton Nork for silent comedy, and it was brilliant), but I am not entirely sure. Aside from Mr. Rags's charming silent comedy, the music is one of those pieces before which I - yes, I am one of those creatures, for better or worse, even today - I am powerless to stop tears, it touches me so. (It required every drop of what little courage or strength a small boy could muster to hide this from my parents, since when I was unable to hide it I usually got slapped across the mouth, and subsequently I could not bring myself to reveal this trait of mine to anyone else for many years.)
I am convinced the recording was by Bilk and the Young ensemble (likely on the Atco label) and I would love to know its actual title. The only thing I know where it does not appear is on the Stranger On The Shore album, a copy of which I owned for many years. And I would love to hear it one more time.
- Jeff Kallman
---
Along with Tommy 7 in the mornings I remember:

Who's the Funny Man - a half hour show containing old B&W clips from the silent era, with train crashes, etc.

Chatter - a group of shorts with monkeys, starring Chatter. The theme song started something like this: "Chatter doesn't know that he's a pest; Chatter's only trying to do his best...Chatter, what's the matter with you?"

And of course, Sandy Becker.

Saturday mornings were filled with Fury, Roy Rogers, Sky King; with Saturday evenings containing Superman, Planet Patrol, Jeff's Collie (the original Lassie).

Sunday afternoons, my favorite movie show was "Picture For a Sunday Afternoon". They ran the entire Tarzan series with J. Wiesmuller.

- Endre (Andy) B I have been at a stand-still trying to locate footage, or written documentation on a local dance show which aired in New York on WPIX (ch.11) Saturday mornings at 11AM during 78' or 79' called SOUL ALIVE.

The show was hosted by a local radio DJ (who I'm told recently passed) named Gerry Bledsoe...It was a spinoff of SOUL TRAIN featuring NYC High School kids showcasing their talents, as well as giving an overview of the particular school, while dancing the hour away to the days latest hits...

I remember my school (John F.Kennedy H.S. in the Bronx) holding internal dance tryouts for our upcoming appearance but the show was cancelled...

I've contacted WPIX (WB network) archives and they referred me to the Museum of TV and Radio...So far no luck...This is a job for TV party...Can you help or provide information???

- Elliot V
---
Has anyone heard of a local New York show that appeared on WPIX, Channel 11 in the early 1960's called "The Surprise Show"? As an eight year old, I appeared on the show the night of the 'Great Blackout", when a good chunk of the East Coast lost all electricity. I recall a talk show panel of little kids and assorted cartoons and shenanigans.

- Kevin Goodman
---
Growing up in Poughkeepsie (New York), "The City" was where we got our TV from. I remember Sandy Becker and Chuck McCann well. There was also Sonny Fox, who did a Sunday morning thing called Let's Have Fun. I don't remember if McCann took over from Fox or did his own Sunday show from the start.

I loved Sandy Becker's theme song, a catchy thing which started with a chord progression strummed on a guitar, with another instrument added after each phrase, until a full "orchestra" (brass, strings) brought it to a climax, after which the instruments were removed phrase by phrase and the guitar finished in the same way it started. The song was "That Happy Feeling" by Bert Kaempfert and it became very popular on New York radio - undoubtedly a result of the exposure Becker gave it. "The Match Game" theme followed suit - using Kaempfert's "Swingin' Safari", which had a similar structure.

During his Sunday a morning show, Chuck McCann had hand puppets which would "lip synch" to popular songs of the day. A cavalry soldier singing "Please Mr. Custer", a group of dogs doing The Beatles' "It Won't Be Long" and a rendition of "Mr. Bass Man" are ones I especially remember. McCann would also get himself into costume as various comic strip characters and act out the Sunday comic strips. He was especially funny as Dick Tracy (black suit, fedora and angular nose) and "L'il Orphan Annie" (patterned dress and circles of paper taped to his eyelids to emulate her pupil-less look).

I don't remember Laurel appearing on the show. I do remember McCann doing the very best impersonation of Oliver Hardy I have ever seen (his size and shape were a perfect match). I recall seeing him do it in a TV commercial or two, and he may have done it for a movie.

Zacherle had his own TV show on Saturday afternoons. He would show a bad horror movie, interspersed with his antics in a torture chamber setting (it might have been a mad scientist's lab, I'm not sure). I remember going the Macy's at Herald Square once: Zacherle was there (in the toy department, of all places), autographing his "Zacherle Cookbook".

- Matt Wills
---
I remember most of the shows mentioned on this wonderful site. I have two additional ones to add: I believe after Allen Swift left Popeye he was replaced for about 6 months by the EDDIE LAWRENCE show. "Hello bunkies, you say your mother-in-law moved in and now your'e living in an old shoe......". He'd take letters from viewers and then award the ones he read items like " a screen door for your submarine" and other gag gifts.
Also, there was a local cloning of Soupy Sales called BEACHCOMBER BILL with characters sticking out of the screen (ala white fang) called Thumbsy Clumsy and a cameraman called Otto Focus.
- Mark Friedman
---
I stumbled onto TVparty the other day and I've probably been up 48 hours reading everything. It's great.
I particularly loved reading about "Let's Have Fun" with Chuck McCann. As a baby boomer (a N.Y. kid growing up in the '60's) I yearn for recounting the good old days, facts, stories and nostalgia about the 1964 NYC World's Fair, the early days of the Mercury and Gemini astronauts, etc.
What a rush reading about Chuck McCann and watching a clip from an episode I haven't seen in 35 years. (I'm 41 by the way.) Would you believe I remember the piece. (No fooling!!!) Just to tell you how sincere I am, I also remember two important puppets Mr. McCann had. One was "Mr. McNasty" (an evil old man puppet, sort of a tall, heavy, Boris Badinoff type, with a bald head) and "Lester" who I remember was a cool, younger guy puppet that Chuck would use in contests saying that "if you win kids, you'll get to talk with not just any puppet, you'll get to talk to Lester".
Thanks for the great memories. Please get some more stuff on "Let's Have Fun" and maybe on "Uncle Floyd" Vivino, who used to have a show on UHF Channel 68 in NY (He did a season on NBC as well.)
- Tom
The man in this photo is the late Ed Ladd who hosted many TV cartoon shows on WNEW TV Ch. 5 from 1959 to the late 1960's.
The show that Mr. Ladd was hosting (at the time that this photo was taken) was Ch. 5's version of "The Heckle & Jeckle Cartoon Show" (CBS first aired Heckle & Jeckle Saturday nights on The CBS Cartoon Theater with Dick Van Dyke during the summer of 1956).
Mr. Ladd is shown doing a promo here for "Hawiaan Punch" circa l964.
- Kevin S. Butler
---
Thanks so much for taking the time to post info about the "lost" NYC kid's TV shows. I grew up watching many of them-- Captain Jack and Officer Joe were special favorites.
Captain Jack also used to do the WPIX broadcast of the St. Patrick's Day parade-- I think he may have taken one too many nips from his pocket flask on the colder days, because he always seemed (to me) less coherent as the parade wore on.
I remember Joya Sherril and the show she did, the incredible Wonderama, initially with Sonny Fox, then with Bob McAllister.
Sonny Fox never seemed to like kids all that much, but Bob M. did. Bob's version had the fun stuff like the "does anyone here have an aardvark?" song (to which I remember one verse of the lyrics), and the snake can game. Didn't Sonny Fox end up as the head of the NATAS?
I remember also hearing about the kid who won the snake can game right off the bat, who told Bob he knew the right can because the flowers were "always in the can with the white top!" The following week-- ALL the cans had white tops!!!
I was watching eyewitness news the night Tex Antoine made his gaffe about rape. Did anyone else notice the strange habit Tex had with his right hand? He always was wiggling his fingers on it-- 3x after each sentence.
I agree with the post requesting info on the UHF Uncle Floyd show-- that was an hysterical show to watch!!!
- Bo
::NYC Local TV Section::
NYC Kid's Show Roundup / Overview / Remembering Favorites
NY Local Hosts Outtakes / Two Views from the 50s / Tex Antoine
Wonderama /Return of The Magic Garden / Sandy Becker / Soul Alive