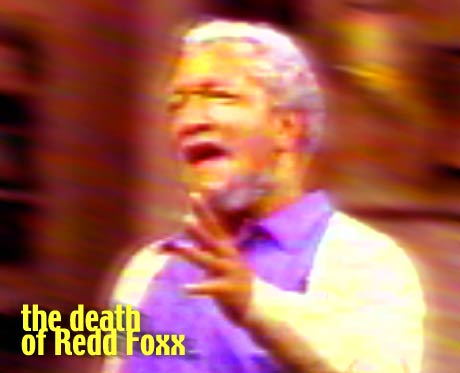 PART TWO - by Billy Ingram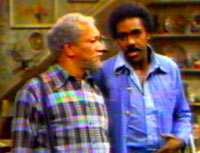 To bust up NBC's winning schedule, ABC paid Redd Foxx a small fortune to executive produce and star in his own hour-long variety show in the fall of 1977.
The Redd Foxx Comedy Hour was an excellent effort, but ended up one of the lowest-rated shows during its brief half-season run.

Still, NBC's hold on Friday nights was broken. The network's attempt to keep the franchise going with 'Sanford Arms' (featuring all of the 'Sanford and Son' regulars except Foxx and Demond Wilson, who had a reported cocaine problem and allegedly pulled a gun on executive producer Norman Lear) in 1977 was a big dissapointment, lasting only a few weeks.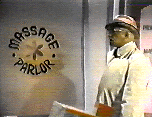 After 'The Redd Foxx Comedy Hour' was cancelled in just six weeks, Redd bounced around doing his Vegas act and appearing as a guest on what few variety shows were left on television.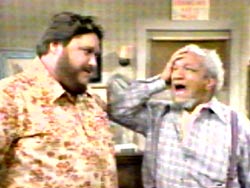 Redd's next series, 'Sanford', was an attempt by NBC to revive the Fred Sanford character in January, 1980, with new producers and none of the old series regulars except Rollo (Nathaniel Taylor).
STORY CONTINUES - AFTER THIS AD FOR VIDEO DOWNLOADS:
---
---
Fred was still in the junkyard, but now saddled with an obese, live-in good-ol-boy named Cal who has invested in the "junk business".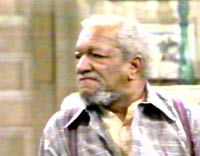 Fred was also now dating a wealthy, Beverly Hills socialite with a stereotypically stuffy family. When initial ratings proved light, LaWanda Page was brought back as Aunt Ester, but without strong scripts this lacidasical misadventure only lasted only a few months.
ABC's 'The Redd Foxx Show' in 1986 tried a new approach. This time, instead of being a cantankerous old coot, Redd would play nice-guy newstand owner Al Hughes.
In the show, Al has 'adopted' a street-wise little white girl Toni (Pamela Segall). Also featured in the cast were Nathaniel "Rollo" Taylor (as 'Jim-Jam'), Barry Van Dyke ('Diagnosis Murder'), Theodore Wilson ('Sanford Arms'), Sinbad and "Iron Jaw" Wilson. The theme song was by Kool and the Gang. One notable episode featured guest-star Carroll O'Connor ('Archie Bunker'), a first time meeting of these 70s sitcom greats.
After filming just a handful of episodes, 'The Redd Foxx Show' was re-tooled. Out went the kid and in came Al's combative ex-wife Felicia (Beverly Todd) to generate tension and a few insults.
Despite some bright moments, 'The Redd Foxx Show' lasted only four months.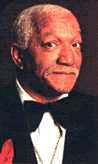 PART THREE: Bankruptcy,
another hit show,
then sudden death!