- PART THREE -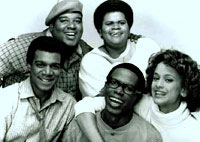 UP FROM THE ASHES
With the enormous, immediate success of The Cosby Show in 1984, suddenly producers were scrambling to mount sitcoms featuring African-American families. Producer Bud Yorkin reasoned a new series with a familiar cast would have a good chance in syndication, putting What's Happening Now!! into production.

Six years after leaving the airwaves, the entire What's Happening!! gang was back (with the exception Mabel King). In the new series, Raj was now married to a girl named Nadine (newcomer Anne-Marie Johnson), struggling as a writer, co-owner (with Shirley) of Rob's Diner and foster parent to an 8-year old girl, Carolyn.
Rerun was working as a used car salesman, Dee was off to college (and only rarely appeared on the new series) and Dwayne was employed as a computer programmer.
It's rare for a network show to continue with new episodes after cancellation and no primetime show had ever been revived in syndication with the original cast when What's Happening Now!! debuted in 1985. It became a minor trend thereafter; other examples include The New Leave It To Beaver and Mama's Family.
Plots on What's Happening Now!! were typical sitcom fare: a harmless romance develops between Dwayne and Dee, Nadine sneaks into a men's-only club Raj wants to join, Raj freaks out when he learns Nadine once posed nude (guess he forgot about his stint) and, of course, Raj's bitchy mother-in-law comes for a visit.
This new production was a pleasing update with comfortable, if not spectacular, ratings. Backstage battles began almost immediately when Fred Rerun Berry demanded more money or he would walk. He figured that producers would recognize he was the real star of the program (indeed, Berry supplied much of the spark of the new series) and would cave in to his demands rather than risk losing their considerable investment.
He was wrong. Rerun was fired and written out of the show before the first season ended. When the second season rolled around, the foster kid was out as well - What's Happening Now!! had lost its balance. With Shirley Hemphill once again playing the ersatz mother character and Rerun gone, there was little comedy edge, just a soft, mushy center.
New regulars were added for the third season in 1987 to bring the focus closer to the original Cooley High concept - Martin Lawrence (yes, that Martin Lawrence) and Ken Sagoes were brought in as high schoolers Maurice and Darryl. This was to be the final season.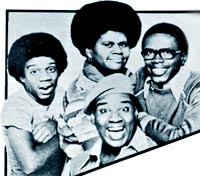 AFTER THE SHOW
Since 1988, the cast members of What's Happening!! have languished in relative obscurity.
Dee Spencer is reportedly now a veterinarian and occasional actor. She was seen on the soap opera Days Of Our Lives recently.
Ernest Thomas turned up as a guest on sitcoms like The Steve Harvey Show, Martin and can be seen in several films including a minor but superlative role in Spike Lee's Malcolm X in 1992.
Mabel King reprised her role as the mother of Steve Martin in the motion picture The Jerk, 2 in 1992. She died November 9, 1999 after a long bout with diabetes, having had both of her legs amputated as a result of the devastating illness.
The next month, Shirley Hemphill died at age 52, a victim of kidney failure. Largely forgotten by the television industry, she carved out a niche as a successful stand-up comedian in nightclubs and could be seen on shows like BET's Black Comedy Showcase. Hemphill was found December 10, 1999 by her gardener, face down in her West Covina, California bedroom. She had been dead for some time. In what must have been some great cosmic joke, Shirley had just completed filming a couple of workout videos shortly before she died.
Fred Berry struggled to find television work outside of What's Happening!! and his defection from the second series did nothing to help his situation. By the end of the eighties, Berry sobered up and became a Baptist minister preaching in Madison, Alabama. He legally changing his name to Rerun and turned up as himself on an episode of Martin in the nineties. In 2002, Rerun announced that he had lost 100 pounds; he was seen most recently in Dickie Roberts: Former Child Star, Star Dates and Scrubs.
Married a total of six times to four women, Berry died of natural causes in his LA apartment on Tuesday, October 21, 2003 at age 52. He had been ill because of a stroke.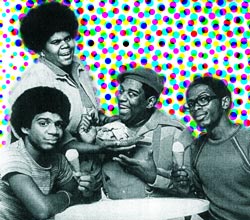 In February, 2001, Bryant Gumbel hosted a What's Happening!! cast reunion on the CBS Early Show (see it here).
Eric Monte, creator of Cooley High and What's Happening!!, filed a lawsuit against CBS, ABC and the producers of Good Times, The Jeffersons and What's Happening!! for $400 million, what he saw as his share for creating those shows and characters. After filing the suit, he was virtually blacklisted in Hollywood. In the early 1980s, he received a million dollar settlement.
In 2006, the L.A. Times published a profile of Monte, who was living in a Salvation Army homeless shelter after years of industry abuse, a series of strokes and drug addiction. He still hopes for a comeback.
Want to see the show? The series is now out on DVD.