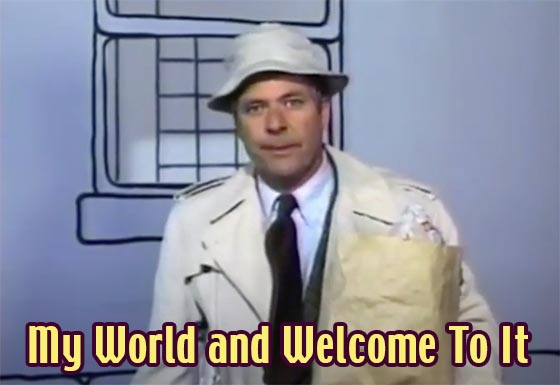 1969-1970
"You can fool too many of the people too much of the time."
- James Thurber
Adults enjoy cartoons as much as kids, as evidenced by the wealth of animated fare aimed at the 18-34 audience. Cartoon Network's Adult Swim experienced double digit ratings growth in recent years and The Simpsons is now the longest-running sitcom of all time!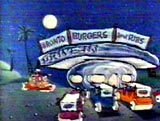 The first animated TV sitcom to appeal to adults was The Flintstones (1960) on ABC; while that series remained popular until 1966, subsequent primetime cartoon entries, like Jonny Quest and The Jetsons, were all expensive flops (that decades later reaped millions after years of reruns on Saturday mornings).
By the late-sixties, the networks gave up on the idea of cartoons in primetime; one reason being the cost was astronomical, these were the days when every frame had to be drawn and colored by hand.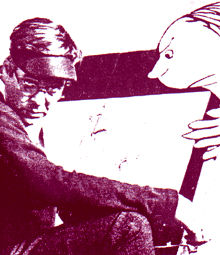 Combining live-action and animation had been attempted only once on primetime TV (The New Adventures of Huck Finn, 1968) and only rarely in film when My World and Welcome To It was launched on NBC, September 15, 1969.
Smartly-written with a superb cast of familiar faces, My World and Welcome To It presented sitcom life enhanced by the writing and scribbling of New Yorker humorist James Thurber (who died eight years before this show aired).
In spite of being almost totally blind, Thurber rendered marvelously expressive line drawings that were actually integrated into the series. Cartoon characters broke into the frame and were potentially lurking behind any corner; surreally bordering the Walter Mitty-like stories, providing the necessary whimsy that pushed the concept forward.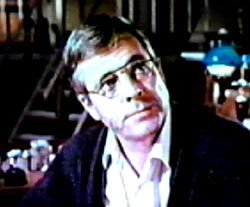 In this dark (for TV) comedy, John Monroe (William Windom), cartoonist for Manhattanite magazine, escapes dull reality through the power of his daydreams; acting out in his mind bizarre notions and fantastic what-could-have-beens.
Animated caricatures blended in and out of these scenes, providing imaginative distractions, serving to illustrate John's dysfunctional interactions with his passive aggressive wife Ellen (Joan Hotchkiss) and braces-wearing, too smart for her age daughter Lydia (12 year-old Lisa Gerritsen).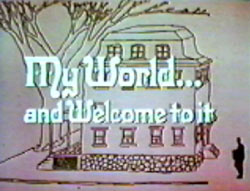 Windom was already a TV favorite by this time; he costarred with the star-crossed Inger Stevens in The Farmer's Daughter from 1964-65 and played hapless but sympathetic losers on unforgettable episodes of The Twilight Zone and Star Trek, along with dozens of other pivotal guest-starring roles.
Others in the all-star cast: Harold J. Stone (The Goldbergs, Bridget Loves Bernie) as Hamilton Greeley, John's publisher and Henry Morgan (I've Got A Secret) as Fillip Jensen, a writer pal at another upper-crust magazine.
Henry Morgan was popular in the late forties on ABC & NBC radio, moving over to TV in 1948. One of the sharpest comedians to come along in the early fifties, he hosted several different series in different formats that were quickly cancelled because his arid dry wit was often aimed at the advertiser's products. The sponsor would pull out and Morgan would be out of a job. After 1952, he was relugated primarily to game show appearances. This was his last series, he died in obscurity in 1994.
NBC had so much faith in the series they slotted My World to kick off Monday nights at 7:30, preceding the number-one show in the nation, Laugh-in. Competition on the other networks consisted of a reinvigorated Gunsmoke on CBS and The Music Scene on ABC.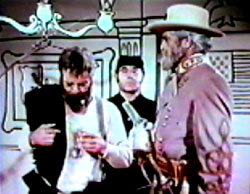 On the first episode, John helps his daughter write an essay for class - but the teacher freaks when Lydia turns in 'If Grant Had Been Drinking at Appomattox.' Monroe gripes to the camera, "I hate women. Oh, I know I married one, but there wasn't anything else around. That's how they get you. And I hate children, especially ours. Have you ever thought of the way they look at you? They're planning to take over the world."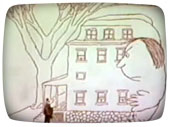 The fourth episode adapted Thurber's 'The Unicorn in the Garden' and 'The Night the House Caught Fire.' 'The Night The Bed Fell' was another Thurber adaptation, this one featured My World's executive producer Sheldon Leonard (I Spy) in the role of the ghost; 'The Dog that Bit People,' 'The Topaz Cuff Link Mystery' and 'Nobody Kills Dragons Anymore' were also fictionalized and on a subsequent episode Monroe clashed with a ten-year old school newspaper editor that rejected his cartoons.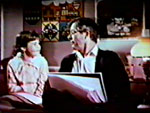 TV Guide called My World, "...a wonderful cake with a few too many ingredients on it, or maybe an Indian recipe where you're expected to throw in the onion along with the coconut along with the pickle ginger and 23 other items besides."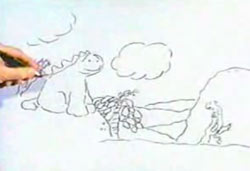 Overall critics raved but Cleveland Amory declared, '...there is plenty of credit due here - for at least putting on one show, in the whole awful American Dreamland of television, about a misfit. And it also means, finally, unless the show is improved, that fine cast will have labored in vain."
Ratings were light but the series developed a strong fan base; My World won the 1970 Emmy Award for Best Comedy while William Windom won for Best Actor in a Comedy. Acclaimed or not, production was halted after a single season of 26 episodes.
The outcry over the show's cancellation was tremendous and a grass roots letter writing campaign developed (it had worked for Star Trek a couple of years earlier). NBC considered reviving My World, but the expense of restarting production was prohibitive (due in large part to huge animation and editing costs that today would be minimal).
Consistently one of television's finest talents, William Windom toured with a one-man show in the seventies playing James Thurber and performing Thurber readings onstage. He was a guest player on dozens (if not hundreds) of sitcoms and dramas throughout the seventies, eighties & nineties, from Mama's Family to The A-Team. He was a regular on a number of network series, including The Girl With Something Extra in 1973, Murder She Wrote from 1985-1990 and Parenthood in 1990.
Right after My World wrapped in 1970, Lisa Gerritsen began her long stint as Phyllis' daughter Bess on The Mary Tyler Moore Show (1970-75) and Phyllis (1975-77).
CBS aired reruns of My World and Welcome To It during the summer of 1972, exposing the program to a new audience. At the time 'The War Between Men and Women,' a Thurber-inspired motion picture with Barbara Harris and Jack Lemmon was popular in theaters (Lisa Gerritsen also played the daughter in that movie). There was more talk, in vain, of reviving the series.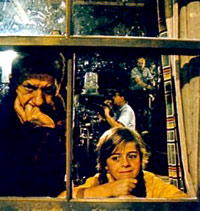 Despite being one of the finest and most prolific actresses of the sixties and seventies (she was seen in top episodes of Gunsmoke, Family Affair and the motion picture Airport), Lisa Gerritsen apparently retired from television acting in 1977, at age 20.
(SHOWN: Gerritsen and Jack Klugman from an episode of The Odd Couple.)