The Ken Murray
Budweiser Show
CBS / 1950 - 1953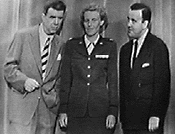 In early TV days, when a series wasn't sponsored by cigarettes, it was often brought to you by booze or beer.
Television in 1950 was still radio's sleazy step-child, viewed by the mainstream media the way the internet is presented on TV today. For instance, the movie studios would never allow a television set to be seen anywhere in their films unless it was key to the plot. And it almost never was.
Ken Murray starred in the very first commercial TV broadcast in 1930. He was also well-known as the guy with the Hollywood Home Movies, a popular film feature that displayed Tinsel Town's biggest stars in their natural habitat. These silent movies served as a rare glimpse into the private lives of super-stars like Bing Crosby, Bob Hope, Clark Gable, Marilyn Monroe and Mae West; Ken Murray seemed to be friends with everyone in old Hollywood.
In 1950, CBS gave Ken Murray a primetime Saturday night variety show - but production values being what they were at the time, the whole thing was a slapdash affair.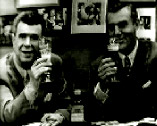 The Ken Murray Budweiser Show was like an early version of The Man Show, hardly highbrow entertainment. Darla Hood (the babe from the Our Gang comedies all grown up), the Glamourlovelies (more eye candy) and Joe Besser (The Three Stooges) were regulars during the first season.
In this episode, one of the few preserved from the show's three-year run, Ken and his sidekick are seen knocking back a couple of brewskies to start off the telecast. This being 1950, instead of talking about women's breasts, they're discussing coffee table nick-nacks and where to buy them. Later, it's on to a rousing salute to the U.S. Air Force, as World War Two was still fresh in everyone's mind.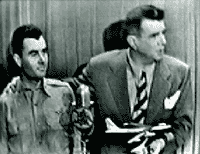 To end the Armed Forces tribute, Murray welcomed Colonel Paul Tibbets, who piloted the Enola Gay, the airplane that dropped an atomic bomb on Hiroshima, Japan on August 6, 1945. Now that was a brave stunt!
The next time you're watching Jackass or American Gladiator or some sports stunt show, and you see a guy jump a car, set himself on fire, eat a bucket of worms or whatever, think about Col. Paul Tibbetts - who took off in a 1940's era airplane, flew it over the ocean with the biggest bomb ever made shoved up his ass, dropped that mega-bomb on target and - here's the best part - made it back alive! And by doing so, he ended a World War.
What did YOU accomplish today?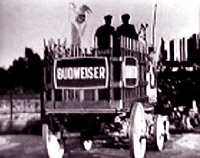 In the clip, the host seems to lose control of the show toward the end and wants to hold on to Col. Tibbets for dear life. This time it's Ken Murray who's doing the bombing - cue the Clydesdales!

---
UPDATE: After piloting his B-29 on the first tactical nuclear strike in history, Col. Paul Tibbets went on to a distinguished career and retired as a General. He died in 2007.
Ken Murray went on to be a guest on just about every variety and talk show in the 50s and 60s (once again with his Hollywood Home Movies) in addition to small acting roles on sitcoms. In 1979 he edited his fabled Hollywood home movies into an anthology called 'Ken Murray's Shooting Stars.' He died in 1988.