by Matthew Anscher
PART III:
BRANDON AT THE BAT

As the Eighties unfolded, the question became: can NBC's new program exec Brandon Tartikoff stop the massive viewer erosion caused by his predecessor, Fred Silverman, and his disastrous decisions? At the start, Tartikoff had an inauspicious crop to till.
The 1981-1982 season, marked by the ironic slogan Our Pride is Showing, had few solid hits to bring forward from the previous year - typical was the struggling Benji wannabe Here's Boomer which was returning for a third season before being quietly put to sleep.
Reruns of The Flintstones were slotted to fill primetime airtime when an on-set accident postponed the premiere of The Powers of Matthew Star. NBC Magazine, without David Brinkley, returned for one more year and Father Murphy began a two-year run.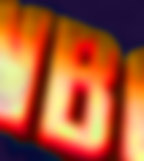 Lewis and Clark, starring Gabe Kaplan, was a Thursday night dud. McClain's Law, Cassie & Company, Nashville Palace, Fitz & Bones (the year's lowest-rated show), and a variety show with Billy Crystal all came and went without leaving much of a mark on the annals of TV history.
Love, Sidney starring Tony Randall and Swoozie Kurtz premiered - interesting because it was based on a movie where Randall's character was gay, but he had no apparent sexual orientation by the time the series aired. Gimme a Break, which introduced Nell Carter (a Tony Award winner for Ain't Misbehavin') to the TV viewing public, debuted and was modestly successful.
Bret Maverick, a follow-up to the 1960s western Maverick, was a flop. Fame, based on the 1980 movie of the same name, premiered in January and was a low-rated darling of the critics. Midseason shows included the unsuccessful One of the Boys starring Mickey Rooney, Teachers Only with Lynn Redgrave, and Chicago Story.
Facts of Life, in its third season, appeared to be a solid hit for the network, often doing better in the ratings than its parent series (Diff'rent Strokes). Harper Valley PTA with Barbara Eden and Barbara Mandrell and the Mandrell Sisters were both canceled after this season.

The 1982-1983 season brought the slogan Just Watch us Now, a phrase that can be likened to a recovering alcoholic hoping to get his life back on track. NBC was like that drunk but the network's drug of choice was failed TV series - and their exuberant on-air delusions of grandeur, as reflected in elaborate ad campaigns, did not a number-one network make.
Still, 1982 promised to be different and indeed it was. The 'Just Watch Us Now' slogan emphatically stated that NBC would soon be back on track and wow-ing audiences again.
The peacock finally had some things to be proud of, beginning with Cheers, which was adored by the critics but only 74th in the ratings in 1982, Family Ties, a generation gap sitcom, Silver Spoons, a star vehicle for child actor Ricky Schroder, St. Elsewhere, a medical drama that got even lower ratings than Cheers initially but was loved by critics, Knight Rider, an escapist show where David Hasselhoff was consistently upstaged by a talking car, Remington Steele, about two private detectives, and Voyagers, staring male pin-up Jon-Erik Hexum and child actor Meeno Peluce.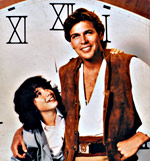 All but Voyagers made it into next year.
Taxi moved to NBC from ABC without helping its sagging ratings at all and was gone for good at the end of the 1981-82 season. The other new shows on the fall schedule, Gavilan, The Powers of Matthew Star and The Devlin Connection were one-season wonders.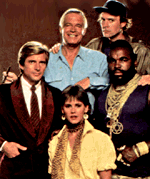 Midseason brought The A-Team, a huge hit, Mama's Family, a sitcom based on a sketch from The Carol Burnett Show, The Family Tree, a retooled Teachers Only, Bare Essence, and the acclaimed Buffalo Bill.
CHiPs, Quincy, Fame, Father Murphy, Love, Sidney, and Little House: A New Beginning were canceled that season. The lowest rated show of the season was the newsmagazine, Monitor, which, surprisingly, was renewed by NBC for the next season - retooled and retitled First Camera.
All in all, 1982-83 was not a spectacular season for the network, but it was a start.

1983-1984 was the second year on NBC's road to recovery from rock bottom. Hiring Steve Sohmer, formerly of CBS, to be in charge of promotions, they came up with the simple slogan "Be There."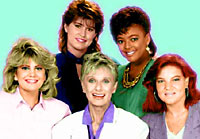 New on-air promos featured NBC stars such as Nell Carter, Conrad Bain and Bruce Weitz asking you to be there for NBC's programs. Hill Street Blues, Diff'rent Strokes, The Facts of Life and Gimme a Break all matured into hits, while sophomore offerings Family Ties, Cheers, St. Elsewhere, Knight Rider and Silver Spoons were building up considerable audiences as well.
The A-Team was NBC's biggest hit in 1983, however no one would 'be there' for any of the new shows on the network's fall lineup: Boone, Bay City Blues, We Got it Made, Mr. Smith, Jennifer Slept Here, Manimal, For Love and Honor, The Rousters, and The Yellow Rose.
Midseason replacements, such as Night Court, Riptide, and TV's Bloopers and Practical Jokes fared somewhat better. The same can't be said for Legmen, The Master, Double Trouble, The New Show and People are Funny (they weren't, apparently). The end of the season was the end for Real People, First Camera, and Buffalo Bill. Mama's Family was canceled also, but would resurface two years later in first-run syndication.
Mighty Brandon still hadn't struck out yet.