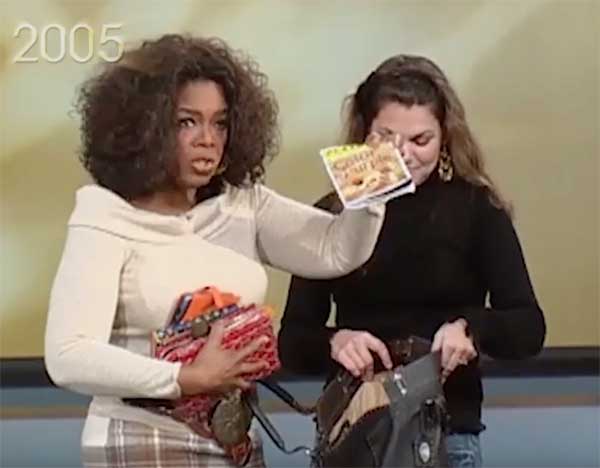 What's In Oprah's Purse?
During a 2005 Oprah show, Oprah granted an audience member's wish and revealed the contents of her handbag. What would you imagine is in Oprah's purse? I mean, these are the pressing and important questions facing our nation today!
I, for one, love Oprah's Super Soul Sunday broadcasts where she interviews smart and successful people, the shows are filled with powerful inspirational moments. Super Soul Sunday airs on Oprah's network, OWN.
In 1994, Oprah was inducted into the National Women's Hall of Fame; in 2013, she was awarded the Presidential Medal of Freedom by President Obama.
Recently, she hosted the hour-long special "Oprah Winfrey Presents: After Neverland," in which she interviewed the two men, Wade Robson and James Safechuck, who accused Michael Jackson of molesting them as children.
"I know people all over the world are going to be in an uproar and debating whether or not Michael Jackson did these things and whether these two men are lying or not lying. But for me, this moment transcends Michael Jackson," Winfrey said. "It is much bigger than any one person. This is a moment in time that allows us to see this societal corruption, it's like a scourge on humanity. . . if it gets you, our audience, to see how it happens, then some good would have come of it."
Winfrey was born in rural Mississippi and raised in inner-city Milwaukee. She's stated publicly that she was molested during her childhood and early teens and became pregnant at 14. Her baby died in infancy.
On a lighter note, here's what Oprah was carrying around in her purse in 2005:
About OWN:
Oprah Winfrey Network is the first and only network named for, and inspired by, a single iconic leader. Oprah Winfrey's heart and creative instincts inform the brand -- and the magnetism of the channel.
Winfrey provides leadership in programming and attracts superstar talent to join her in primetime, building a global community of like-minded viewers and leading that community to connect on social media and beyond. OWN is a singular destination on cable. Depth with edge. Heart. Star power. Connection. And endless possibilities.
Discover OWN TV:
Find OWN on your TV!: http://bit.ly/1wJ0ugI
Our Fantastic Lineup: http://bit.ly/1qMi2jE