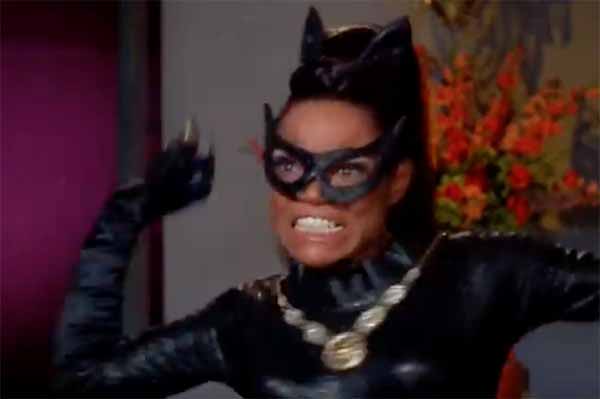 Eartha Kitt as Catwoman
Catwoman: How can Batgirl be the best anything when Catwoman is around?
[small chuckle]
Catwoman: No Best Dressed list is complete without the addition of the Queen of Criminals, the Princess of Plunder, yours untruly.

Casting chanteuse Eartha Kitt as Catwoman for the third season of Batman (1966-68) was truly puuuuuurfect. While Batman was seen twice weekly during the first 2 seasons, for Season 3 the series aired just one episode per week, on Thursday nights.
Eartha Kitt's first appearance as Catwoman was in 1967's 'Catwoman's Dressed To Kill', the 14th episode of the third season. The script was written by Stanley Ralph Ross, author of many of the best Bat-plot lines as well as the first two shows that made Batman a massive hit right out of the gate. He went on to write every fourth episode. (Ross also wrote the pilot episode of Wonder Woman in 1975.)
Prior to this, Julie Newmar portrayed Catwoman on the TV series, appearing on 12 episodes over 2 years. "The reason Eartha Kitt replaced Julie Newmar during the third season," Stanley Ralph Ross explained. "Was because Julie was doing a movie at the time. I think it was "McKenna's Gold".
The plot as summarized by IMDB: "The Catwoman targets the fashion industry by first terrorizing a banquet honoring Batgirl and then attacking a fashion show. During the attack on the fashion show, Catwoman captures Batgirl and takes her back to her hideout where she threatens to kill her with a pattern cutter. She then tells Batman that if he attempts to rescue her that it will leave the visiting Queen Bess of Bellgravia vulnerable for attack. Now the Caped Crusader must find a way to save Batgirl and prevent any harm to Queen Bess."
"I thought Eartha was perfect because she was very catlike anyway," Yvonne (Batgirl) Craig was quoted as saying. "And I liked that she was my size. I could beat her up. I came up to Julie's bellybutton, not good in a fight." Indeed, Kitt's was the best Catwoman impersonation on television or in movies, in my opinion.
"I was about nine years old when she played Catwoman on 'Batman' and that was a really big deal," explained Eartha Kitt's daughter Kitt McDonald Shapiro. "This was 1967, and there were no women of color at that time wearing skintight bodysuits, playing opposite a white male with sexual tension between them!"
The New York Post declared, "Eartha Kitt was born to be Catwoman."
Catwoman returned 2 episodes later with 'The Funny Feline Felonies', a rare two-part third season episode, concluding the next week with 'The Joke's on Catwoman'. Written by Stanley Ralph Ross, these are 2 of the best of the third season with Catwoman teaming up with The Joker (Cesar Romero ). Watching these 2 hams chew the bat-scenery is priceless but, sadly, this was Catwoman's last caper.
Catwoman's Kitty Car, designed by Batmobile creator George Barris, debuted in these episodes. The Kitty Car was based on the customized Reactor Mach II, itself based on a 1956 Citroen DS chassis, seen previously, sans Cat-Customization, in the Bewitched episode 'Super Car'.
There were lots of funny moments in this two-parter although all too often the sets are incomplete, with curtains instead of walls. This was a problem for season three overall which had a lower budget due to the show being schedule once a week rather than two.
At one point, Catwoman and Joker are spying on Commissioner Gordon's office from across the street, in a fleabag called The Sleazy Hotel. The character Little Louie Groovy was based loosely on Phil Spector and was played by Dick Kallman who starred in a one hit wonder on NBC in 1965, Hank.
Adam West's favorite villain on Batman? "That's easy. Catwoman. She gave me curious stirrings in my utility belt." West never named which Catwoman actress he preferred, however.
"Oh! I loved doing Catwoman!" Ms. Kitt replied when asked in the 1990s if she would reprise her role as Catwoman. "Why not? But I probably would do it now as the mother of the cat. I love doing the character. I didn't have to think about it: I didn't try to be a cat, I am a cat!"
A reporter for The San Jose Mercury wrote in 2008, when Eartha Kitt passed away, "Even as a preadolescent growing up in subarctic Rochester, N.Y., watching Eartha Kitt's Catwoman taunt Adam West's Batman, I always felt a little, um, hot. Julie Newmar, Diana Rigg and the rest of the leather-jump-suited superwomen/femmes fatales of the 1960s were fine too. But for my inchoate tastes in all things feminine, Kitt was the insouciant queen."

Not long after Batman ended its run in 1968, Eartha Kitt was at a White House reception when she made some catty remarks to the First Lady: "Mrs. Johnson, you are a mother too, although you have had daughters and not sons. I am a mother and I know the feeling of having a baby come out of my guts. I have a baby and then you send him off to war. No wonder the kids rebel and take pot. And, Mrs. Johnson, in case you don't understand the lingo that's marijuana."
According to USA Today, Eartha Kitt's comments, "Stunned the first lady. Some media reports erroneously stated that Lady Bird burst into tears. Women in the room ran to the microphone to defend the Johnsons and level outrage at Kitt."
"It was really heart-breaking to her," said Kitt Shapiro, Eartha Kitt's daughter. "I think that she really never let go of that disappointment."
Eartha Kitt on that White House incident
1960's TV Seasons: 1961 / 1964 / ABC 1966 / 1967 / 1968 / 1969 / Fall Previews / The UN Goes to the Movies / Stories About Filming Batman from Burt Ward / Life With Linkletter / Matt Weiner Interview / Lost in Space: Mark Goddard Interview / 1961 CBS Fall Season / Bette Davis TV show: The Decorator / He & She / Eartha Kitt as Catwoman / The Good Guys / James Drury of The Virginian / Man From U.N.C.L.E. on DVD / Behind the Scenes at The Andy Griffith Show / Pat Buttram & Green Acres / Remembering Clint Walker / Cheyenne / Camp Runamuck / Gilligan's Mary Ann - Dawn Wells / 1960's Nightclub Comic Rusty Warren / Johnny Carson Tonight Show 1964 / That Girl / TV's Greatest Car Stars / Best of Batgirl 1967-68 / TV Shows to Movies / Batman Season 2 / Supermarionation / The Virginian's Clu Gulager / William Windom / New Bewitched Book / Court Martial / Cast Changes on Bewitched and Green Acres / Sammy Davis Jr. Show / Sunday Morning Cartoons / Naked City / Joe E. Ross / Alan Young Interview / Sherwood Schwartz Interview / Walter Cronkite Moon Landing / The Farmer's Daughter / Petula-Clark /