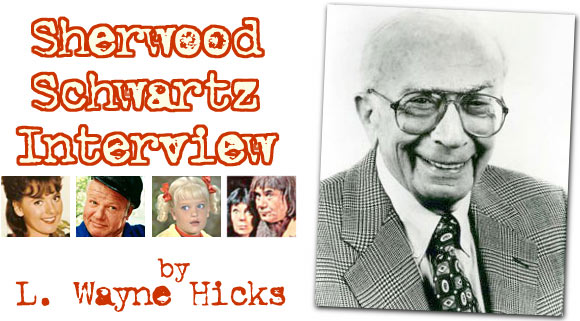 PART TWO - READ PART ONE OF THE SHERWOOD SCHWARTZ INTERVIEW
TVP: Is it easier to write for a character you invented yourself or for someone like Freddie the Freeloader who is the creation of someone else?
SS: That was not the issue. I could write just as well for one as the other. What creating the shows did for me was to let me present ideas. The easiest show I ever developed was not "Gilligan's Island." That took a long time. "The Brady Bunch" was very simple. That was based on four lines I read in the Times, the LA Times, It was a filler item in the paper that said that that year some 29 percent of all marriages had a child or children from a previous marriage. And that's all I needed. Two sentences, three sentences gave me "The Brady Bunch" because I realized when you're talking about a third of all marriages, you're talking about a whole new sociological phenomenon.
I was so sure there would be 900 writers writing ideas based on that, that I raced to the typewriter and wrote the premise for "The Brady Bunch" and wrote the script as quickly as I could. And much to my surprise, nobody else even saw that item or it never meant as much to anybody else as it did to me. To me, it opened a new door in situation comedy. The premises were much easier to come by; they had not been done before.
TVP: With "Gilligan's Island," when you were plotting out your original story ideas, were you planning on them always being on the island or did you have an episode where maybe in six years they would get off?
SS: No. Never did.
TVP: They were always going to be on the island.
SS: Yeah. That was the idea of the show. I remember vividly. I wasn't working at home then. I had an office. For some reason that escapes me now I had started to list different ideas I had. I knew that everybody would say the same thing, every executive. Well can you keep this thing going? And how many stories can you get with the same seven people? So I decided. I got a roll of this butcher's paper and I circled my whole room -- it was not a big room -- and with a felt pen I wrote these ideas all around the room. There were 31 stories. I rolled it up and took it with me. Anybody who said can you get enough stories, I would unroll this 31 stories and I said that's just a result of a week or two's work. There's a lot more stories available, not only stories about the elements about storms coming or the threat of a volcano, or just different battles that they had with the elements. When I had all those stories I felt confident to answer any questions about the longevity of the show. We did 99 episodes and we were only canceled by mistake.
TVP: Because of "Gunsmoke" not being on the schedule.
SS: Exactly. If not for "Gunsmoke," we'd have another year. But I'm not unhappy about that because I think there comes a point of exhaustion with a show. Most shows, if they run 100 episodes that's pretty much what they can do. In those years, nowadays it's only like 22 new episodes a year. But in that year the first year we did 39 shows in one year.
TVP: Are you amazed that it's still on the air.
SS: I guess so. I don't think about it but I'm surprised. I get a great deal of fan mail. I get a lot of letters from little kids who love it because it's an easy show to understand. Both shows are easy to understand. Most of the letters come from people who watched it when they were little kids running home from school. It would be on every day at 3:30 or 4 o'clock. They're delighted to sit down and relive those shows with their own kids now. I get a lot of letters from people in their 20s and 30s who tell me they don't know how they could have survived their teen years without those two shows, which is an elaboration on the truth I'm sure but also there's some truth in it. Particularly the character of Gilligan. Most kids think that they're misunderstood and they do the best they can and nobody appreciates them. It's a common understanding of kids. And that's what Gilligan is. He never means wrong. He always means right. Somehow he screws things up. Kids believe that's their problem in life. Whether it's right or wrong, that's what they believe. So there's great identification.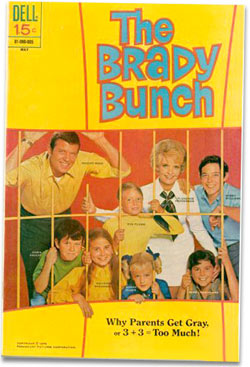 And then with the kids on "The Brady Bunch." Every one of those kids can be identified with by somebody who thinks that's them. Whether it's Marcia, Marcia, Marcia or whether it's little Bobby who never thought he'd be as big as his brothers, I just tell the truth, really, in my shows. Based on maybe a far-fetched idea, but the way I approach it is the truth is my truth.
TVP: And both shows dealt with the whole idea of people getting along together, being thrown together and having to get along.
SS: Yeah. The two shows are very similar. "The Brady Bunch" isn't that different than "Gilligan's Island." It's two families that have to learn to live together in one case. In the other case it's seven strangers who have to learn to live together. I think that's the most crucial problem in the world today. Just take a look at these kids who go to school with guns and kill people because they don't know how to live together. Nations have to learn. We only have one planet to live on and we have to learn to live with each other or the planet will get blown up.
TVP: With "The Brady Bunch," other writers might have said let's have one kid on this side and two kids on that side. But you threw six in there. How did you think of that number?
SS: Well, I didn't think of that number. I originally had two on each side. But that didn't get me to where I wanted to be in terms of the kind of audience I could reach. I am very, very audience conscious. I am not network conscious. I am certainly not critics conscious. But I am audience conscious and I want all the people that possibly can see my shows to be interested in them. I would have done more on each side but three was the most I could manage and still do a half-hour episode. I couldn't dig deeply enough with eight and two seemed wrong somehow. Anyway I wound up with three.
TVP: Whom did you leave out originally?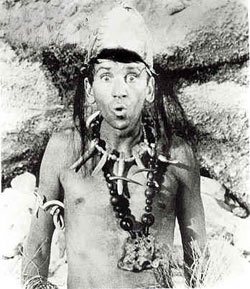 SS: I no longer remember. The only problem I had there -- you always have problems -- the only problem I had there was the production company, Paramount, wanted me to do the traditional kids. They wanted one kid to be eating all the time, a fat kid. They wanted me to have one kid who all he talked about was sports, he knew all about baseball players and football players. And then another kid who wore glasses and was intellectual and read books all the time. I said no, I don't want to do that.
Paramount wanted me to make them cartoon characters. I wanted them to grow with the characters and I achieved that because they are real flesh and blood people. You think of "The Brady Bunch" as flesh and blood people. I don't think you think the same way about the characters on "Gilligan's Island" because they're more cartoon characters.
TVP: I imagine if you did "Gilligan's Island" today, the network would be pushing for sex or violence or some additional element.
SS: Yes, they would. That's true. And that's the unfortunate thing is that writers in today's market are no longer able to pursue their dreams. People keep waking them up.
TVP: So what would make today's situation comedies better?
SS: I really don't know. I cannot answer that question because I just do what I want to do myself. I have no control over comedies. I would not put these shows on the air that are all mirror images of each other. It's either three guys living with two girls or two girls living with one guy. It's always combinations of people, which forces writers to write all sexual innuendo. Ninety percent of the jokes in comedy today are built on some aspect of sexual reference. I did some of that with Ginger on Gilligan's Island. There was a presence of sex. I certainly don't object to sex. I object to the fact that every line shouldn't be about sex. There are just things that are just as important as sex in life. Maybe not as important, but certainly has some importance, so that every situation and every storyline and every joke doesn't have to be about sex.
TVP: And that creates the problem that you can't sit down with your entire family and watch a TV show anymore.
SS: No, you can't. Except for my shows. That's why I get a lot of letters from parents saying, "Thank God your shows are on the air. I can leave the room."
TVP: When my oldest daughter was born I didn't know any lullabies to sing, so I would sing your theme songs. Those songs do stick in your head.
SS: Yeah, they do. People have asked me to explain that and I don't know how to explain it except the fact that I feel deeply about those shows and apparently that creeps in. I wrote the songs. I'm not a songwriter, but I wrote those songs in order to avoid exposition and tell their stories and that seems to have worked very well.
TVP: I think without the songs you'd be pretty lost.
SS: That's exactly true. That's what I kept telling Jim Aubrey at CBS. I had a funny experience in North Carolina. I did, I should say we did because I wrote this with my son Lloyd who I work with a lot. We wrote a musical. It started in North Carolina. And I was sitting next to a couple, oh, 10 years ago. An older couple. Not that I'm young, but I view life like I'm still young. So they were an older couple and they were sitting next to me. During intermission I said did you enjoy the show? It turns out they didn't have a television set. They said to me, "These are an interesting group of people in the show." They said, "They might be interesting to watch from week to week, like in a show." (laughs). At first I thought they were kidding until I learned North Carolina has pockets of people who don't have television sets.
TVP: You've been working on a play for a long time.
SS: I just did a dramatic play. My first totally dramatic play, called "The Trial of Othello." Othello stabs himself in remorse because he has strangled his wife because he believes Iago's tale that she was not faithful to him. So he strangles her. And he finds out that she was faithful and he stabs himself. My show takes place shortly thereafter because he didn't kill himself when he stabbed himself. So he's now on trial for having strangled his wife. It's a courtroom drama. No comedy in it at all, except a very brief scene with Bianca, who is kind of the town harlot. After the play, I was talking with different people who didn't know me at all except for this play they had seen, which was totally dramatic except for that little scene. So they said to me, "That was a really funny scene with Bianca." Have I ever considered writing comedy? (laughs). I said yes.
NEXT: PART THREE - Shakespeare & Gilligan's Island?
Typecasting and the Brady phenomenon...