Fans Celebrate Superman's 83rd Birthday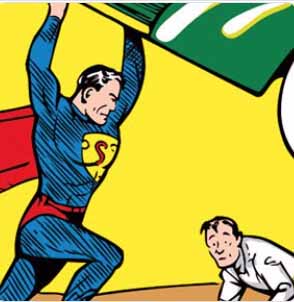 Superman took centre stage on social media in April as fans of the Man of Steel took time to celebrate the 83rd anniversary of the first appearance of the world's favourite superhero.
On 18 April 1938, National Allied Publications published the first-ever edition of Action Comics, a series which many credits for launching the popularity of the superhero genre, in a story called Superman, Champion of the Oppressed written by Jerry Siegel and illustrated by Joe Shuster.
Siegel and Shuster originally intended for Superman to be a supervillain with telepathic powers before they reinvented him as a hero and sold the story to National Allied Publications. And Thank goodness they did because he has grown to become one of the most famous and popular superheroes ever created.
Since Action Comics #1, the character has been recreated and represented in every form of media imaginable, from films and television to video games, board games and more. The character has been portrayed on film since 1948 in titles like Man of Steel and Batman vs Superman. On TV, the Adventures of Superman was a popular show in the 1950s, while there have even been series about Superman's life growing up on Earth like in Smallville.
In video gaming, Superman has appeared in over 30 titles, including in the widely popular fighting game Injustice: Gods Among Us and massively multiplayer online game DC Universe Online. It has even influenced the iGaming industry as there are slot games such as Superman II and Superman Comic that are often featured at brands popular for online gambling in Canada, like BGO casino.
Superman's explosion of popularity into global popular culture has resulted in a copy of the original Action Comics #1, which sold for 10c back in 1938, selling for more than $3-million in 2010 and another copy for $3.2-million in 2014.
He has been portrayed by some of Hollywood's biggest stars like Henry Cavill, Christopher Reeve and Brandon Routh. He has been the inspiration for some of the most furious comic book debates on social media.
And, as it turns out, he is one of the few forces on earth that can unite people on social media as people on Twitter came together to celebrate the 83rd anniversary of the start of Superman. "Happy 83rd Anniversary to one of the best superheroes of all time," wrote one with the Twitter handle @Snyder_Cut_240.
"Happy 83rd birthday to the character who inspires a whole planet, multiple generations and a girl from Ireland who tries to do the right thing because it's right and what #Superman taught her," agreed @jessika7979.
There is no doubt the Kryptonian's story has stood the test of time; the only question now is what comes next for Superman. While there is no news on the next project involving Cavill's Superman on film, Warner Brothers did announce that they were busy developing a new version of Man of Steel. According to the studio, the project is being run by J.J. Abrams of Star Wars, Star Trek, and Lost fame, under his Bad Robot label, with Ta-Nehisi Coates (Black Panther) on board as lead writer.
One direction they may decide to go is to follow the recently-launched comic book series Superman: Son of Kal-El, which was a passing of the torch of sorts and anointed Clark Kent's son, Jon, as the new Superman. There are also suggestions that they may be developing the first African-American version of the world's favourite superhero.