1961 TV Season
Top 25 shows, Bob Newhart,
The Hathaways, Dobie Gillis, Bachelor Father, more!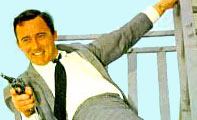 1964 Fall Season
Top 25 TV shows, Jack Paar,
'That was the Week that Was',
cool commercials & more!
THE SAMMY
DAVIS Jr. SHOW
I'm working furiously to finish this book I've been laboring on for two years now. I'm so close but new material keeps popping up that causes me to expand the narrative. When I started the project I expected to basically cover a thirty year span but ended up concentrating on just seven years and it still fill more than 300 pages. And don't get me started about formatting it for the various Ereaders!
Anyway, a big chunk of this book concerns the Rat Pack and I was talking with Neil Daniels from the Dean Martin Fan Center about how I felt Sammy Davis, Jr. was the most talented of the bunch and Neil agreed. His was a troubled career, forced to marry a woman he didn't love, unable to be with the one he did love. The racist elements of society that kept plaguing him. Neil brought up the point that Frank & Dean did a lot for race relations by publicly embracing Sammy and that's undoubtedly true.
Sammy had a couple of TV series, one was a primetime variety hour that he couldn't contractually appear on for the first few weeks. No really, he had a contract with ABC that forbade his appearance on another network for so many months so when NBC gave him an hour slot in the first week of January in 1966 Sammy had to wait until February 11th before he could appear on The Sammy Davis Jr. Show.
Guest hosts, including Johnny Carson, Sean Connery, Judy Garland and Richard Burton & Liz Taylor (on the premiere) kept the timeslot lukewarm until Sammy could take the reins of a show in ratings fee fall. Cancellation came shortly thereafter.
In this wild segment from The Sammy Davis Jr. Show Sammy gets The Supremes and The Andrews Sisters to switch songs. It almost works!
Sammy's other series of note was a 90 minute weekly talk show called Sammy & Company from 1975-1977, a show that split its time between New York, LA and Las Vegas. Another way the show distinguished itself was in showcasing African-American artists that the other nighttime talkers ignored - like Marlena Shaw and The Chi-Lites. If you haven't had the pleasure of hearing Miss Marlena Show by all means jump over to You Tube (embedding is disabled) and check her out in her prime. More on her later.
Back to Sammy - here's why I think he holds the crown as the greatest male musical entertainer of my lifetime, one of his best numbers - Who Can I Turn To.